Welcome to the Klaviyo Review! Are you looking for a reliable email marketing platform that will help you take your Shopify store to the next level?
In this review, I'm going to discuss why this platform is still the go-to reference for Shopify in 2023. With its powerful features and user-friendly interface, it's no wonder why so many merchants have turned to Klaviyo as their preferred choice.
I know how important freedom is when running an online business, which makes Klaviyo stand out from other platforms. Unlike some of its competitors, it allows you total control over every aspect of your email campaigns – from design to automation and segmentation – giving you the power to create highly effective campaigns without sacrificing any of your hard-earned independence.
Let's dive into my comprehensive Klaviyo review and see what makes it such an attractive option for ecommerce websites in 2023 and beyond!
Klaviyo is the shopify email marketing reference of choice for many entrepreneurs in 2023. With its easy-to-use platform, customers are able to optimize their segmentation goals and quickly get campaigns off the ground at a fraction of the time that it would take with other email services.
The customer support provided by Klaviyo is outstanding; they have knowledgeable staff who are always ready to help out when needed. When subscribing to Klaviyo's service, users can rest assured that their data will be securely stored and managed efficiently, allowing them to focus on reaching their desired target audiences without having to worry about any technical issues getting in the way.
Plus, these subscribers are given access to an array of features and settings which allow them to customize how they want their messages sent out and tracked. All in all, Klaviyo continues to remain one of the top choices for businesses looking for an effective email marketing solution — something that shows no signs of changing anytime soon. Thus, it's safe to say that Klaviyo will be still seen as the shopify email marketing reference well into 2023 and beyond. Moving forward, let us explore some of the features that make this possible.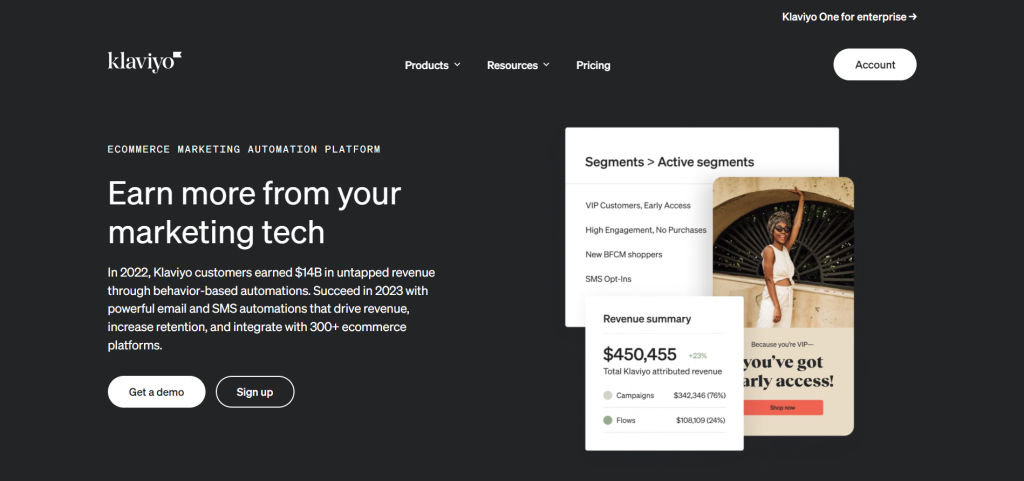 Klaviyo is an email marketing tool that offers a range of features to help businesses grow.
For starters, Klaviyo makes it easy to send automated emails and trigger emails in response to customer behavior. This means you can use the platform to personalize your messaging and maximize engagement with customers.
It also comes with powerful segmentation tools that allow you to create highly targeted lists for your campaigns.
The support team behind Klaviyo are always on hand if you need assistance, offering real-time advice via live chat or phone. They're quick to answer any questions you may have and provide helpful resources such as tutorial videos and webinars. Plus, they offer 24/7 Customer Success Managers who are there to ensure you get the most out of the platform.
All this makes Klaviyo one of the best shopify email marketing providers available today – making it a great choice for anyone looking for reliable, comprehensive email marketing solutions in 2023 and beyond.
With these impressive features at its disposal, it's no wonder why Klaviyo continues to be seen as the leading Shopify email marketing provider.
Looking ahead, we'll explore how simple it is to use Klaviyo so users can make full use of all its features without any hassle.
Klaviyo remains the top choice for Shopify email marketing in 2023, and a big part of that is because of its ease of use.
Any business can easily customize their own emails with Klaviyo's wide range of options, from simple templates to complex visual designs. The user interface is incredibly intuitive – it's like having your own personal digital assistant creating high-quality emails for you!
For businesses who want more control over the creation process, Klaviyo offers an array of design tools:
Drag & Drop Editor
Multiple Design Options
Custom HTML and CSS Code Support
Prebuilt Templates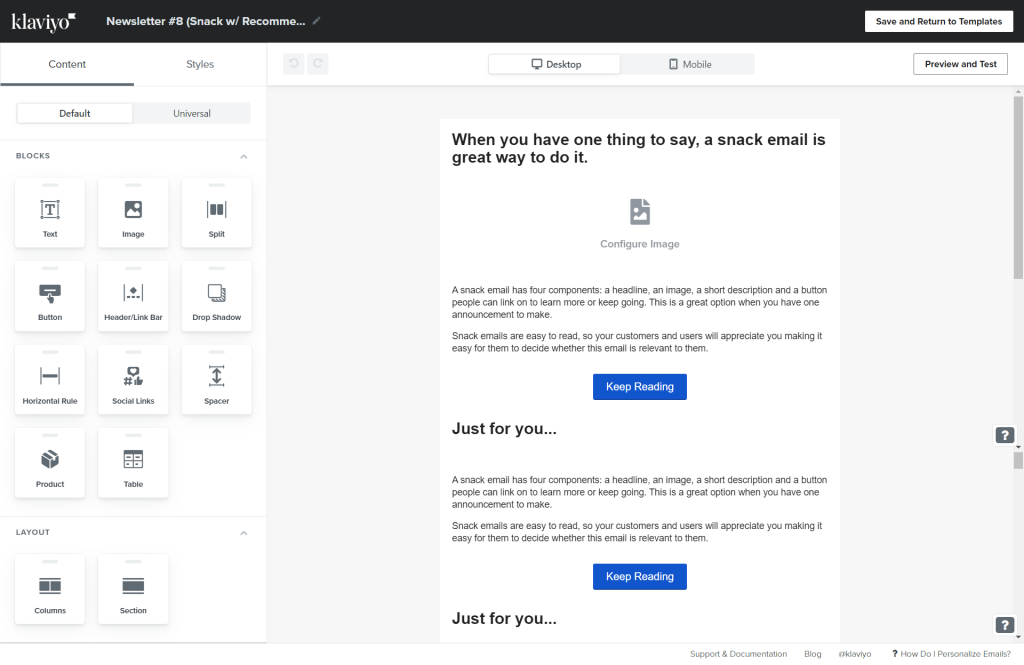 It makes working on emails fun and easy, so even those new to coding or designing can create stunning campaigns without breaking a sweat.
Plus, they have excellent customer support if you need help getting started. No matter what kind of customizations you're looking for, Klaviyo has something perfect just waiting for you.
With all these features at your fingertips, it's no wonder why this platform continues to be the go-to option when it comes to email marketing on Shopify.
Drag-and-drop editors are great for quickly creating emails without any design experience.
You can customize templates to match your brand, and automated campaigns allow you to set up emails and scheduling without any manual effort.
Klaviyo is still the top choice for Shopify email marketing in 2023.
Drag-And-Drop Editors
Klaviyo's drag-and-drop editors are a dream come true for any marketer looking to create customized emails and automated campaigns in no time.
It is an intuitive tool that makes designing beautiful, engaging communications effortless — freeing up valuable time so you can focus on more important tasks.
With its simple UI, Klaviyo offers endless possibilities for creating stunning visuals with advanced customization options to make your emails stand out from the competition.
Whether you're a beginner or experienced in email marketing, Klaviyo has something for everyone – allowing marketers of all levels to craft sophisticated messages without ever writing a single line of code.
In short, it's one of the best tools available today when it comes to designing effective emails, making it still the shopify email reference even in 2023!
Customizable Templates
Klaviyo also offers an extensive library of customizable templates that make crafting your emails a breeze. With these, you can quickly customize visuals to match the look and feel of your brand — no custom coding required!
Whether you're looking for something modern or classic, Klaviyo has it all. Plus, with its advanced visual customization options, you can easily tweak existing templates to create unique designs in minutes.
In addition, if you want to take things up a notch and add your own touch of flair then there are plenty of ways to do so without needing any extra coding skills. So whether you prefer ready-made solutions or more creative ones, Klaviyo's design tools give marketers the freedom they need to send out stunning communications every time.
Automated Campaigns
Klaviyo also offers automated campaigns that save you time and money while still giving your customers an incredibly personalized experience.
With these, you can create targeted ads with just a few clicks — no extra coding needed!
You'll be able to quickly craft emails tailored to each recipient's unique needs and interests, ensuring they get the most out of their interactions with your company.
Plus, it helps keep your message consistent across channels too so those who visit from one platform don't miss out on content or promotions meant for another.
All in all, this level of automation gives marketers the freedom they need to make sure their audiences are always engaged without taking up hours of their day.
Klaviyo is a comprehensive email marketing platform that provides users with powerful automation tools to help them create effective campaigns.
In addition to its design features, it also has an impressive set of automation tools for creating personalized customer journeys and setting up automated emails triggered by user behavior.
For instance, Klaviyo's segmentation capabilities allow you to target specific groups of customers based on their individual interests or past purchases, making it easy to craft messages tailored to each user's needs.
The same level of personalization can be applied across the entire customer journey. With Klaviyo, you can easily monitor cart abandonment rates in real time and react quickly with targeted emails designed to drive more sales.
Additionally, the platform makes use of machine learning algorithms to automatically adjust your segments as customer data changes over time, ensuring that all communications remain relevant and helpful.
Moving forward into 2023 and beyond, Klaviyo remains the premier choice for any shopify store looking for maximum performance from their email marketing efforts.
Targeted Campaigns:
It's crucial to have the right segmentation tool to make sure you're sending campaigns that'll be well-received by your customers. Klaviyo has the ability to easily target customers based on their shopping habits and preferences.
Personalized Messaging:
With Klaviyo, you can create personalized messages tailored to each customer's individual needs. This ensures that your customers are receiving relevant content.
Automated Segmentation:
Klaviyo's automated segmentation feature makes it easy to divide your customers into groups and save time by not having to manually segment them. It's still the go-to reference for shopify email marketing in 2023.
Targeted Campaigns
Klaviyo's segmentation tools are second to none when it comes to targeting campaigns. It allows you to create custom customer segments, so you can personalize emails and maximize the impact of your content.
With its powerful filters and intuitive interface, Klaviyo makes it easy for even novice users to get up and running quickly.
Whether you're a large enterprise or a small business owner, if you need targeted campaigns that deliver results, then Klaviyo is still the go-to email marketing reference in 2023 and beyond!
Personalized Messaging
Once you have your customer segments established, Klaviyo also makes it easy to craft personalized messages for each one.
With its drag-and-drop design tools and intuitive email templates, creating content tailored to specific audiences has never been easier!
You can use the platform's dynamic content features to customize emails based on consumer behavior or interests.
This helps ensure that customers receive relevant information and offers they're likely to take advantage of.
Plus, with Klaviyo's A/B testing capabilities, you can test different versions of a message to see which performs best and optimize engagement rates even further.
All this adds up to powerful campaigns with maximum impact – giving small businesses the freedom they need to drive conversions and increase revenue without breaking their budgets!
Automated Segmentation
Klaviyo's automated segmentation capabilities make it easier than ever for small businesses to track and target specific customer groups.
With dynamic segmentation, you can quickly identify customers based on their behavior or other criteria.
Plus, team collaboration features allow multiple members of your team to work together in creating segments – ensuring high-quality results with minimal effort!
Automated segmentation not only saves time and money but also gives you the freedom to focus more resources on crafting impactful messages that will drive conversions.
Making sure that every message is perfectly tailored to each audience has never been simpler – all thanks to Klaviyo's powerful tools!
Klaviyo has long been the gold standard for Shopify email marketing, and this is still true in 2023.
For example, a recent study found that Klaviyo users achieve 30% higher open rates than other solutions on average.
With powerful data visualization tools to easily track customer behavior and engagement, Klaviyo allows businesses to create targeted campaigns based on their customers' activity. This makes it easy to send personalized emails that drive conversions and increase revenue with minimal effort.
Additionally, Klaviyo offers marketers access to an ever-growing list of integrations with popular eCommerce platforms such as Magento, BigCommerce, WooCommerce, Etsy, and many others.
By connecting these services together, you can quickly sync your data across all channels while saving time through automation. From creating automated workflows to setting up advanced segmentation filters — there's no limit to what Klaviyo can do when used properly.
Now let's take a look at how easy it is to integrate Klaviyo into your existing platform…
Klaviyo's integration capabilities are impressive, with third-party integrations that allow it to work seamlessly with many of the top ecommerce platforms. This means you can easily connect your store and start sending personalized emails without having to worry about compatibility issues.
Plus, Klaviyo also offers a variety of other features such as dynamic content blocks and automated segmentation so that you can create highly targeted campaigns for each customer journey stage. And, if you ever need any help or support during setup or execution, their team is always on hand to assist you.
The ease of use combined with powerful integration capabilities makes Klaviyo an ideal choice for anyone looking for an email marketing solution that works well in tandem with their Shopify store. With its intuitive user interface and comprehensive reporting suite, it remains one of the top choices even in 2023.
And now let's take a look at what kind of pricing options they offer…
Klaviyo remains a budget-friendly email marketing tool in 2023, with its three pricing plans. Its basic plan starts at just $45/month, and can go up to $1,970/month if you have more 150,000 contacts to send to.
The cost structure allows businesses of any size to utilize Klaviyo's features according to their needs, as well as access free resources such as templates, tutorials, webinars and more. As a result, entrepreneurs can create high-performing campaigns without breaking the bank.
Furthermore, customers have the option of adding additional functions through add-ons that are available for purchase. This is particularly useful for those who want specific services like SMS or A/B testing without having to upgrade their entire pricing plan.
With Klaviyo's robust yet affordable pricing options and an extensive library of add-on features, users get great value out of this powerful platform. Moving on from price considerations, let's take a look at how user friendly it is when it comes to customer support.
Klaviyo has an excellent support system. The customer service team is well trained and highly responsive to user feedback. Their use of reliable technology, combined with the ability to access a wide range of resources, makes it easy to get help quickly:
24/7 live chat for quick answers;
A comprehensive library of helpful articles;
Hundreds of videos on YouTube for tutorials and tips.
The support staff not only provides immediate solutions but also offers guidance in understanding your best options. They are knowledgeable about all aspects of Klaviyo's email marketing platform, from basic setup to advanced customization. With their help, you can be sure that your campaigns will meet your goals efficiently and effectively.
Moreover, they always stay abreast of changes related to new features or regulations so customers don't have any surprises down the road. Overall, they provide top-notch customer service and make sure every question gets answered promptly—which goes a long way towards ensuring success within this competitive field.
Such reliability means users can confidently rely on Klaviyo as the go-to Shopify email marketing reference in 2023 and beyond. Considering these factors paints a clear picture – when it comes to support systems, Klaviyo stands head and shoulders above its competition.
Moving forward then let's look at other important considerations such as pros and cons before coming to a final judgement about Klaviyo's relevance in 2023.
As we come to the end of this comprehensive review, it's time to explore the pros and cons that are associated with Klaviyo.
On one hand, there is no doubt that Klaviyo has a lot to offer businesses in terms of cost-benefits and email automation features. However, on the flipside, some users have experienced challenges when attempting to configure their automated emails correctly.
It's clear then that Klaviyo remains an attractive option for businesses looking for powerful email marketing solutions in 2023. The user interface is intuitive and easy to use, making it possible for marketers of all levels to create effective campaigns without needing any coding skills. Plus, its extensive feature set makes it ideal for more advanced users who want granular control over their campaigns.
With all these benefits combined, you can be sure that Klaviyo will continue being seen as a reliable reference by many Shopify stores in years to come.
klaviyo alternatives & competitors
One the top of the list we have Omnisend. This platform is coming this year with bright features, and especially with a cheaper plan than Klaviyo. Check the pricing below: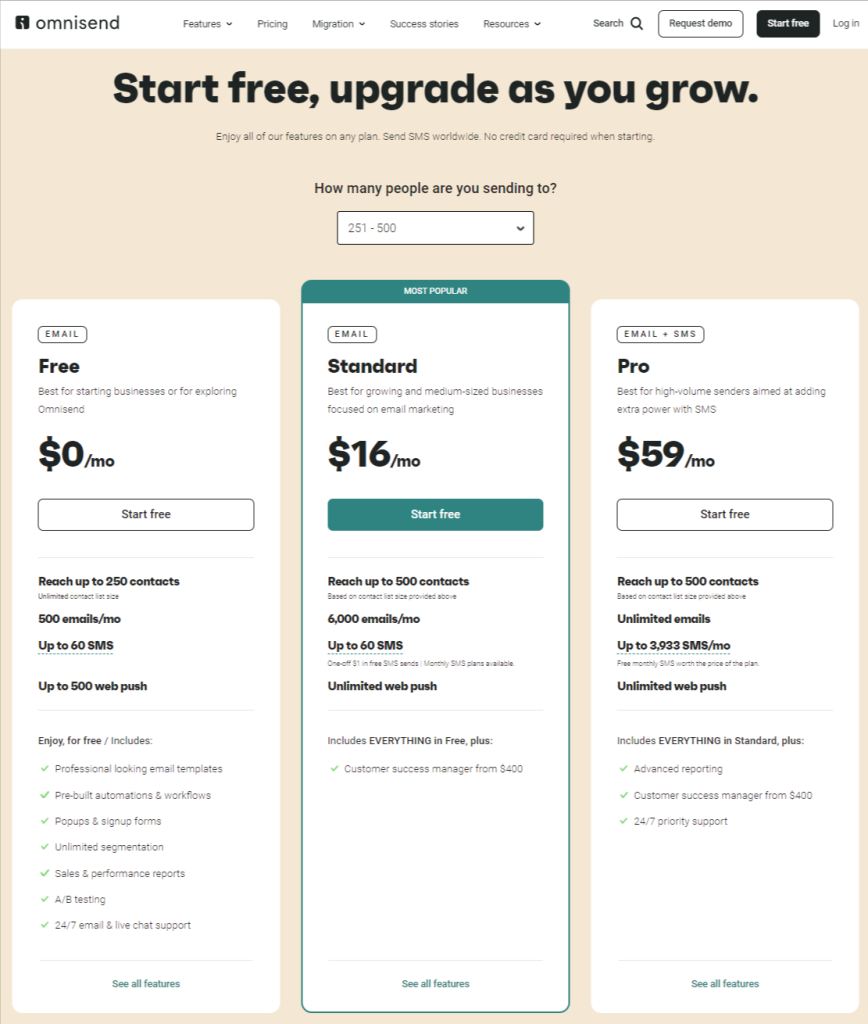 Frequently Asked Questions
Does Klaviyo Offer Customer Service?
Yes, Klaviyo offers customer service.
It has a range of price points that cater to different users' needs and budgets.
Reviews from customers seem positive overall, with many praising the helpfulness of their support staff in addressing any queries or issues they have faced.
The platform is easy-to-use and provides great control over email marketing campaigns, giving users the freedom to tailor them for maximum impact.
Is Klaviyo Suitable For Small Businesses?
Klaviyo is a great choice for small businesses, offering cost effectiveness and data security. Its intuitive platform gives business owners the freedom to easily set up their email marketing campaigns with minimal effort required.
Furthermore, Klaviyo provides excellent customer service to help troubleshoot any issues that may arise. It's no wonder why many consider it the go-to Shopify email marketing reference in 2023!
Is Klaviyo Compatible With Other Marketing Tools?
When it comes to compatibility with other marketing tools, Klaviyo is a standout.
It offers powerful integrations that make automation of email campaigns easier than ever before. This can be especially beneficial for small businesses who want to get the most out of their email marketing efforts.
With its streamlined interface and intuitive features, Klaviyo makes connecting with customers simpler and faster, allowing users to focus on what matters: creating content that resonates with an audience seeking freedom from mundane tasks.
How Easy Is It To Customize Emails With Klaviyo?
Customizing emails with Klaviyo is a breeze, thanks to its segmentation options and automation features. With an easy-to-use drag & drop system, you can quickly create fully personalized emails that speak directly to your individual customers in no time.
Regardless of experience level, anyone can make use of the platform's comprehensive suite of customization tools and reap the benefits of highly targeted campaigns. Plus, their powerful analytics capabilities let you track progress over time so that you can easily see which approaches are working best for your business.
In short, Klaviyo makes email marketing easier than ever before – giving businesses more control and freedom to connect with their customers on a deeper level.
Is It Possible To Track Email Campaigns With Klaviyo?
Are you looking for an email marketing tool that can provide comprehensive email reporting and efficient automation setup? Then look no further!
Klaviyo is the perfect solution, allowing you to effortlessly track your campaigns with its intuitive user interface. With this powerful platform, you can take back control of your business – freeing yourself from cumbersome manual processes and giving you more time to focus on other important tasks.
Let Klaviyo be the reference in Shopify Email Marketing in 2023- it's sure to deliver an engaging experience for customers and a stress-free journey for businesses.
I've worked with this platform extensively, so there's no doubt in my mind that Klaviyo will remain the go-to reference for shopify users when it comes to email marketing in 2023.
The intuitive interface makes it easy to customize emails and track campaigns, while its compatibility with other marketing tools gives businesses more flexibility than ever before.
Plus, customer service is exceptional – they're always available to provide help whenever you need it!
All things considered, Klaviyo is an excellent choice for any business looking to take their email marketing game up a notch.
Klaviyo Review: Still The Most Popular Shopify Email Marketing Reference In 2023?
Free Plan + Starting from $45/Mo