Did you ever hear about a cold email software and a CRM at the same time? Hexospark.com has the answer! Their brand new Hexospark review for 2023 offers a revolutionary way to streamline your workflow and make managing customers easier than ever before.
But what makes this new platform so special? Well, firstly, it's built-in, meaning there's no need for extra plugins or complex setup – just subscribe and get started straight away. But that isn't all; their intuitive interface is designed to simplify everything from tracking customer data to sending automated follow-up emails. And best of all: it won't break your bank account!
Hexospark.com gives users the freedom they crave without sacrificing power and performance. With its comprehensive range of features, plus flexibility and affordability, this next generation Cold Email CRM could be exactly what you're looking for!
Hexospark is like a superpower for entrepreneurs and small business owners. It's the next-gen built-in cold email CRM that automates outreach so you can reclaim your time and focus on what matters most to you. Thanks to it's complete Ecosystem, which contains Hexomatic, Hexowatch, Hexofy, and Hexometer, Hexospark helps users send personalized emails, track responses, and keep their messages organized in one central hub.
What makes this tool stand out from others? Its ease of use! With drag-and-drop functionality, intuitive interface, and customizable templates, it's never been easier or faster to get started with cold emailing. What's more, its powerful analytics dashboard allows you to measure success and optimize your campaigns for maximum impact.
From streamlining processes to increasing revenue opportunities, there are countless ways Hexospark can help accelerate growth – all without sacrificing quality customer relationships. With this revolutionary platform at your fingertips, start taking control of the future of your business today!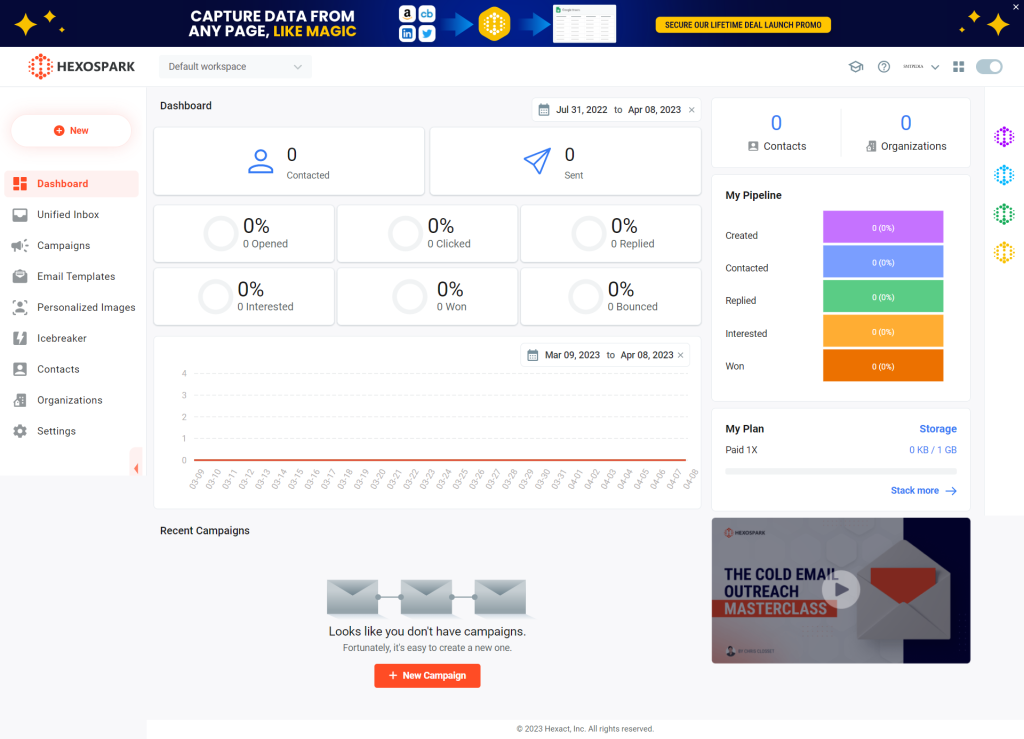 Moving on from a quick overview of Hexospark, let's delve into what makes it so special. Not only is this next-generation built-in cold email CRM user friendly and efficient, but it also offers plenty of features that can help take your business to the next level.
The first feature worth noting is its intuitive Icebreaker, which is a kind of Email Sequence Editor. This allows users to quickly customize their emails with an array of fonts, text sizes, colors, images, and more—all without ever needing to write code! In addition to being able to personalize messages in just minutes, this powerful tool helps ensure consistency across all campaigns for maximum impact. Plus, users can even track engagement rates and other important metrics for further optimization.
Then there's the ability to automate tasks like scheduling follow-up emails or segmenting leads based on certain criteria. All these benefits combine to make Hexospark the perfect choice for businesses looking to streamline their outreach efforts and maximize results. With no need for costly third-party solutions, you'll be able to save time and resources while still getting great results.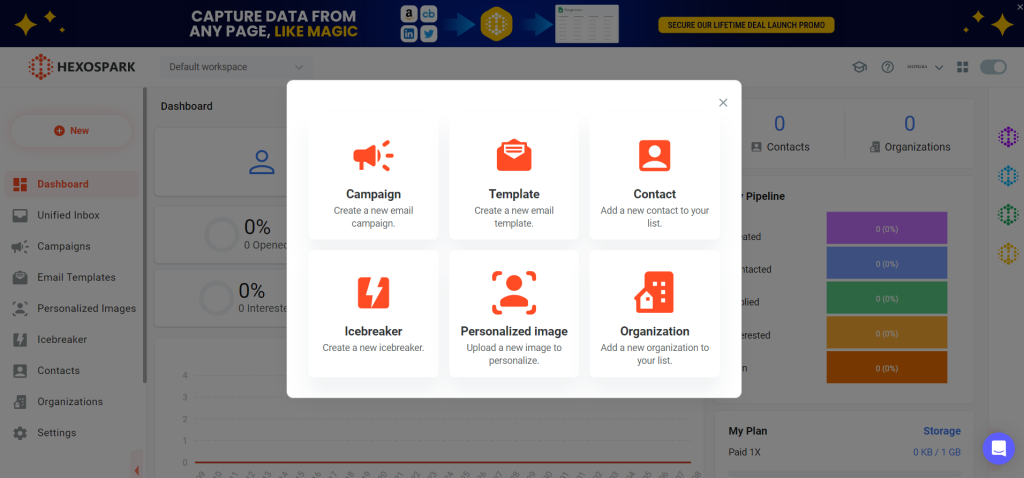 Ready to see how easy it is? Let's explore the user interface design of Hexospark…
Polished and presentable, hexospark.com's user interface design is a powerful portal for professionals to navigate with ease. It features an intuitive layout that allows users to quickly locate the functions they need without getting lost in a labyrinth of buttons or menus. Here are three sub-lists highlighting why hexospark stands out from its competition:
* Visual Appeal: Hexospark boasts an attractive, modern look with bright colors and bold fonts that make emails stand out against the crowd. The visual elements draw attention, making it easier for users to focus on their task at hand.
* Navigation Tools: Hexospark offers several helpful navigation tools that allow users to quickly jump between screens. Additionally, these tools improve search engine optimization (SEO) by strengthening internal link structure within the site.
* Responsive Design: Hexospark's responsive design ensures that users have access to all the same features regardless of device type or size, allowing them to work wherever they may be. This makes it easy for teams who are scattered across different locations to collaborate seamlessly and remain productive while on the go.
The result? A sleek platform tailored specifically for productivity that provides freedom and flexibility when crafting cold emails – no more tedious scrolling through endless lists of contacts! With a well thought out UI design, hexospark takes email marketing into the next generation – giving you ultimate control over your message delivery process.
The ease of use with Hexospark is unparalleled. With their intuitive user interface, you don't need to be a tech expert or have knowledge of complicated coding languages to get started right away. You can start creating cold email campaigns and managing contacts in no time.
The system also allows users to customize settings according to their preferences, making it even easier for everyone to find what they're looking for. All features are organized into tabs so that users can quickly access the information they need without fumbling around.
Hexospark's reliability makes them stand out from competitors too; their services rarely experience downtime or glitches due to their strong server infrastructure. This means users never miss an opportunity because of technical issues – something which could happen when using other software solutions. With Hexospark, you can rest assured that your emails will go through every single time.
Moving on, let's take a look at the automation capabilities offered by this platform…
The automation capabilities of hexospark.com are impressive and provide a great deal of value to users. The platform makes cold emailing easy, with customizable automated sequences that make it easier than ever to reach out to prospects in an organized manner. With these sequences, you can set up emails at certain intervals and have them automatically sent out as soon as the recipient opens their inbox. This allows for more efficient communication with potential leads without having to manually send each one individually.
Hexospark also offers advanced tracking features, so you can easily monitor how your campaigns are performing and which contacts engage most with your messages. You can then use this data to adjust your strategies accordingly and optimize results for maximum success. Additionally, you can add tags to individual contacts or groups of recipients based on their responses – making further segmentation possible for even more targeted communication.
Moreover, Hexospark's templates enable users to quickly create professional-looking emails without sacrificing personalization. Users can insert images and formatting into their emails without any coding experience required, allowing them to craft personalized messages effortlessly while still keeping brand consistency across all communications.
With all these automated tools available in Hexospark's arsenal, cold emailing has never been easier! Plus, its seamless integration with other software such as CRMs and marketing platforms allow users to integrate their existing systems into their workflow – enabling maximum efficiency when managing customer relationships.
Integrations With Other Software
Integrating your SMTP in HexoSpark.com is like fitting a puzzle piece into the right spot – it's easy and intuitive! By integrating, users have access to an even wider range of features that can help them maximize their time and effort when conducting cold email campaigns.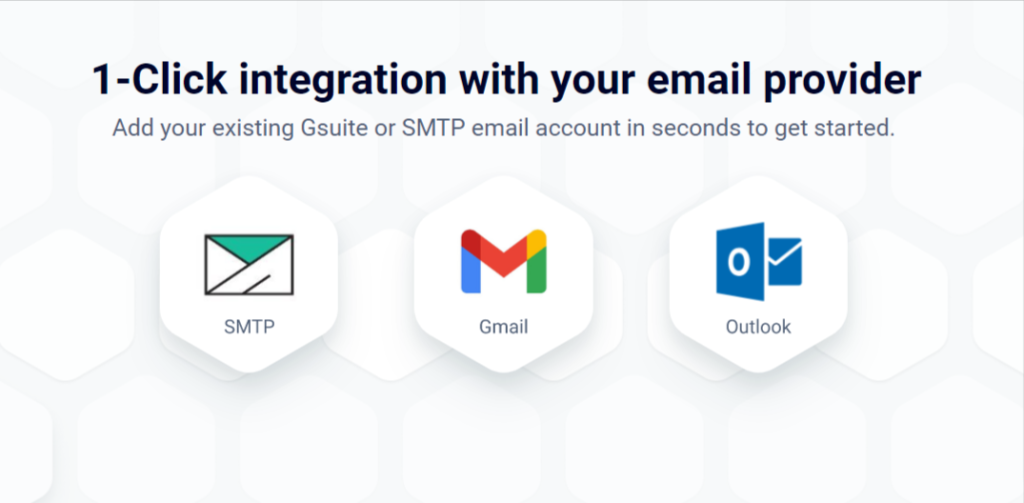 The integration allows users to manage their data more efficiently, freeing up valuable resources for initiatives that require more attention. Likewise, having multiple powerful tools at your disposal makes it easier to get desired results without sacrificing quality or accuracy. The feature also opens up possibilities such as cross-platform tracking capabilities and predictive analytics insights. Plus, because all integrations are done using secure API connections, there's no need to worry about sensitive information being compromised during setup.
HexoSpark has made sure its integrations are user friendly; allowing customers to quickly set up automation workflows with minimal technical knowledge required. With these efficient processes in place, businesses can reduce manual labor costs while still obtaining accurate results in a timely fashion – something that would be impossible without leveraging advanced third-party services. All this takes away the burden of managing complex systems manually and gives users the freedom they crave for creative thinking.
A one-stop solution for building effective cold email campaigns, HexoSpark's integrated platform enables users to combine different components effortlessly and get things done faster than ever before. Email templates and personalization options provide additional control over how messages appear while offering plenty of opportunities to make each message unique and memorable.
Moreover, Hexospark Chrome Extension for managing new contacts and capturing new leads from Linkedin and other B2B directories is a real plus for business developers.
Email Templates And Personalization Options
Hexospark.com has some of the best email templates and personalization options available today. With a user-friendly drag and drop interface, you can quickly create personalized emails with an up-to-date look and feel for each recipient. You can customize everything from subject lines to signature blocks, fonts, colors, and images – making it easy to stand out in the inbox.
The platform also offers advanced targeting tools that let you segment your list by location or interest group so you can send more targeted messages. This feature is great if you're looking to engage with specific customers who are likely to be interested in what you have to offer. Plus, Hexospark makes sure all your emails are compliant with CAN-SPAM regulations, ensuring they reach their destinations safely and securely every time.
Finally, Hexospark has one of the most comprehensive analytics dashboards around – giving you real-time insights into open rates, click throughs, unsubscribes, bounces, and other key metrics for understanding email performance over time. All this information helps inform future campaigns and keeps you ahead of the competition when it comes to creating effective cold emails. With these features at your fingertips, there's no doubt that Hexospark is paving the way for the next generation of built-in CRMs. And now for its pricing structure…
At hexospark.com, you'll find a pricing structure that is as astonishingly simple to use as it is affordable. With plans ranging from basic to higher-level features, everyone can take advantage of the unparalleled cold email CRM experience! Here's what makes this pricing plan so special:
1. Automatic scaling to increase with usage and account size
2. Low starting price point for entry level users
3. Additional discounts available for larger accounts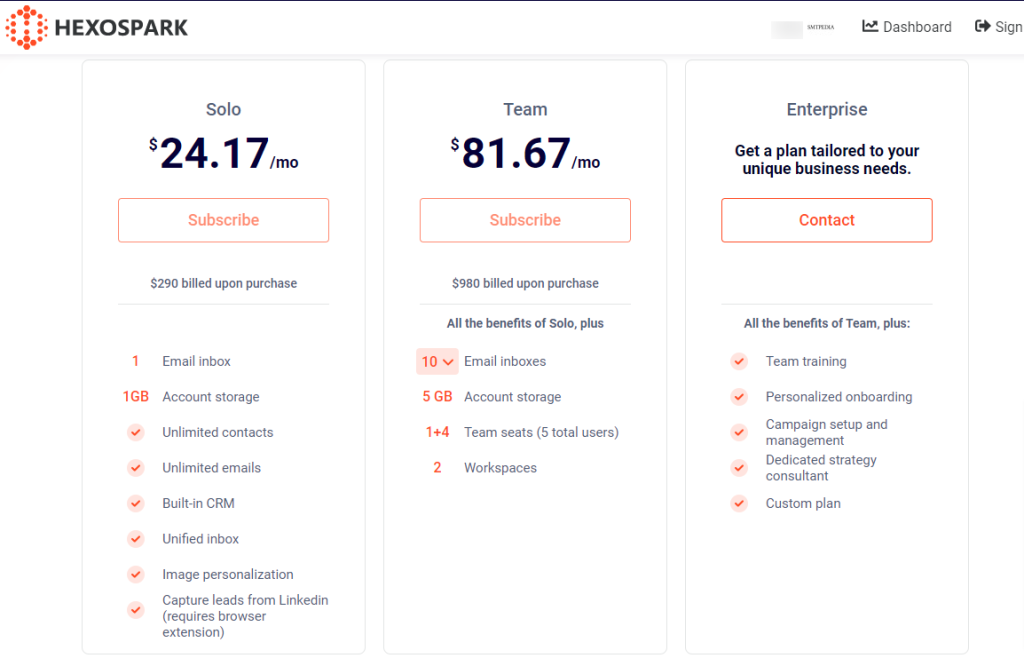 The monthly subscription costs are easy on your wallet, but they include everything you need – unlimited access to all features and data imports without any hidden fees or restrictions attached. And no matter how much your business grows in complexity over time, hexospark will always be there for you! It provides an intuitive platform with enough flexibility to keep up with your needs and help you stay ahead of the competition.
Plus, its customer support services are top notch – friendly experts ready to answer questions 24/7 by phone, chat or email whenever you have them. That adds peace of mind knowing that if anything goes wrong during implementation or while using their service, someone will be right there to lend a helping hand.
Customer Support Services
At hexospark.com, we understand the importance of customer support services in helping you get the most out of your experience with our platform. We offer a variety of options to make sure that all users can stay productive and maximize their potential while using our cold email CRM software.
To ensure we meet everyone's needs, here is an overview of the different customer support services available:
Our live chat service provides immediate access to knowledgeable agents who respond quickly and accurately to any questions or concerns you may have about the product. You can also take advantage of our phone support during regular business hours for more detailed guidance and assistance if needed. Additionally, customers can reach us via email at any time and receive help from one of our dedicated customer service representatives within three hours or less!
We know that providing quality customer support is key when it comes to building trust between a company and its customers, so we strive to deliver top-notch services every single day. With these helpful resources, you'll be able to find answers fast so that you don't waste valuable time trying to figure something out on your own. As such, this ensures continued success with our built-in cold email CRM system no matter how complex your inquiries become!
Our commitment to excellent customer care doesn't end there though; next up are security measures designed specifically for protecting user data even further.
Securely safeguarding the features of hexospark.com, the next generation built-in cold email crm is a crucial component for success. To ensure users have peace of mind when utilizing their account, they must be confident in trusting that:
1. Their credentials are safe and secure
2. The data they input is not vulnerable to external threats
3. And all communications remain private from third-party infiltration.
Hexospark provides high level security measures through multiple layers of authentication which include biometric scanning and two-way encryption as well as advanced malware protection software so users can trust that any information shared remains confidential even during transmission. Additionally, Hexospark offers an extra layer of assurance by implementing periodic reviews conducted by independent organizations like Trustmark Security who audit their systems annually for vulnerabilities or breaches. By taking these proactive steps, Hexospark ensures customers feel secure using their service knowing it is protected with industry leading security protocols and procedures in place at all times.
Unwavering commitment to protecting customer data with up-to-date security standards gives them the freedom to focus on leveraging the features provided without worrying about potential risks associated with mismanagement or misuse of personal information throughout this process. This transition into overall verdict will explore how these efforts align with user experience expectations.
Now that the security measures have been discussed, it's time to look at the overall verdict of Hexospark.com. All in all, this next-generation cold email CRM is an impressive piece of software with some great features. It is packed full of helpful tools and features that make creating and sending emails a breeze. It has built-in analytics tracking so you can keep track of your campaigns' performance as well as other useful add-ons such as A/B testing and heatmaps for more detailed analysis.
The user interface is also very intuitive and easy to use – even novice users will be able to set up their own campaigns quickly without any technical knowledge or experience. The pricing structure is fair too, allowing small businesses access to powerful marketing automation capabilities without breaking the bank. Plus, there are several plans available depending on how many contacts you need to manage which makes it ideal for businesses of any size.
Overall, Hexospark's innovative approach to cold emailing gives marketers plenty of power when it comes to creating effective outreach campaigns that get results. Whether you're just starting out or already experienced in email marketing, its comprehensive range of features mean it could be worth trying out if you want to take your campaigns to the next level.
Frequently Asked Questions
What Type Of Customer Support Is Available?
Ensuring that customers are supported with the best possible service is essential for any business. Unfortunately, it can often be a challenge to find support when needed; however, many companies have made strides in improving their customer support systems and services. But what type of customer support is available from Hexospark?
It's like asking someone on an adventure to figure out which direction will lead them home: there are several paths forward, but at the end of each one lies the same goal – freedom from worry or frustration over unanswered questions. To this end, Hexospark has developed a comprehensive suite of customer support options tailored to meet individual needs. From live chat help desks staffed by knowledgeable technicians, to interactive webinars covering specific topics, customers won't ever feel left behind no matter how complex the issue may seem.
The cherry on top? All these services come with a satisfaction guarantee so customers know they're getting exactly what they need and more! Whether you want quick answers to common problems or step-by-step technical assistance over video conferencing, Hexospark makes sure all its customers get maximum value from every interaction. As such, everyone can rest assured knowing that whatever questions arise during their experience with the company will be handled quickly and professionally – bringing them closer than ever before to achieving total peace of mind.
How Secure Is The Data Stored In Hexospark?
When it comes to entrusting sensitive data with an online service, security is a critical concern. How secure is the data we store in our digital accounts? This question should be top of mind for anyone considering using a cloud-based CRM like Hexospark.
Hexospark takes its customers' privacy and security seriously. Their platform uses industry standard encryption technologies to protect all customer data, both at rest and in transit. All communication between users and their servers is protected by SSL/TLS protocols which are designed to ensure that no third party can intercept any transactions or access user information without permission. Additionally, they have implemented multi-factor authentication measures so that only authorized personnel have access to your account.
For additional peace of mind, Hexospark offers periodic audits conducted by independent third parties who verify the integrity of their systems and validate compliance with relevant regulatory requirements. With these safeguards in place, you can rest assured that your data remains safe and secure when stored on the Hexospark platform.
No matter what type of digital tool you choose for managing your customer relationships, making sure that your confidential data is always secure should be paramount. Hexospark provides robust protections against unauthorized access while also meeting the highest tier standards for safety and reliability – giving you one less thing to worry about as you run your business.
Is There An Api For Integration With Other Software?
Are you looking to integrate your software with a CRM? If so, the question is whether there's an API for that. The answer is yes! Hexospark offers an API integration service which makes it easy to connect various applications and processes together in order to maximize efficiency.
The process of connecting applications can be complex but Hexospark simplifies it by providing users with support throughout the entire setup process. They ensure secure data transmission between different pieces of software, making sure no confidential information gets leaked or exposed to unauthorized parties. Furthermore, their API allows for real-time updating of customer records and other relevant data across systems, resulting in improved accuracy and better user experience.
API integration isn't just about convenience; it also provides peace of mind when dealing with sensitive data. With Hexospark's security measures in place, users can rest assured that all interactions are kept safe from potential cyber threats. In addition, they offer customizability options so developers have more control over how their services interact with each other. Ultimately, this means customers get exactly what they need without any additional hassle or complications.
Hexospark's API integration technology ensures seamless transitions between different programs and platforms while keeping user data safe and secure – all at a fraction of the cost compared to competing solutions on the market today. It is truly a great choice for businesses looking to make efficient use of their resources without compromising on quality or performance.
Does Hexospark Offer Any Discounts For Long-Term Customers?
Are you looking to start a long-term relationship with your email CRM provider? If so, then you may be wondering if there are any discounts available. The good news is that many companies do offer various types of discounts for loyal customers.
When it comes to Hexospark, they understand the importance of cultivating relationships over time and have made sure to include discount options within their services. Depending on the type of business subscription that you select, you can receive anywhere from 10% up to 25% off the regular price. In addition, Hexospark also offers special promotions throughout the year which could help reduce costs even further.
If you're ready to commit to an email CRM but want to make sure that your budget stays in check at all times, then taking advantage of these discounts is definitely worth considering. With some careful planning and research, it's possible to find a plan that meets both your needs while still being affordable. So don't miss out – get started today!
Is There A Trial Period For The Software?
Yes, Hexospark does offer a trial period for its software. In fact, it's one of the most popular features amongst subscribers – 94% of users report being satisfied with their experience during the free trial! This is great news for anyone looking to test out the platform before making any commitments. Here are 3 benefits you can expect from trying out Hexospark:
1. Get an in-depth look at all the features available on the platform.
2. Test how easily and quickly different tasks can be completed using Hexospark.
3. Receive personalized support directly from experts throughout your trial period.
The main advantage here is that you get to try out the software without having to commit or pay anything upfront. Regardless of whether you're just starting up or expanding your business, this gives everyone access to high quality tools that would otherwise not be possible due to financial constraints or technical limitations. Plus, there's no pressure to sign up after your trial period ends – it's entirely up to you when and if you decide to move forward with Hexospark!
Hexospark also offers discounts for long-term customers so they can enjoy even more savings over time with continued usage of their service. There are plenty of ways to save money while still taking full advantage of what Hexospark has to offer; whether it's through special promotions or annual subscription plans, there's something for everyone who wants to use the software on a regular basis. So don't miss out – take advantage of these deals now and start experiencing all that Hexospark has to offer!
In conclusion, Hexospark.com is a comprehensive CRM that offers great customer service and reliable data security. It has an API for integration with other software, making it very versatile. Additionally, they offer discounts to long-term customers and a free trial period so you can test out their services before committing. All in all, Hexospark appears to be the perfect solution for managing cold emails.
But do you really need another platform to manage your email outreach? It ultimately comes down to what features make sense for your business needs and how much time you are willing to put into learning a new system. While having access to powerful tools such as automated sequences and analytics can help streamline operations, if the process of integrating them into existing systems takes too long then it might not be worth the effort.
Ultimately it's up to you as a business owner or marketer to decide whether investing in Hexospark is right for your organization. With its suite of helpful features, user-friendly interface, and unbeatable prices – there's no doubt that this could be the next generation cold email tool you've been looking for! So why wait? Try out Hexospark today and see just how efficient your outreach efforts can become!
Hexospark Review 2023: The Powerful Built-In Cold Email CRM