Are you looking for an effective email marketing solution that won't break the bank? eTrigue may be just what you're searching for.
This powerful software is packed with features to help make your campaigns successful, and it's priced fairly so businesses of any size can benefit from its capabilities.
But before you commit, let's take a closer look at exactly what eTrigue offers and explore some alternatives.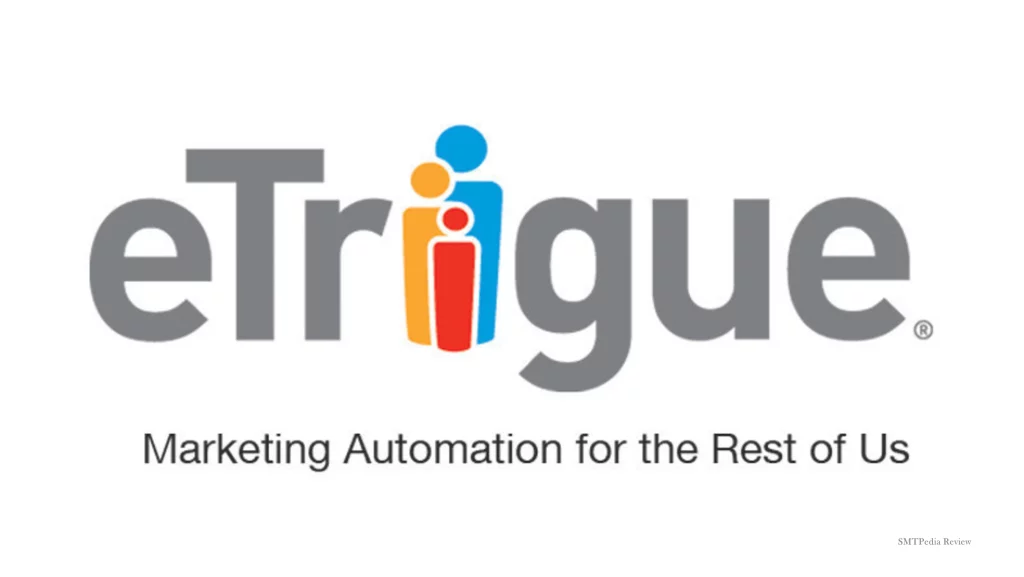 It can be daunting trying to navigate all the options out there when selecting an email marketing tool.
You want something reliable and robust enough to handle larger-scale projects but don't want to pay more than necessary – plus, we all crave freedom in our digital endeavors!
Let's dig into the details of eTrigue and examine other potential solutions that could give your business the boost it needs without putting too much strain on your budget.
eTrigue is an email marketing software system that caters to small and mid-sized businesses. It's designed to help customers segment their audiences, personalize messages and automate the delivery of emails.
eTrigue's user interface makes it easy for users to quickly set up campaigns in minutes with minimal technical knowledge required. The platform provides tools such as customizable templates, automated follow ups, drip campaigns, A/B testing, surveys, lead scoring and more.
This helps marketers maintain a consistent message across all channels while providing detailed insights on customer trends and behaviors. Additionally, eTrigue offers integration options with popular CRM programs like Salesforce and Microsoft Dynamics so you can access your existing contact data from within the application.
With its intuitive design and comprehensive feature set, eTrigue allows marketers to quickly create engaging content without sacrificing performance or accuracy. Whether you need basic email automation or complex customer segmentation strategies – eTrigue has you covered!
Ready to learn how this powerful tool can take your business' digital presence to next level? Let's explore its features and benefits now!
etrigue email marketing software is a powerful and intuitive solution that provides businesses with all the tools they need to create effective, targeted campaigns. It offers various features like advanced segmentation and targeting strategies as well as split testing capabilities that allow users to optimize their emails for maximum performance. With etrigue, you can easily craft impactful messages tailored specifically to your audience's needs.
Using etrigue's comprehensive suite of automation tools, you'll have more time to focus on other areas of your business while still getting optimum results from your email campaigns. The platform allows you to schedule automated delivery times, test different versions of an email before sending it out using A/B or multivariate tests, track user engagement data in real-time and much more. Plus, it comes with detailed reporting so you can always stay on top of what works best for your customers.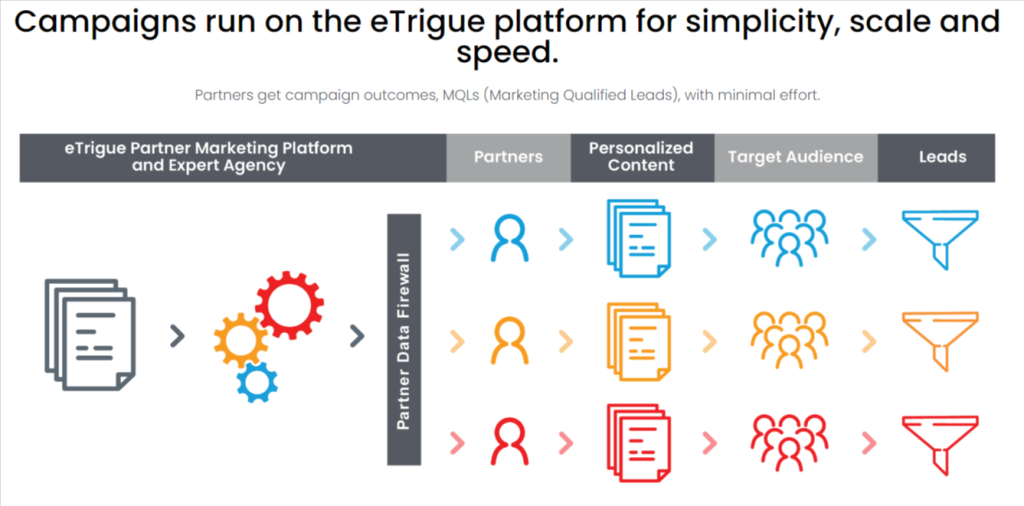 The wide range of functionality offered by etrigue makes it easy for marketers to deliver high-impact messaging without spending hours crafting each individual campaign. By leveraging its sophisticated analytics and tracking capabilities, users are able to continually refine their strategy based on actual user behavior — ensuring better ROI every time. That's why so many companies rely on etrigue for successful email marketing initiatives – because when it comes to delivering compelling content at scale, nothing else compares!
Getting started with etrigue is simple; now let's take a look at how this powerful tool fits into your overall pricing plan.
The cost structure of etrigue pricing is straightforward and easy to understand. For those looking for a budget-friendly option, their pricing strategies make it an attractive choice. With no setup or onboarding fees, users can get started immediately with minimal financial commitment.
Their platform offers three different tiers: the starter plan for small businesses; the professional plan which includes enhanced features; and the enterprise plan that provides comprehensive services including additional user accounts and analytics. Each monthly subscription rate varies depending on how many emails are sent each month. This allows customers to customize their plans based on their individual needs without paying more than they have to.
No matter what tier you choose, etrigue's email marketing software comes with robust reporting tools like A/B testing options and detailed insights into customer engagement levels. It also boasts powerful automation capabilities so users can easily create automated campaigns in minutes – not hours!
Transitioning smoothly into the next section about pros and cons, let's take a closer look at what this platform has to offer its users.
I think the pros of eTrigue email marketing software are its cost, features and support. On the other hand, its complexity, limited customization and data security can be cons.
It's definitely worth considering the pricing and alternatives, though. I think cost should be a major factor, as it could save a lot of money in the long run. Features should also be examined, as it'll determine how powerful the software is. Support should also be taken into account, as it could be essential to getting the most out of the program.
Complexity is something to be aware of, as it can make the software difficult to use. Limited customization is also a downside, as it restricts the user's ability to tailor the software to their needs. Finally, data security should be a priority, as any breach could have serious consequences.
Pros: Cost
Etrigue email marketing software offers an array of cost-saving benefits for streamlining operations. Its pricing structure is straightforward and easy to understand, making it a great choice for businesses on a budget.
Data analysis capabilities are especially useful when looking to get the most out of your spend. Plus, you can customize your own package with more features depending on the size and needs of your organization. That way, you don't have to pay extra for services that aren't necessary!
It's no wonder Etrigue has become such a popular choice in recent years; its combination of affordability and quality makes it stand out from other solutions on the market. With so many options available today, there are plenty of ways to maximize ROI while still getting excellent value – Etrigue is just one example of how effective this strategy can be.
Features
When it comes to features, Etrigue has plenty of options that can help you get the most out of your email marketing efforts. Automation capabilities allow for streamlined operations and better customer segmentation so you can target specific audiences more efficiently. This helps ensure that you're reaching the right people with the right message, instead of wasting time or resources on irrelevant campaigns. Plus, its intuitive interface makes it easy to use even if you don't have a ton of technical knowledge.
You won't find many other solutions as comprehensive and user-friendly as this one!
In addition to these convenience benefits, there are also cost savings associated with using Etrigue's services. Its pricing structure is straightforward and tailored specifically to meet the needs of businesses on a budget – plus, additional features can be added depending on what size organization you run. That way, you don't have to pay extra for things like analytics or customization when they aren't necessary.
Overall, it's an excellent choice for those who want quality without breaking the bank.
Etrigue offers impressive value across all fronts: affordability, performance and usability. It's no wonder why this software has become such a popular option in recent years – there really isn't much else like it out there! With great ROI potential and customizable packages available, Etrigue is definitely worth considering if you're looking for an effective yet economical solution for your email marketing needs.
There are many eTrigue alternatives, each with its own unique functions and capabilities when it comes to email automation, lead scoring, and other key elements of successful campaigns.
One great alternative is Salesforce Pardot. This solution offers a wide range of powerful tools designed to help businesses create effective email campaigns quickly and easily. It also has advanced analytics that can be used to measure performance and track ROI on any given campaign. Plus, Pardot integrates seamlessly with popular CRM systems like Salesforce, making it easy to keep customer data up-to-date across multiple platforms.
For those who want an all-in-one solution, Constant Contact might be worth exploring. The platform provides users with everything they need to manage their contacts, design emails, deliver automated messages, collect payments online, and even send postcards through snail mail – all within one interface. In addition to these features, Constant Contact's library of stock images makes it easier than ever before to add eye-catching visuals that will draw readers' attention while providing valuable insights into user engagement rates via detailed reports.
With so many great choices available today, there's no reason why anyone should feel limited by eTrigue alone; take advantage of the diverse selection available and make your next campaign a success!
From here we move onto our conclusion and recommendation section about which option fits best for which business needs.
Conclusion And Recommendation
As an alternative to eTrigue, there are a number of email marketing software programs available. These alternatives offer their own unique features and capabilities that may be better suited for different businesses' needs. The cost effectiveness, user friendly interface, and scalability are some factors which should be considered when selecting the best option for a company's specific requirements.
One popular choice is MailChimp, which offers comprehensive analytics with detailed reporting options. It also has an intuitive drag-and-drop feature for creating campaigns quickly and easily. Additionally, it allows users to send automated emails based on customer behaviour or other criteria set by the business. This makes MailChimp a great choice for those looking to streamline their email marketing efforts while being budget conscious.
ActiveCampaign is another well-known tool in the email marketing space that stands out due to its powerful automation tools and robust integrations with various third party services such as Salesforce and Shopify. With ActiveCampaign's advanced segmentation abilities, marketers have greater control over who receives what message at any given time — enabling them to craft more tailored content for each audience group. In addition, this platform provides deep insights into campaign performance metrics so businesses can make informed decisions about future campaigns.
In summary, choosing the right email marketing software requires careful consideration of both short-term and long-term goals along with key features desired by the business. Taking all these elements into account will help ensure companies pick the solution that best meets their objectives now and in the future – one that is both cost effective and user friendly.
Frequently Asked Questions
Does Etrigue Offer A Free Trial?
Are you interested in trying out eTrigue's email marketing software but don't want to commit right away?
Don't worry, they offer a free trial so that you can test out the features and pricing models before deciding if it's the right fit for you.
With this free trial, you'll get access to all the features of their software without any long-term commitment or hidden fees – allowing you to take advantage of everything eTrigue has to offer while still having freedom over your purchase decisions.
How Does Etrigue Compare To Other Email Marketing Software Platforms?
Email marketing software is a great way to connect with customers and grow your business, but how do you know which platform is right for you?
When comparing eTrigue to other options available on the market, consider scalability options as well as feature comparison.
With many platforms offering customized solutions that help streamline workflow processes, it's important to evaluate features like automation capabilities, segmentation tools, and analytics in order to make an informed decision.
Choosing the best email marketing software can be daunting, but doing research up front ensures you get the most out of your investment while freeing up valuable resources.
Does Etrigue Offer Customer Support?
Yes, eTrigue offers customer support with a range of contact options available.
Whether you're in the market for pricing plans or need an answer to your query, their team is on hand to help.
They offer 24/7 online chat and email support so that customers can access help whenever they need it – giving them peace of mind and freedom from worries about any issues coming up.
Is It Easy To Integrate Etrigue With Other Marketing Tools?
Integrating eTrigue with other marketing tools is easy and hassle-free. With their straightforward email automation and powerful marketing automation, you'll be able to seamlessly connect your existing software with eTrigue in no time.
You won't have to worry about spending hours trying to get it just right; the integration process is designed for maximum efficiency so that you can spend more of your precious time doing what matters most – growing your business.
How Secure Is Etrigue When It Comes To Data Privacy And Protection?
When it comes to data privacy and protection, eTrigue is incredibly secure. Their tracking policies are strict and their data encryption protocols are top-notch, ensuring your customer's information remains safe.
With so much of our personal lives online these days, it's essential we trust the platforms that store our sensitive data. Luckily, with eTrigue you can rest assured knowing all your customers' info is in good hands!
eTrigue is more an email marketing agency than a software filanlly. It provides users with many features and benefits, including customer support, but its pricing model works like an Angency.
Overall, it's a great choice for businesses looking for an effective way to manage their email campaigns. I definitely recommend giving eTrigue a try – you won't be disappointed! Plus, they offer a free trial so you can test out the platform before committing to anything.
eTrigue Email Marketing Software: Presentation Pricing And Alternatives