The present GetResponse review stands on almost all that the platform can offer. This complete review covers all the aspects of what an email marketing platform can offer as services for its customers.
After several months of research and testing, Smtpedia's editorial team wanted to start the reviews series with this amazing platform
GetResponse is an email marketing platform that small business owners and marketers use to leverage their email marketing efforts.
Get Response has been around for over 20 years and has a very loyal customer base. The company prides itself on its user-friendly interface and the variety of features it offers to its customers.
GetResponse's headquarters are based in Gdańsk, Poland but they have offices in Wilmington, Delaware, US, in Sao Paulo, Brazil, and in Kuala Lumpur, Malaysia.
GetResponse's free plan is quite generous compared to other platforms, it includes the essential features that a user should start with a small project or business, and grow with time
Email marketing with a list upload for up to 500 contacts
A website builder with a 5GB bandwidth
A connect-domain feature
Pre-built & customizable landing pages
A Signup feature and contacts forms

The first thing that you need to do is to create an account on GetResponse.
Once you have created your account, you will need to add a list of email addresses that can be used for sending out newsletters.
You can also create a list of contacts by adding their names and email addresses. You should then add this list to your GetResponse account so that it can be used later on.
The next step is to set up a template for the newsletter. You will need to decide on the layout, the design, and the style of writing that you want in your newsletter.
You should also take into consideration what message you want your newsletter to convey as well as what type of content it should contain.
Once you have finalized all these details, it is time to publish your first newsletter!
Likewise, you can do this with their Email Automation Tools.
GetResponse has a 30-day free trial feature, which includes all the premium features in the platform, which are mainly:
Unlimited newsletters, landing pages, and Website Builder
Basic, Advanced, and Ecommerce segmentation
Autoresponders
Integrations and API
Email Marketing and Event-based automation
Scoring contact engagement
Sales funnels and transactional emails
Abandoned cart recovery and Promo codes
Product recommendations and Web push notifications
GetResponse Main Features
GetResponse's platform has more than 220 features, but not only in Email Marketing, they have also:
They also have a great feature which is Web Connect. It's an embedded code that allows your website, regardless of its coding language or used technology, to connect with the platform.
The only thing GetResponse is missing is probably the SMS feature.
Below, you can find the complete features, except GetResponse Max bundle, which is a fully featured bundle with a custom pricing.
GetResponse Email Marketing Features
That would be 10/10 if there were the "Abandoned Cart" feature available for Email Marketing Bundle subscribers and Marketing Automation subscribers as well, at least with a limited number per month. Full options in Email Marketing Feature include:
GetResponse Automation Features
9/10 for this feature, GetResponse didn't forget Email Marketing Bundle subscribers, we know that this can be costly in general. Full options in Automation Feature include:
GetResponse Autoresponders Features
The Essentials are here 🙂 Full options in Autoreponders Feature include:
GetResponse List Management Features
9,5/10 for this feature. Full options with List Management Feature include:
GetResponse Segmentation Features
10/10 for the Segmentation Feature. Full options with Segmentation Feature include:
GetResponse Website Builder Features
9,5/10 for this feature. Full options with Website Builder Feature include:
GetResponse Landing Pages Features
10/10 for the Landing pages features. Full options with Landing Pages Feature include:
GetResponse Ecommerce Tools Features
Only fully available for the Ecommerce Marketing, and partially available for Email Marketing and Marketing Automation. Full Options with Ecommerce Tools feature include:
GetResponse Transactional Emails Features
Available only for Ecommerce Marketing bundle. Full Options with Transactional feature include:
GetResponse Forms and Popups Features
Almost fully available for all the bundles. Full Options with Forms and Popups feature include:
GetResponse Webinars Features
Full Options with Webinars feature include:
GetResponse Web Push Notifications Features
Full Options with Web push feature is only available, partially, for the Marketing Automation Bundle, and fully, for the Ecommerce Marketing one.
GetResponse Chats Features
If you didn't recognize this feature yet: it's the direct chat tab when you land on a website, and it's not a chatbot 🙂
Full Options with the GetResponse Chats feature include:
GetResponse Conversion Funnels Features
GetResponse sales funnel is probably one of the key features that many companies use for special Marketing Campaigns like lead generation or similar. Full Options with Conversion Funnels feature include:
GetResponse Paid Ads Features
Full Options with Paid Ads for all paid subscriptions include:
GetResponse Analytics Features
Full options with the Analytics feature, the reporting features are available for the 3 bundles include:
GetResponse Integrations Features
Full options with Integrations feature: only Microsoft Dynamics 365 option is missing
GetResponse Mobile Apps Features
Full options with Mobile Apps feature is fully available for the 3 bundles.
Subscription Plans – GetResponse Plans Review
GetResponse's lowest plan starts from $13,30 per month for up to 1000 contacts and $55,30 per month for up to 10K contacts.
The mid and long-term subscriptions are even better in terms of cost optimization: the yearly plan suggests an 18% discount and the 2-year plan a 30% discount.
So if you are already an entrepreneur, a company, or an agency, with a mid-size opt-in contacts list(s), this is probably the perfect plan for you.
Additional functions are available as well in higher-tier packages.
GetResponse Pricing for a Monthly Subscription
Prices for a 1-Year Subscription with GetResponse (-18%)
Prices for a 2-Year Subscription with GetResponse (-30%)
Pay-As-You-Go Plan
Until now, the platform does not have any Pay-as-you-go plan, and seemingly, they don't have the intention to do it, as long as their target is a committed community of small businesses and entrepreneurs.
GetResponse Review Pricing
Comparing with other platforms offering the same features, GetResponse may probably seem one of the less expensive in terms of quality-price.
We did a comparison with MailChimp pricing, and we figured out that you can pay 400$ a year less if you use GetResponse.
GetResponse Email Campaign Types
There is no need to describe further GetResponse Email Marketing Campaign Types, for the only reason that they have "almost" everything available. The only 2 things which are not available, are B2B email prospection, and Transactional campaigns (available only for Ecommerce Marketing).
Please note one small detail, that the transactional emails all only available for the Ecommerce Marketing bundle.
Important Notice About GetResponse Deliverability
Many other reviews have included deliverability. At Smtpedia, we don't think that this may be a key point to evoke, knowing that this platform is a leader on the market, with more than 20-year experience, and more than 1 Million subscribers.
Other than this, if an important percentage of a campaign lands other than inbox (promotion, spam, etc.), how should we know that this is the platform's fault and not the sender's, and vice versa? There is a lot of criteria in order to reach the inbox.
One final word regarding this: Admitting to know about Email Platforms deliverabilty rates, is like admitting knowing about Google's Ranking AlgorithmIs. Are there general rules about deliverability rules? the answer is YES! Are there one recipe regarding delivery rules? the answer is obviously NO!
Your account should be restricted if you have made one of those actions:
You promoted firearms and guns products or published a related content
You promoted adult-related products or content
You promoted drugs-related products or content
You promoted smoking-related products or content
You promoted lottery-related products or content
Adding to this, if you encountered a high bounce rate or a high complaint rate, you may be banned from using the platform again.
Finally, if GetReponse may judge that you are getting a spammer behaviour (spammy content, insisting behaviour,etc.) you may get restricted too.
That's why we recommend using GetResponse within a Digital Marketing Specialist (Expert) in order to maintain a good reputation.
Getting a refund for your web service is not possible due to GetResponse's pay-as-you-go approach. If you cancel before billing takes place GetResponse will immediately lift the cancellation and stop any future payments.
For instance, if GetResponse charge your credit card on the 10th of June and you cancel your account on the 15th, then you will be responsible for the whole month (or year, if it's an annual plan) while only being a customer for one half of that time.
No additional charges can be applied to your credit card following your initial purchase, but any money already taken out will not be refunded.
The supported languages are a great asset for the platform, even though they can add some key languages, they still have one-of-a-kind visibility thanks to this.
Support availability is one of the main criteria that a reviewer should take a look on. After 3 weeks of regular tests, we can confirm that GetResponse have a very good live chat reactivity, 30 seconds after our first message, we got a first answer from the chat support. Here is a screenshot: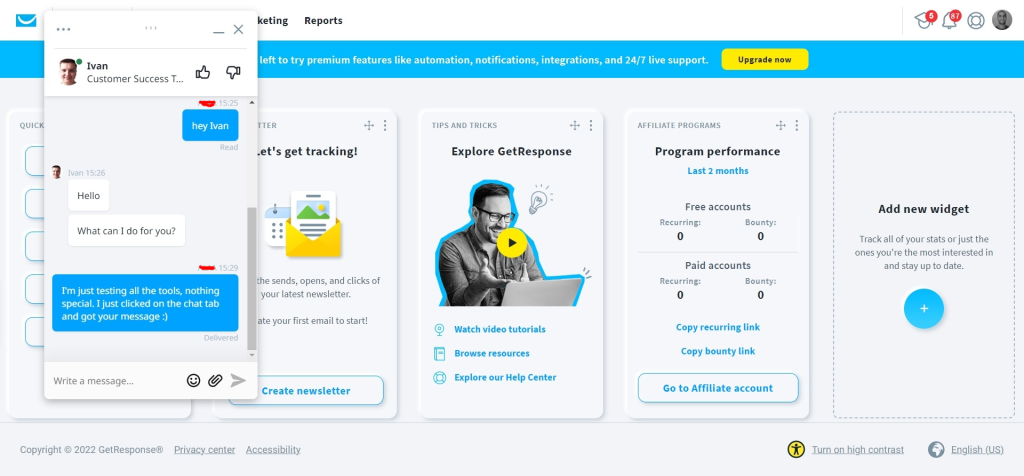 With Email, it took us half a day to have an answer, which is a very good rate too.
1. Integrations
As we previously evoked, GetResponse has more than 220 integrations. According to your chosen bundle and your CMS platform, you will get the ones you need for your reporting, automation, email campaigns and even your paid campaigns.
2. GetResponse API
For developers, GetResponse made an easy to use API, that fits with all CMS, programming languages, and frameworks. GetResponse API is:
https://api.getresponse.com/v3
It's a RESTful API and it accepts 3 HTTPS methods, which are namely: GET, POST and DELETE. Each user can also apply 80 API calls per second and send up to 10 simultaneous requests.
Affiliate Program
Whether you are an individual user or a company, you can subscribe to both GetResponse affiliate programs: recurring and bounty programs.
Recurring programs are perfect for affiliate marketers who would like to earn passive, predictable income. You'll receive 33% commissions as long as your referral stays an active customer.
In the bounty program, you receive a $100 one-time fee on each sale. The payout is higher but there are also other programs. You can experiment with both and decide what works best for you.
Agency Program
The Agency program is open to all Marketing Agencies. They can benefit considerable advantages from this program
Non-Nrofit Program
The non-profit program is probably one of the best when it comes to all the existing SAAS platforms. If you are an NGO, a charity, or an association, you may benefit from a 50% discount on your subscription with GetResponse.
Online Marketing Certification Program
If you feel the need for taking a certification from a serious platform, you should enroll in GetResponse's Online Marketing Certification Program.
All the industries all eligible within GetResponse except the following:
Firearms and guns products or content
Adult-related products or content
Drugs-related products or content
Smoking-related products or content
Lottery-related products or content
Making a GetResponse vs MailChimp section is like comparing Nike and Adidas, or Instagram and TikTok. Well, the got the point, it's not an easy task.
MailChimp is a popular email marketing tool that is easy to use and has a great user interface. But, GetResponse is not far behind. It offers many of the same features as MailChimp and even more, and has additional features as well that can beat MailChimp when it comes to all-in-one Email Marketing Tool leadership.
GetResponse has been around since 2001 and they have over 1M customers worldwide. It's also used by companies like Netflix, LinkedIn, and Airbnb to send out their emails.
GetResponse also provides other marketing tools like landing pages and social media integration. In conclusion, both MailChimp and GetResponse are great email marketing tools with different pricing structures that will suit your needs depending on your budget or the size of your company.
But still, in terms of pricing, let's take the 10.000 contacts bundle, the lowest pricing for MailChimp usage is $87 / mo, while GetResponse suggests this for $55,30 / mo.
Well, now multiply the $32 difference time 12 (months): almost $400 is saved.
GetResponse is the perfect definition of what an all-in-one Email Marketing Platform is, it can even narrow the definition of a CRM if it's not the case already.
To sum up with this review, it's ideal for creators, entrepreneurs, small companies, big companies, non-profits, and charities, but especially, if you are a middle-size e-commerce company, just subscribe without hesitation, because, seemingly, it's the perfect fit.
If you would like to get an accurate choice based on your niche, monthly sending, and your monthly budget, we suggest that you try our Smart and Advanced Email Comparison Tool.
You will just select the options you need, and based on this, you will get redirected to the most accurate Email Marketing Platform among a choice of +100 platforms.