JangoMail Email Marketing Software offers an impressive range of features and services, with competitive pricing to match.
But not everyone wants or needs all those bells and whistles – so what are some alternatives?
In this article, we'll explore everything you need to know about JangoMail, from presentation options to pricing plans and potential alternative solutions for those looking for something simpler.
Get ready to discover how email marketing could work wonders for your business!
Overview Of Jangomail Features
JangoMail is an email marketing software that provides automation tools to streamline your campaigns. It offers features such as customizable templates, A/B testing capabilities and real-time tracking of emails sent.
With its intuitive user interface, you can create personalized messages tailored for each recipient's needs in a matter of minutes. By taking advantage of the powerful analytics available with JangoMail, you can track opens, clicks and conversions to ensure that your message reaches your intended audience.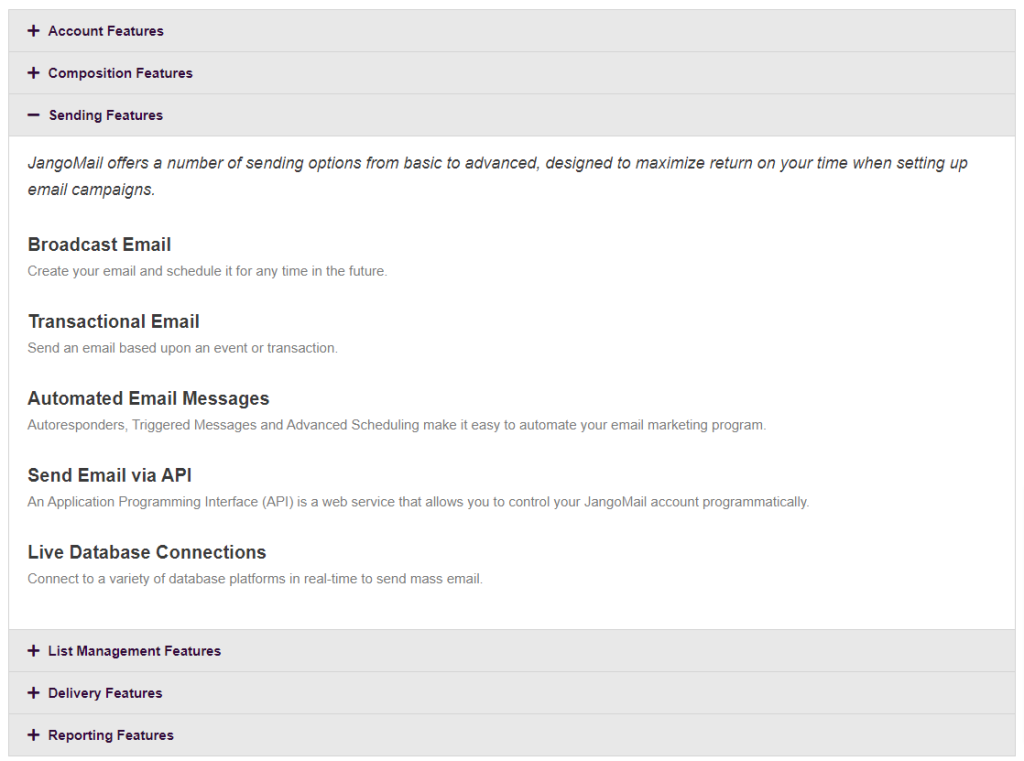 With its automated delivery system and detailed reporting features, it's easy to see why many businesses choose JangoMail for their email marketing needs. The platform makes sending targeted messages simple by allowing users to segment contacts into various groups based on criteria like location or purchasing history. Additionally, the software has built-in spam protection measures and allows you to send bulk emails while adhering to all industry regulations – making sure your campaigns stay compliant at all times.
Thanks to its affordable pricing plans and helpful customer support team, JangoMail is quickly becoming one of the most popular email marketing solutions around. To find out more about how this tool can help boost engagement rates and drive sales growth, read on to learn about jangomail's pricing plans!
We'll be discussing JangoMail's pricing plans, their associated costs, and exploring some alternatives.
All JangoMail plans come with a free trial, so you can decide if it's the right fit for you.
The two primary plans are the Business Essentials and the Business Plus, with costs ranging from $19.95/month to $299/month. But JangoMail pricing model is still On Demand.
Let's take a look at some other options on the market for email marketing software.
Jangomail Plans
Are you looking for an email marketing software solution? JangoMail is a great choice! It's easy to use and offers plans that fit any budget.
Let's take a look at their pricing plans so you can decide which one works best for your needs.
JangoMail has three different price tiers: Personal, Pro, and Premier.
The Personal plan includes features like automated email campaigns, opt-in forms, basic segmentation tools, as well as support from the team in case of any questions or issues.
With the Pro plan, users get all of the features of the Personal plan plus more advanced segmentation capabilities and access to premium templates.
Finally, with the Premier plan users get everything included in both the Personal and Pro plans plus additional features such as A/B testing and integration with multiple platforms.
No matter if you need something simple or complex, JangoMail has options to suit everyone's requirements – making it a great choice for anyone looking for an email marketing solution!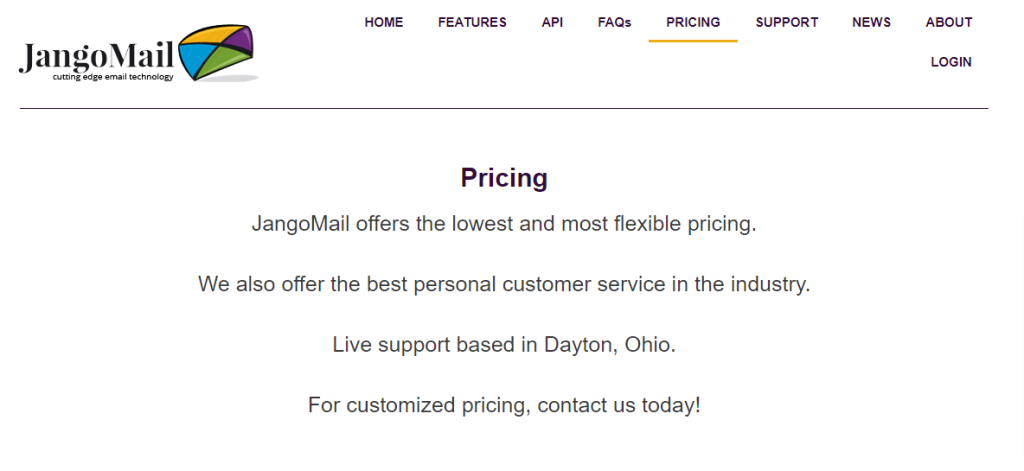 Plan Costs
At JangoMail, they understand everyone's needs are different. That's why they offer flexible options and customizable plans to fit your budget.
No matter what email marketing solution you're looking for, you can find a plan that works for you! Whether it's the Personal plan with basic features or the Premier option which offers A/B testing and more advanced segmentation tools – there is something for everyone.
Plus, all their plans come with great customer support so if you ever have any questions or issues, help is only a few clicks away.
So don't wait another minute – explore JangoMail today and start taking advantage of their unbeatable pricing plans!
Now that you are aware of JangoMail's pricing plans, it is time to learn how to set up your account. Setting up a JangoMail account requires just few steps and once done, you will be able to start customizing emails for automated triggers or building email campaigns with the help of the user-friendly tools provided by JangoMail.
Firstly, create an account on JangoMail; a process which can be completed in less than five minutes. You have the option to fill out a form manually or signup using social media platforms like Facebook or LinkedIn.
Once registered, you can proceed further towards setting up email templates and constructing message contents according to your own preferences using their drag & drop feature. At the same time, factors such as compliance requirements should also be taken into consideration while developing content.
Lastly, after configuring all settings related to personalization and automation, choose one of their available delivery options – real-time delivery or scheduled sending – and click send! That's it – now sit back and watch your messages reach your customers' inboxes within seconds! With its highly advanced features, JangoMail ensures that users get maximum value from their investment in no time at all.
Moving forward then with creating powerful email campaigns…
Building Email Campaigns With Jangomail
Creating an effective email campaign with JangoMail is like constructing a house of cards: it requires thoughtful targeting strategies, meticulous tracking metrics, and the right set-up.
Every message must be tailored to its recipient for maximum impact, so you can use JangoMail's segmentation tools to target customers by geography, engagement levels, purchase history—even interests and demographics.
With each send, you'll get detailed insights into your performance, from open rates and click-through data to reports on spam complaints and unsubscribes.
Plus, all these features come in a user friendly interface that's intuitive enough even novice marketers can start building campaigns quickly.
JangoMail makes sure every step of your email process runs smoothly without compromising your freedom or creativity.
Instead of being bogged down by excessive rules or software bugs, you have total control over your content while still using best practices.
You don't need any coding knowledge either; just drag-and drop through hundreds of customizable templates complete with multiple layout options plus add images and videos easily.
Whether you're ramping up for launch day or experimenting with new ideas for ongoing campaigns, JangoMail gives you both the power and flexibility to reach out confidently to your audiences.
And next we'll look at additional services available from JangoMail that help make this possible..
Additional Jangomail Services
At JangoMail, it's not just about building email campaigns – there are also a variety of additional services to make your business even more successful.
With customer segmentation, you can easily target the right customers with the right message at the right time. This allows you to customize each campaign to maximize its impact and effectiveness.
Email automation is another great feature available through JangoMail. Automated messages are triggered by user activity or other predefined events, making them both effective and efficient for businesses looking to reach their targeted audiences quickly and efficiently. Plus, automated emails allow for personalization on an individual level, which helps increase engagement from potential and existing customers alike.
JangoMail's array of services provides the perfect platform for creating engaging email marketing campaigns that will help any business stand out in today's competitive marketplace. As such, it should come as no surprise that many businesses have already benefited from using these powerful tools.
Now let's take a look at alternative email marketing solutions that may be suitable for your business needs.
Alternative Email Marketing Solutions
When it comes to email marketing, there are plenty of alternatives to jangomail. Here is a list of some great options:
1. Sendfox – This popular email automation and tracking software allows you to easily create emails, personalize messages with merge tags, track recipient activity, and automate your campaigns.
2. Aweber – With their free plan offering up to 9,000 contacts and 300 emails per day, Aweber provides powerful features such as segmentation and A/B testing for effective email campaigns.
3. GetResponse – GetResponse offers industry-leading automations that allow users to send personalized content based on customer's journey stage or other behaviors in real time. It also has an advanced analytics dashboard which enables subscribers to measure the success of their campaigns.
4. Constant Contact – Constant Contact makes it easy for businesses of any size to quickly create well-designed newsletters using pre-made templates and tools like drag-and-drop editors and image libraries; plus they offer unlimited storage so you can keep all your images organized in one place.
All these solutions provide efficient ways to communicate with customers while giving marketers control over design elements, timing, performance metrics, message delivery rates etc., thereby helping them optimize their efforts towards achieving desired results from marketing campaigns without much effort or resources expenditure.
That's why companies around the world rely on these services for their email marketing needs every single day!
Frequently Asked Questions
How User-Friendly Is Jangomail To Set Up?
Setting up JangoMail is easy, whether you're a beginner or an experienced email marketer. It offers intuitive features and analytics tracking that make it simple to automate your emails and measure the impact of campaigns.
With its user-friendly interface, you can quickly get started with sophisticated email automation without needing any technical skills. Plus, its advanced reporting tools let you track how effective your campaigns are at engaging customers while also giving you the freedom to customize messages according to individual preferences.
Does Jangomail Offer Customer Support?
When it comes to customer support, JangoMail does not disappoint. Their service quality is top-notch and they're committed to ensuring your satisfaction.
Their friendly staff are always available to help you with any of your concerns, making sure that all emails sent through their system reach the intended recipients.
They also provide comprehensive online tutorials and a wide array of helpful resources so you can get up and running quickly and easily – giving you more time for other important tasks!
Does Jangomail Integrate With Other Software?
Are you looking to integrate your existing software with a new email marketing platform?
With JangoMail, integration limits are no longer a concern. Our service has few – if any – limitations when it comes to integrating with other programs.
You can count on us to take the hassle out of connecting your current solutions and start experiencing all the amazing features our platform offers right away!
Now that's freedom!
What Are The Key Differences Between Jangomail And Its Alternatives?
When it comes to email marketing software, cost effectiveness and automation features are two of the top priorities for businesses. JangoMail is a great solution for those seeking an all-in-one platform that offers both.
However, there are alternatives available which might be better suited depending on specific needs. Key differences between JangoMail and its competitors include pricing structures, ease of use, and capability when it comes to creating automated campaigns.
Depending on what you're looking for in an email marketing tool, one option may offer greater value than another.
Are There Any Free Trials For Jangomail?
Are you looking for a free trial of an email marketing software?
Then JangoMail is the perfect choice for you! Featuring a variety of free features, and a generous trial period, this software gives you the freedom to explore its capabilities without any commitment.
Plus, with their robust support team available 24/7, your transition will be smooth sailing.
So don't wait – sign up today and start experiencing all that JangoMail has to offer!
Overall, JangoMail email marketing software is a great option. It's easy to set up and use, offers customer support, integrates with other software, and has free trial options.
Plus, it stands out from its competitors in terms of pricing, features and flexibility.
I'd definitely recommend giving it a try if you're looking for an effective way to keep your customers engaged with your brand. You won't be disappointed!
Jangomail Email Marketing Software: Pricing And Alternatives in 2023