Email marketing has become an essential part of business operations in the digital age. It's a powerful tool that helps businesses build relationships with customers and increase their bottom line. But managing email campaigns can be complex, time-consuming, and costly for many organizations. That's why MailerLite is offering a comprehensive solution to make it easier for entrepreneurs and small businesses to manage their email marketing needs in one place.
In this MailerLite reviews, we'll take a closer look at what makes this platform stand out from other email services on the market today. We'll discuss its features, pricing plans, customer support options, and more – so you can decide if it's the right fit for your organization. Plus, we'll explore how its feature set enables people to gain control over their online presence while still taking advantage of all the benefits of using an email service provider like MailerLite.
Whether you're just getting started or looking to upgrade your current setup, this MailerLite Reviews will provide you with everything you need to know about leveraging this platform for success! Get ready; let's dive in!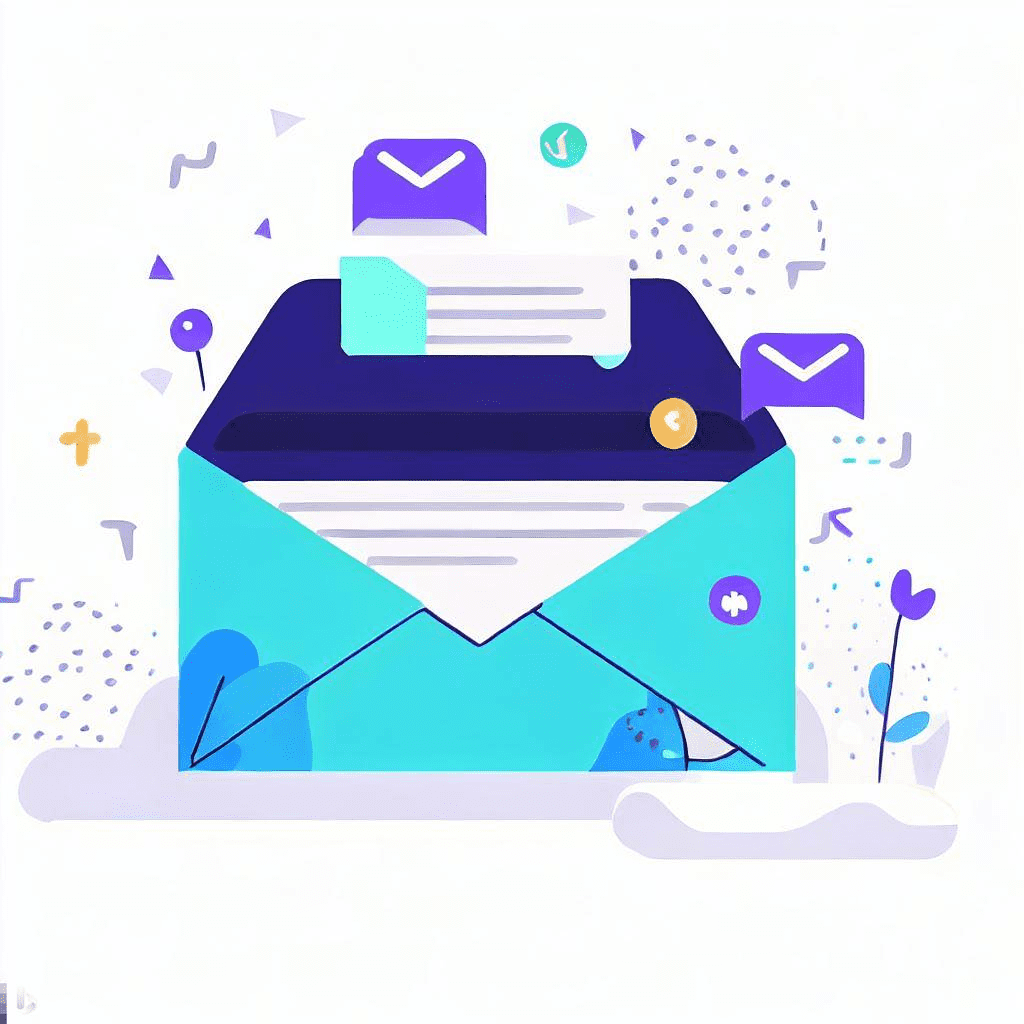 Mailerlite is a revolutionary email marketing tool that has completely revolutionized the way businesses reach their customers. It's like entering an entirely new world of convenience and ease in one single place! With this platform, users are able to do practically anything they can think of with amazing accuracy and speed. Gone are the days when you had to search through multiple websites or programs just to get your message out there – Mailerlite has made it easier than ever before.
The user interface is incredibly intuitive, making it simple for even those who aren't tech-savvy to navigate the different features on offer here. Plus, everything within Mailerlite is organized logically so that you can find what you need quickly and easily. The level of customization available means that no two campaigns have to be alike, allowing business owners to stand out from their competitors. And if that wasn't enough, Mailerlite also provides incredible support 24/7 should any issues arise along the way. In short, this email marketing ecosystem truly offers something for everyone.
From small startups all the way up to enterprise companies, Mailerlite has become a go-to choice for many looking to grow their business online. Without question, its comprehensive suite of features makes it one of the best solutions available today – ready and waiting to help power success down the line. Onwards then towards exploring these features in greater detail…
MailerLite is the ultimate email marketing ecosystem, offering everything you need to build and maintain successful campaigns. With its intuitive drag-and-drop builder, you can easily create beautiful emails without any coding knowledge. And with powerful automation tools, creating automated workflows for your customers has never been easier.
The platform also provides an array of analytics that give insight into how well your campaigns are performing – from opens and clicks to conversions and sales. You'll be able to track subscribers in real-time, as well as monitor their interactions with your emails. This way, you'll know exactly who's engaging with your content and when they're doing it so you can tailor future messages accordingly.
On top of all this, MailerLite offers 24/7 customer service via live chat or email so you'll always have someone on hand to answer questions or help troubleshoot any issues. Plus, their pricing plans are extremely affordable – making them ideal for businesses of all sizes looking for a comprehensive email solution at an unbeatable price point. Email campaigns just got more exciting!
Mailerlite is a comprehensive email marketing platform that makes it easy to create and manage campaigns. An example of its power can be seen in the case study of ABC Corporation, which saw an increase in conversions by 400% when they switched from their previous provider to Mailerlite.
The power lies in the multitude of features available:
Campaign Creation: With drag-and-drop editors, users can quickly and easily build beautiful emails with no coding knowledge required. Pre-made templates make it even simpler for those who are short on time or just need a little inspiration.
Automated Segmentation: Personalize emails based on customer data like location, purchase history, and more – all without lifting a finger.
A/B Testing: Test different versions of emails to see what works best for each audience segment and maximize your results.
On top of these powerful tools, Mailerlite also offers advanced analytics so you can measure your success over time and identify areas where improvements can be made. Whether you're launching your first campaign or optimizing existing ones, you'll have everything you need to get the most out of your efforts.
These capabilities set up users for success when creating automated workflows that save time while maximizing efficiency. This allows them to focus their energy on growing their business instead of managing mundane tasks such as manually sending out bulk newsletters every week.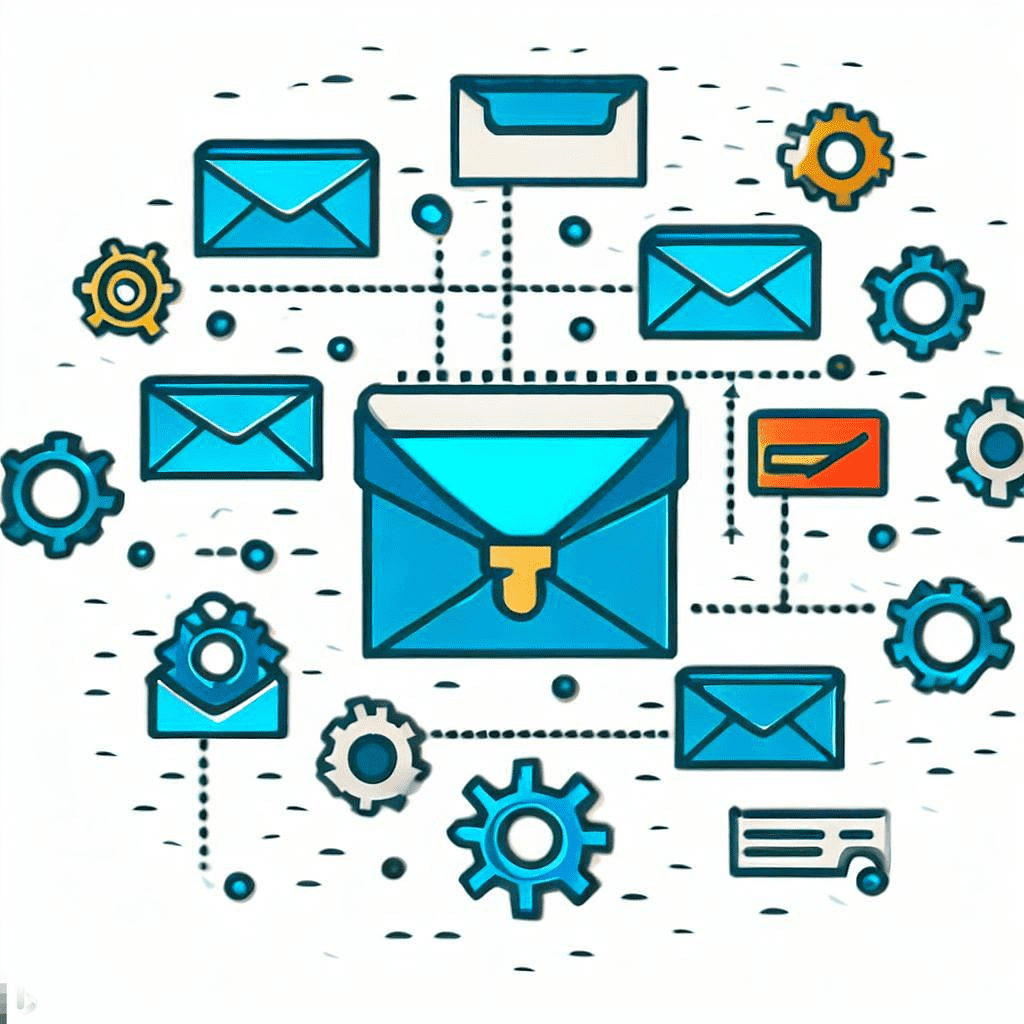 MailerLite's automation tools are a great way to streamline your email marketing campaigns. It allows you to create automated sequences, customize them with triggers and conditions, and automate tasks like adding subscribers or sending emails on specific dates. With its intuitive drag-and-drop builder, you can quickly set up powerful flows that will help you reach out to customers at the right time with the right message.
The following table shows how MailerLite's automation tools compare against other popular solutions:
| | | | |
| --- | --- | --- | --- |
| | MailerLite | Constant Contact | Brevo (Sendinblue) |
| Automation Tools | ✔️ | ✔️ | ✔️ |
| Drag & Drop Builder | ✔️ | ❌ | ❌ |
| Triggers & Conditions | ✔️ | ❌ | ❌ |
| Scheduling Emails | ✔️ | ✔️ | ✔️ |
| Segmentation | ✔️ | ✔️ | ✔️ |
From this comparison it is clear that MailerLite offers more robust automation features than either Constant Contact or Brevo (Sendinblue). You can use these advanced functions to make sure that your messages get delivered at exactly the right moment for maximum impact. Plus, there's no need to worry about complex coding – everything has been designed to be easy enough even for beginners.
With automated workflows in place, managing subscriber lists becomes especially efficient. You can easily target different segments of customers with tailored content while keeping an eye on engagement levels so you know what works best. All without having to manually update contacts every few days! This makes it easier than ever before to stay connected with your audience and build strong relationships over time.
Mailerlite vs Mailchimp
Let's start with Mailerlite automation. This platform provides a user-friendly interface that allows businesses to create custom workflows and automate various tasks. From sending personalized welcome emails to setting up drip campaigns based on subscriber behavior, Mailerlite offers a range of automation options to cater to different marketing needs.
On the other hand, Mailchimp also offers robust automation capabilities. With its intuitive drag-and-drop editor, businesses can easily create automated email sequences and trigger actions based on specific events or subscriber actions. From abandoned cart reminders to post-purchase follow-ups, Mailchimp's automation features enable businesses to deliver targeted messages at the right time.
Mailerlite vs Convertkit
Now let's compare Mailerlite automation with Convertkit automation. Convertkit is known for its simplicity and focus on creators and bloggers. It offers a straightforward visual builder that allows users to create automated email sequences effortlessly. Convertkit also provides advanced segmentation options, making it easier for businesses to send personalized content based on subscriber interests and preferences.
While both platforms offer powerful automation features, the choice between Mailerlite and Mailchimp or Convertkit ultimately depends on your specific business needs and preferences. Whether you prioritize ease of use, advanced segmentation capabilities, or integration options with other tools in your tech stack, it's important to evaluate each platform's strengths in relation to your goals.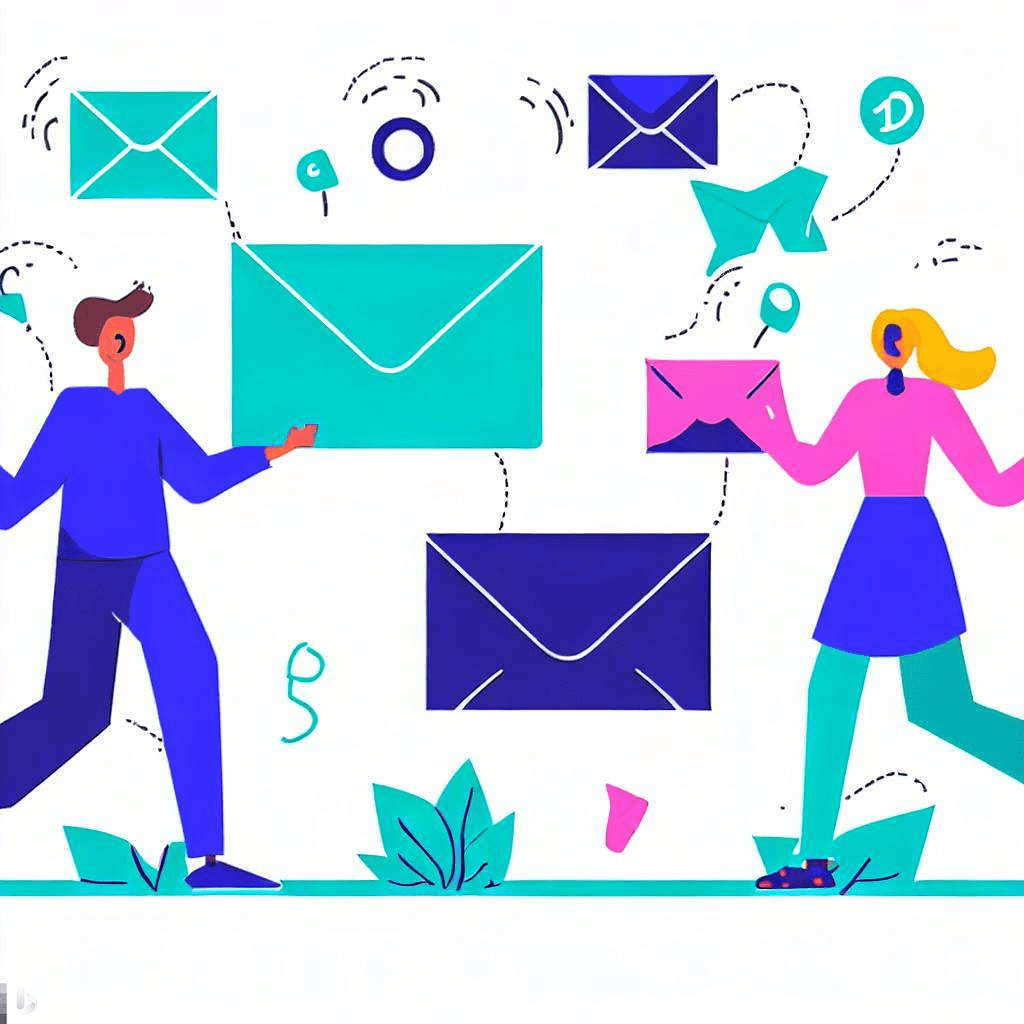 MailerLite makes it easy to manage your subscribers. With their intuitive dashboard and automated features, you can quickly create personalized campaigns for each of your contacts without any hassle. From segmenting the list into different categories based on interests or profile data to customizing messages with dynamic content, MailerLite does it all. Plus, its integration with various third-party platforms means that you can easily export and import contact lists from other services directly into your account.
The level of personalization offered by MailerLite is truly remarkable. With just a few clicks, you can add images, videos, GIFs, polls and surveys to ensure that every message resonates with your audience. Furthermore, the built-in automation allows you to send out triggered emails at specific times according to user behavior such as signing up for an event or visiting a certain page on your website.
MailerLite also provides powerful reporting tools that make it easy to monitor performance in real time and keep track of subscriber engagement over time. This gives you valuable insights into what's working well and what needs improvement so that you can optimize future campaigns accordingly. Transitioning seamlessly into pricing and plans…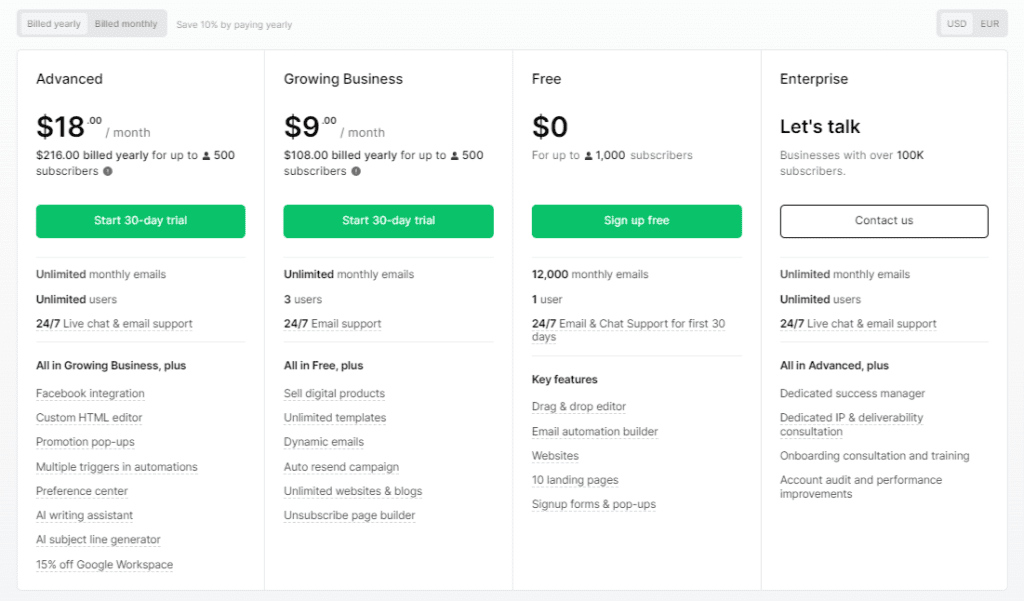 When it comes to pricing and plans, MailerLite pricing offers something for everyone. It's like a buffet of email marketing options – the more you customize your plan, the better value you'll get. With this in mind, let's take a look at what MailerLite has to offer:
Unlimited emails with every account
A/B testing feature available on all paid subscriptions
Automation tools included on higher tier plans
MailerLite is competitively priced compared to other similar platforms; however, its generous free plan allows small businesses to test out the service before upgrading their subscription. That said, even its most basic packages come loaded with features that will revolutionize your email campaigns. You can also add extra services such as web forms and surveys starting from $10 per month. This makes it an incredibly cost-effective solution for growing businesses who need advanced functionality without breaking the bank.
In terms of customer support, MailerLite provides both live chat and phone support during work hours (Monday–Friday). The platform also includes detailed tutorials which make it easy for users to learn how to use new features or troubleshoot any issues they may have encountered. All these factors combine together to make MailerLite one of the best value propositions when it comes to choosing an email marketing provider.
As we move into discussing user interface next, it's clear that MailerLite is much more than just a good deal – its comprehensive suite of features make creating beautiful emails easier than ever before.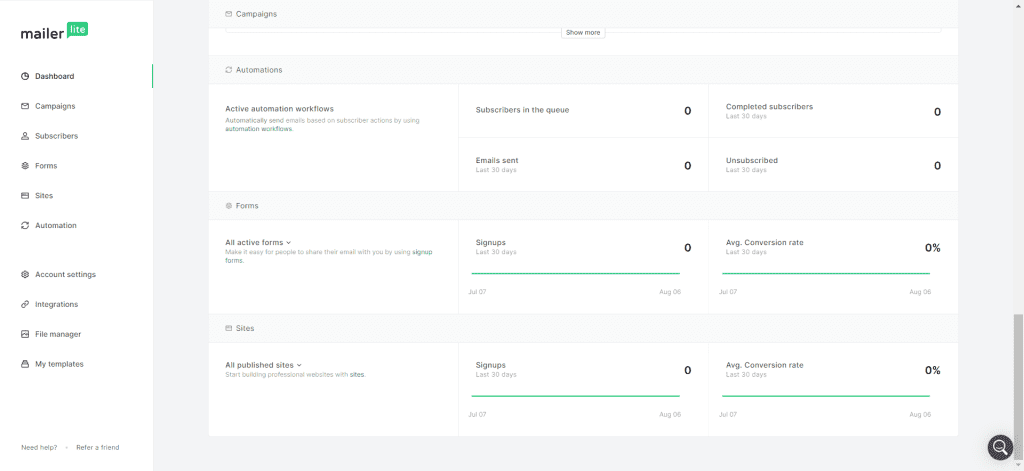 The MailerLite user interface is intuitive, modern and easy to use. It's designed for users of all skill levels so you can jump right in with minimal training or onboarding. The drag-and-drop editor makes it simple to create beautiful emails without any coding knowledge, while the automation features allow you to set up automated campaigns quickly and easily. Additionally, detailed analytics give you valuable insights into how well your messages are performing and help you optimize your email marketing strategy over time.
MailerLite also offers plenty of customization options so that each message looks like it was crafted just for its recipient. You can add personalization tags to tailor content based on customer data, as well as customize fonts, colors, graphics and more – allowing you to make sure every message feels unique and special to readers.
All in all, the platform provides a comprehensive suite of tools that takes the hassle out of creating and sending emails. With its sleek design and powerful functionality, this platform is an excellent choice for anyone looking for an effective way to manage their email marketing needs. Ready for a better customer service experience? Let's take a look at what MailerLite has to offer in that area next!
When it comes to customer service, MailerLite shines bright. From the moment you sign up, they are there to help with any queries and issues that arise. They offer support via email or live chat and also provide extensive documentation on their website. This makes it easy for users to find answers quickly without having to wait days for a response from an agent.
The customer service team at MailerLite is highly trained and experienced in all aspects of the platform. They can handle technical questions as well as more general inquiries about setting up campaigns and using features. Their helpfulness goes above and beyond what other providers offer, allowing customers to get quick resolutions whenever necessary.
Their responsiveness is unparalleled; users can expect a reply within minutes when contacting customer service through live chat. In addition, they often stay online past business hours so customers don't have to worry if they need assistance late into the night. With such excellent customer care, it's no wonder why people keep coming back to MailerLite time after time! Transitioning seamlessly into the next section, we take a look at how Mailerlite integrates with third-party platforms.
Integration With Third-Party Platforms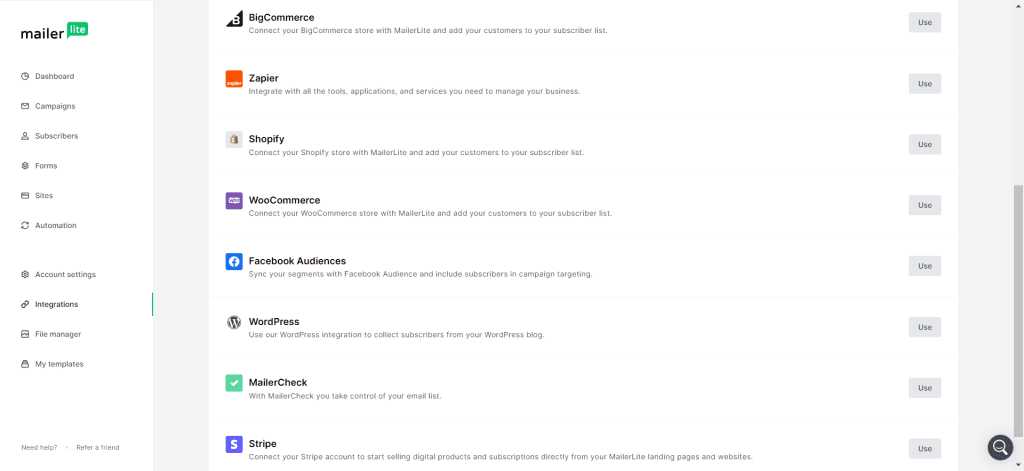 So, you're looking for a comprehensive email marketing solution that can be easily integrated with other platforms, right? Fortunately, Mailerlite makes all this possible. With its robust integration capabilities, it allows users to connect their accounts with third-party applications such as Salesforce and Zapier without any hassle. This means that businesses are able to automate the process of creating emails and sending them out in bulk. Additionally, they can create campaigns using templates from popular CRM systems like Constant Contact or HubSpot.
MailerLite also offers various integrations with ecommerce platforms like Shopify and BigCommerce. Through these integrations businesses can sync customer data across both platforms seamlessly. For example, if someone purchases something from your shop on Shopify, their information will automatically be added to your mailing list in MailerLite so you don't have to manually add customers every time they buy something. These kinds of features make it easy for companies to stay organized while still making sure they reach their target audiences quickly and efficiently.
Finally, MailerLite also provides seamless integration with social media sites such as Facebook and Twitter (via API) which is great for those who want to keep up with new trends in digital marketing. Plus, since MailerLite is an all-in-one service provider it's even easier to track performance metrics through one platform than multiple different ones. All of this allows businesses to get the most out of their campaigns by ensuring maximum engagement and ROI from each campaign no matter what the size or scope may be.
With so many advantages associated with integrating third-party services into MailerLite's platform, let's take a look at some of the pros and cons…
Mailerlite pros and cons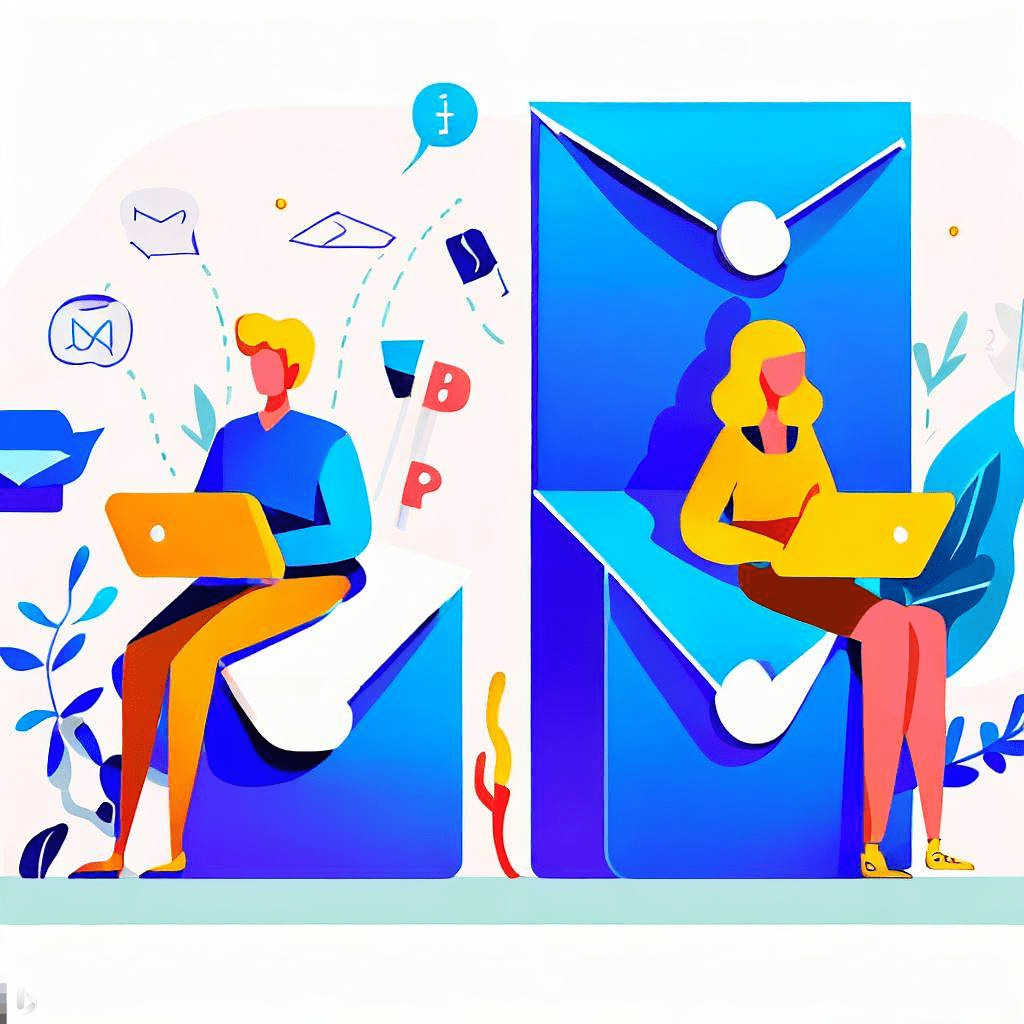 Pros: MailerLite offers users a great range of features to make their email marketing efforts easier. Their intuitive interface makes it simple to create and send newsletters, automation sequences, surveys and polls quickly and easily. They also provide detailed analytics so you can track your success and optimize for maximum engagement. Plus, with plans starting at just $10 per month, they offer some of the most affordable pricing in the market.
Cons: While MailerLite is an excellent tool for creating effective emails, its customer support could use improvement. Response times are often slow and there isn't as much personalization available compared to other services. Additionally, while many of the features are easy to use on desktop devices, they may not be as accessible on mobile platforms since there's no dedicated app yet.
Overall, despite these minor shortcomings, MailerLite remains one of the best options in terms of value for money when it comes to all-in-one email marketing solutions. With its vast array of features that allow users to customize their campaigns without breaking the bank, it's definitely worth considering as part of any digital strategy. Moving forward into our final verdict…
After taking a deep dive into the Mailer Lite email marketing ecosystem, it's clear that this platform has almost everything needed to successfully launch campaigns. From its intuitive user interface and comprehensive feature set to its impressive integration capabilities, MailerLite is an all-in-one solution for managing every aspect of your email marketing needs. The pricing structure caters well to businesses of any size, with generous discounts for larger plans. What really sets MailerLite apart from other platforms is their dedication to customer support; they provide live chat and phone options during business hours so users can get help when they need it most.
Overall, we've been impressed by what we've seen from Mailer Lite. It's easy to use and packed full of features designed to streamline the process of creating effective emails. And at the end of the day, you'll know that you have a team behind you who are there to answer questions or troubleshoot problems as quickly as possible. All in all, if you're looking for an email marketing service that provides top-notch support along with powerful tools, then MailerLite should be on your shortlist.
MailerLite offers users a complete package – delivering robust capabilities while still remaining simple enough for anyone to understand and use right away. With its competitive prices and commitment to quality customer service, it deserves serious consideration as one of the best choices on the market today for those seeking an efficient way to manage email campaigns without breaking the bank.
Frequently Asked Questions
What Types Of Support Are Available For Mailerlite Customers?
When it comes to email marketing, customer support is a key factor in getting the most out of your platform. With MailerLite, customers are provided with comprehensive and convenient customer service that help them get their campaigns off the ground quickly and effectively.
MailerLite offers both free and premium support options for customers from all levels of experience. Free users have access to an extensive library of tutorials, as well as helpful forum discussions where they can find answers to commonly asked questions about various aspects of the platform. If more personalized assistance is needed, premium users can take advantage of live chat or scheduled calls with experienced professionals who will be able to provide detailed advice tailored specifically for their unique needs.
No matter which type of user you are, MailerLite's team of experts will make sure you have everything you need to succeed in email marketing. Whether it's setting up automated workflows or writing persuasive emails, they'll be there every step of the way to ensure your success. You won't ever feel like you're alone when using this powerful tool!
How Secure Is The Data Stored Within Mailerlite?
Security is like a foundation of a house. It holds everything together and keeps it safe from intruders. When it comes to data, this analogy couldn't be more true. MailerLite takes security seriously, providing an assurance that your information is kept secure in their system.
When you entrust important customer data to MailerLite, you can rest assured knowing that the company has taken steps to protect both you and your customers' information. They use 256-bit encryption for all data transmission, so no one else will have access to any of your files. Additionally, they offer two-factor authentication as well as account monitoring services to help ensure complete protection against malicious activity or hacking attempts.
The level of support provided by Mailerlite also gives peace of mind when it comes to how secure the system is. Customer service representatives are available 24/7 via phone or live chat – even on weekends and holidays – making sure that any questions or concerns about privacy are addressed quickly and competently. Plus, with its detailed documentation library, users can easily find what they need without having to reach out for assistance during business hours.
MailerLite truly goes above and beyond when it comes to keeping user's data safe while offering an array of features designed specifically for email marketing success. With its commitment to security paired with dependable customer service, you know exactly what you're getting into when using MailerLite–a reliable platform built for those in search of digital freedom!
Does Mailerlite Offer Any Discounts For Non-Profits?
Are you a non-profit looking for discounts on email marketing? You're in luck! MailerLite offers stellar deals to help non-profits get the most out of their campaigns. But what can it do for your organization?
MailerLite provides all sorts of features that make running an effective campaign simple and straightforward. From easy drag-and-drop design tools to automated lead generation, you'll have everything you need to create successful emails and newsletters with just a few clicks. Plus, there are plenty of customization options to really tailor your emails to specific audiences or goals.
But non-profits don't always have large budgets; this is where MailerLite's discounts come into play. Organizations like yours can take advantage of special pricing plans that will save them money while still providing top notch service and support. And with access to advanced analytics, they'll be able to monitor progress and measure success easily. So if your organization needs affordable yet powerful email solutions, look no further than MailerLite!
With its low costs and impressive features, MailerLite is one of the best options available for organizations seeking reliable email marketing services – especially when taking advantage of the great discounts offered by the company specifically tailored towards non-profits. Get started today and see how much time and money you could save!
Are There Any Limits To The Number Of Emails I Can Send?
Do you ever feel overwhelmed by all the emails that need to be sent? You're not alone. With MailerLite's email marketing ecosystem, it can be easy to lose track of how many emails are being sent out at once. So, are there any limits to the number of emails I can send?
The answer is yes and no. While MailerLite does have a limit on the number of contacts or subscribers you can add to your list or account, there isn't an exact limit when it comes to sending emails. Instead, they focus on delivering quality over quantity; meaning that if too many messages are sent out in one go, some may end up getting stuck in spam filters or not even reaching their intended recipient!
That doesn't mean you should skimp on your campaigns though. To make sure every message reaches its destination safely and quickly, MailerLite has features such as personalized content, advanced tracking capabilities and automation tools so you can set up automatic responses for customers who sign-up with your service. All this helps create an effective experience for both sender and receiver alike!
Ultimately, whether you have thousands or just a few hundred recipients each month – managing your emails through MailerLite allows you to stay organized while still providing top-notch customer service. Whether you're looking to send bulk messages or engage with audiences more intimately – rest assured knowing that MailerLite will provide the best options available for those needs!
How Easy Is It To Migrate From Another Email Service Provider To Mailerlite?
Are you considering making a switch to MailerLite for your email marketing needs? This can be an intimidating process, but the good news is that it's not as hard as you think! With MailerLite, migrating from another provider is easy and straightforward.
The first step when switching to MailerLite is to set up your account. You just enter some basic information about yourself and your business and then you're ready to start using their platform. Once that's done, all of your contacts will be imported into the system automatically – no manual entry required! From there, you have access to features like automation, analytics, and more – so you can easily customize how emails are sent out from one place.
MailerLite also offers plenty of support if you run into any issues during the migration process. Their team of experts can walk you through every step and answer any questions along the way. Plus, they offer free resources on their website so you don't get stuck or overwhelmed with anything in particular. So whether it's a quick tutorial video or an extensive guide on setting up automations, everything is right at your fingertips!
Making the move doesn't have to be overwhelming or stressful anymore – with MailerLite's help, transitioning from one service provider to another has never been easier. Take advantage of their comprehensive tools and helpful customer support today by giving them a try!
It's clear that MailerLite is an excellent choice for email marketing needs in 2023. They offer a great range of support options, high levels of security and the ability to send unlimited emails at no extra cost. Migrating from another provider couldn't be easier – and there are discounts available too if you're part of a non-profit organization.
If I could sum up my experience with MailerLite so far, it'd be like this: imagine having all the tools and resources you need to succeed with your email campaigns laid out on a table before you – everything neatly organized and ready for use. That's what using MailerLite feels like! You can really get creative with their features, making them work hard for me and my business.
Ultimately, MailerLite offers one of the most comprehensive email marketing ecosystems around – enabling businesses large and small to reach their goals easily and effectively. So don't wait any longer – give MailerLite a try today!
Mailerlite Reviews: All The Email Marketing Ecosystem In One Place
Free Plan + Starting from $9/Mo