Mailjet email marketing software offers an attractive presentation with competitive pricing – but are there any alternatives? In this Mailjet reviews article, we'll explore Mailjet in detail and provide information on alternative options for those looking for something different.
Finding the right email marketing solution doesn't have to be stressful. With so many choices available, you're sure to find one that meets your needs without breaking the bank.
We'll take a look at what makes Mailjet unique, discuss its features and pricing structure, then compare it other popular solutions. That way, you can make an informed decision about which provider is ideal for you!
Interface
With a powerful interface, Mailjet allows users to take control of their email marketing strategies in no time at all. The platform provides users with the ability to customize templates for newsletters, transactional messages, automated workflows, and more. This ensures that every message sent reflects your brand's look and feel while also communicating your specific messaging goals clearly.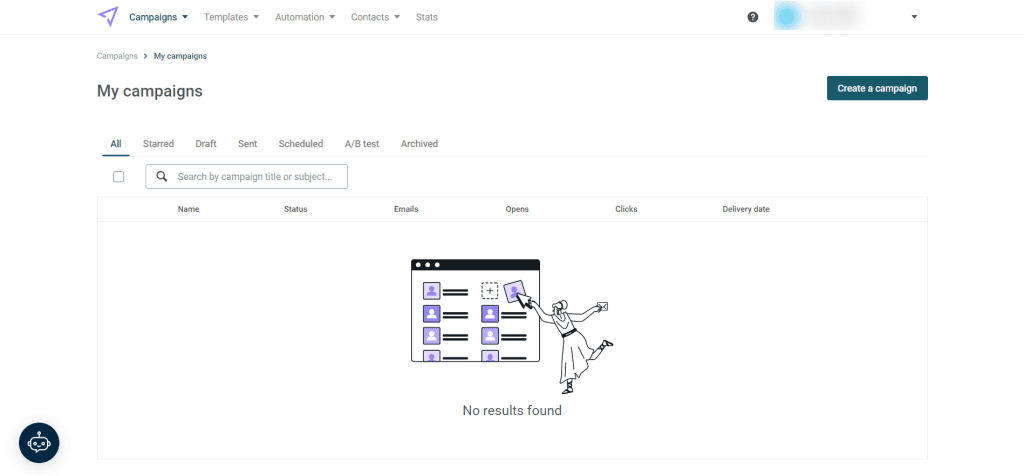 Analytics & Insights
Plus, its analytics provide detailed insights into open rates, clickthroughs, geolocation tracking, unsubscribers – helping you make informed decisions about your strategy moving forward.
What really sets Mailjet apart from other software solutions though is the level of customer support they offer. Their dedicated team of experts are ready to help answer any questions or concerns that may arise as you use the system – making sure everything runs smoothly along the way.
From start to finish, Mailjet has what it takes to ensure successful digital communication for businesses of all sizes. With this comprehensive package at your disposal, there's no telling how far your business could go!
Features And Benefits Of Mailjet
Mailjet is the perfect email marketing software for businesses of all sizes. With its intuitive and powerful features, you can easily create engaging emails that will help drive conversions.
Here are some of its unique advantages:
Automated Email Campaigns:
Mailjet's automated campaigns allow users to send targeted messages at predefined intervals with minimal effort. This feature helps ensure your customers stay engaged throughout their customer journey.
Segmentation Targeting: Mailjet gives you the ability to segment your audience based on demographics or behaviour so that you can tailor your message accordingly. You can also use this feature to target specific groups within a larger list.
Comprehensive Analytics & Reporting: Mailjet provides comprehensive analytics reports so that you can track how well your campaigns are performing over time. This way, you'll be able to make informed decisions about what works best for reaching new customers and retaining existing ones.
On top of these features, Mailjet offers personalized support from experts who have years of experience in email marketing. Whether it's developing an effective strategy or troubleshooting any technical issues, they're always there to help out whenever needed.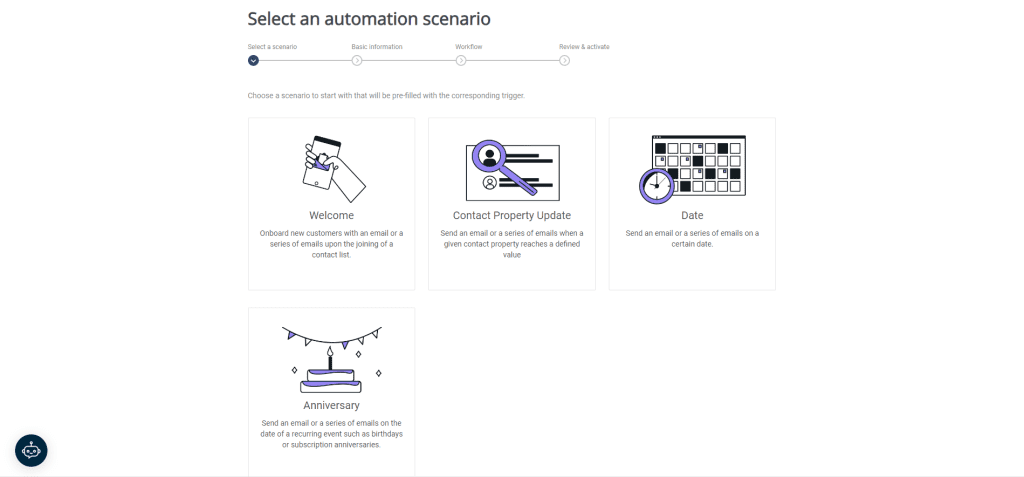 All this makes Mailjet one of the most reliable options out there when it comes to managing email campaigns effectively.
To summarize, Mailjet stands apart from other email marketing solutions with its comprehensive set of features and personalized support services which guarantee success for every business regardless of size or budget constraints.
Now let's take a look at mailjet pricing plans.
Making the right choice when selecting an email marketing platform can be daunting. With all of the features, costs and options available for businesses today, it's easy to become overwhelmed. But with Mailjet's pricing plan offerings, there are enough choices that any business at any stage can find something suitable.
Mailjet offers five distinct plans designed to meet different needs and budgets ranging from free up to enterprise-level solutions. The Free Plan is perfect for small businesses just starting out or those who don't need complex functionality; it includes 6,000 emails per month at no cost!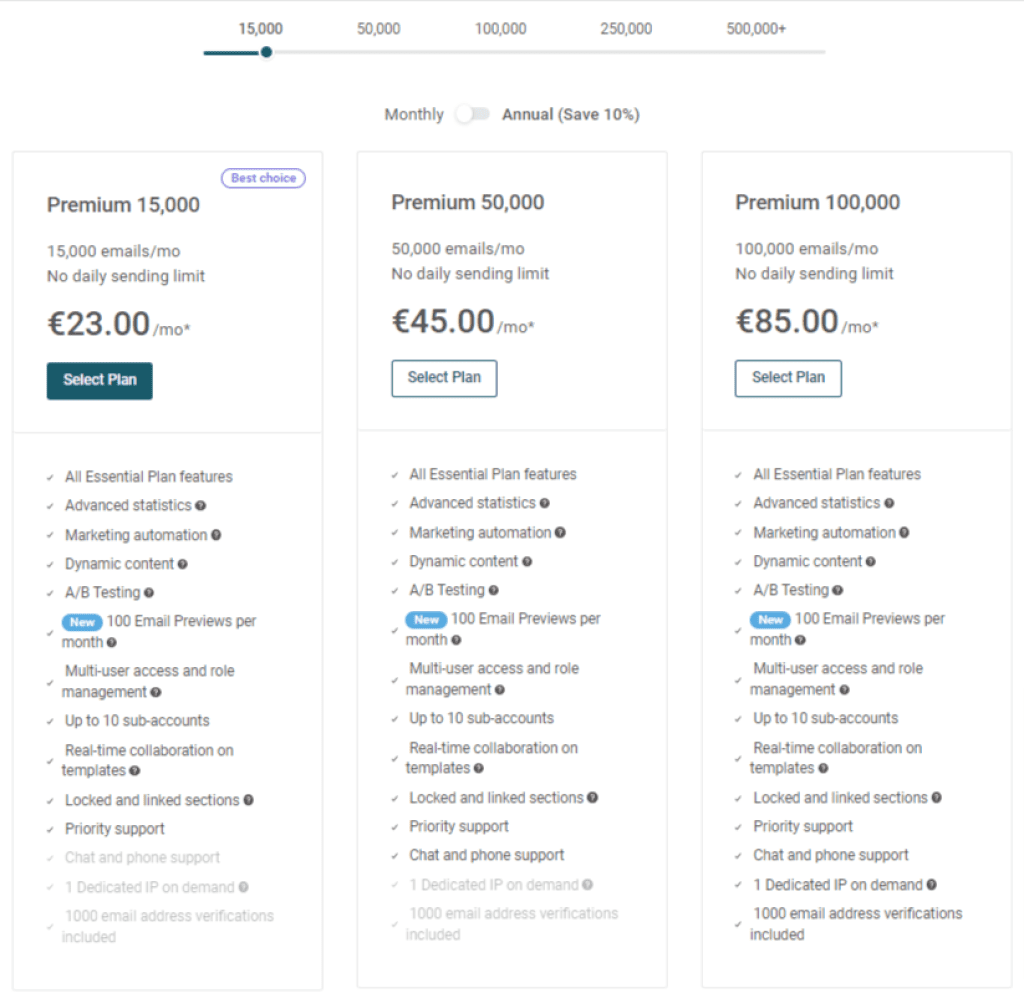 For larger organizations looking for more flexibility and control over their campaigns, Mailjet Premium provides 15.000 email credits plus advanced automation tools like A/B testing, contact segmentation and analytics. Businesses requiring higher volumes of emails should consider one of our Premium Plans which offer discounted rates based on total sends. Each of these plans come equipped with additional features such as integration with Salesforce CRM or Microsoft Dynamics 365 Customer Engagement platforms.
Finally, Enterprise customers interested in dedicated customer support will find what they're looking for in our custom packages tailored specifically to their needs.
Comparing these plans side by side makes it easier to decide which option best fits your requirements – regardless if you want a simple setup or full access to premium services – Mailjet has you covered. Ultimately while other providers may have similar offerings, the combination of price and performance provided by Mailjet make them stand out from the pack.
Let's take a look now at how Mailjet stacks up against other providers…
Comparing Mailjet To Other Providers
When it comes to email marketing software, Mailjet is a good option. It has a variety of features that make it an attractive choice for businesses looking to send out emails quickly and efficiently. It's important to consider how well the service performs in terms of deliverability, automation features, and pricing when deciding which provider to choose.
Automation tools also allow you to set up campaigns and track their progress so you can stay on top of things. The cost may be higher than other providers but it's worth every penny as they offer superior quality compared to others.
In comparison to other options on the market, Mailjet stands out due to its comprehensive feature set, reliable delivery performance, and reasonable prices.
From customizable templates for creating stunning emails to tracking analytics that help optimize engagement, there are plenty of reasons why marketers might want to give this software a try.
Transitioning into alternatives now: although Mailjet provides many benefits, there could still be another provider who meets your needs more closely…
Though Mailjet is an established, reliable email marketing software provider, it's not the only option. There are numerous alternatives that may better suit your needs and budget.
Some of these services provide features such as email automation or split testing which can be incredibly effective in boosting engagement with customers and prospects alike.
Another great option for marketers looking to make a splash online is Constant Contact. They offer a range of templates for creating attractive emails quickly, intuitive automations to build relationships with contacts, advanced analytics to track performance, and more. Their plans come at different price points depending on how many contacts you manage.
ActiveCampaign offers a powerful platform designed to help businesses grow through automated campaigns and comprehensive customer segmentation tools. Not only do they have dynamic content capabilities, but they also support A/B testing so you can discover what works best for each audience before launching a full-scale campaign. ActiveCampaign's prices vary according to the number of subscribers you have, making them ideal for small businesses just starting out or large enterprises who need an extra edge over competitors when it comes to email marketing.
With this information in hand, we'll next look into selecting the right tool for your business' unique needs and goals.
Choosing The Right Email Marketing Software
When considering a switch from Mailjet, there are several alternatives to consider that offer varying features and benefits. Email marketing software is essential for any business looking to increase their customer engagement, so it's important to select the right platform for your individual needs.
Finding the best email marketing software requires thorough research and analysis of each product's unique offerings. Here are some of the factors you should look out for when selecting an alternative:
1. Email Automation – Look for tools that provide functionality like automated welcome emails, birthday discounts or abandoned cart recovery.
2. Cost – Compare pricing plans to determine which plan suits your budget and company size.
3. Integrations – Make sure the platform integrates with other key services such as CRM systems and social media accounts, allowing data to be shared easily across all platforms.
4. Email Templates – Easily customizable templates will ensure all campaigns follow brand guidelines while providing great visuals to engage customers.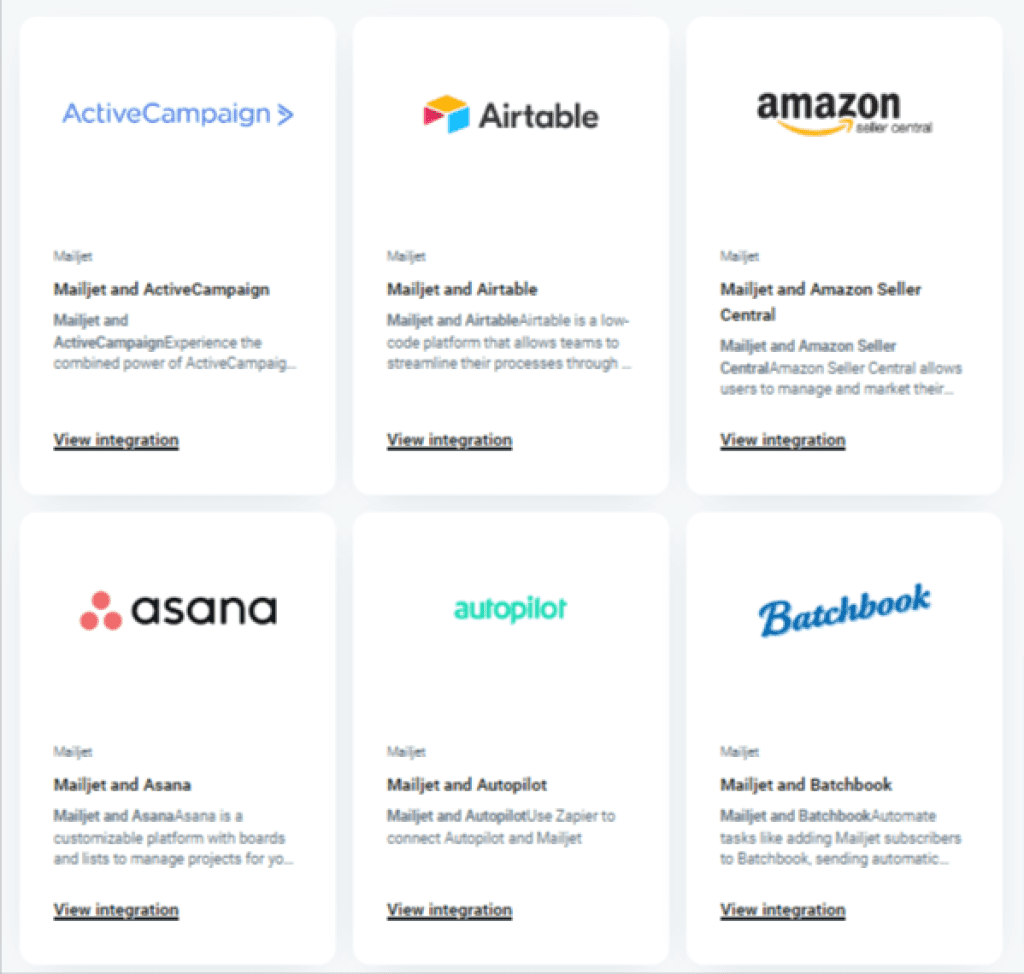 Choosing a new email marketing software should not be taken lightly as it can make or break your digital presence strategy going forward. Research extensively into what works best for your business objectives and team capabilities before committing to anything long-term – after all, you don't want a tool that ends up being more trouble than its worth!
Frequently Asked Questions
How Difficult Is It To Use Mailjet?
Mailjet could be the perfect fit! With its user-friendly interface and intuitive design, it's super simple to navigate.
You don't need any prior experience with coding or complicated tech processes—everything is laid out in a way that makes sense.
Plus, customer support teams are available 24/7 so if you ever get stuck, help is just a click away
Does Mailjet Provide Customer Support?
The support is not very ractive unfortunately. During our review, we did experience a dry welcome without any help.
Does Mailjet Offer A/B Testing Capabilities?
Yes, Mailjet offers A/B testing capabilities to optimize your emails and help you get the most out of them.
Their email setup and automation tools are easy-to-use so you don't have to spend extra time configuring complex settings – giving you more freedom to do what matters.
The platform is designed with user experience in mind, making it simple for anyone to create effective campaigns without a hassle.
Does Mailjet Integrate With Other Software Programs?
Mailjet makes it easy to integrate with other software programs.
With robust integration options and a simple setup process, you can enjoy complete freedom to get the most out of your email marketing system.
Whether you need help connecting an e-commerce platform or integrating analytics tools, Mailjet's integrations will make sure everything is running smoothly so you don't have to worry about data inconsistencies or lost connections.
In conclusion, Mailjet is a "great"not-bad" option for email marketing software. It's easy to use and offers a wide range of features including customer support, A/B testing capabilities, and GDPR compliance. Additionally, it integrates with other programs which makes it a great choice for those looking for comprehensive email marketing solutions.
Mailjet Reviews: 2 Powerful Features for the Transactional Email Software
Free Plan + Starting from $17/Mo