Maropost makes it easier than ever to send out personalized emails that will grab people's attention.
With its user-friendly interface, comprehensive features, and competitive pricing structure, Maropost helps you get the most out of your email campaigns. If you're looking for an effective email marketing solution, then look no further than Maropost!
In this article, we'll discuss the presentation of the software, its pricing plans, and some alternative solutions available on the market. Allowing yourself freedom from tedious tasks like managing your contacts or tracking results gives you more time to focus on what really matters: growing your business.
So let's dive in – read on to learn how Maropost can help make your life easier!
Overview Of Maropost Email Marketing Software
Maropost is a suite of many clouds (a bit like Salesforce) that allows business owners and marketers to track, design, and send emails with ease. It's a powerful program for those who need precise tracking of their campaigns as well as creative template designs.
Whether you're just starting out or have been running a successful eCommerce store for years, Maropost has the features you need to take your email strategy to the next level.
With its sophisticated email tracking capabilities, Maropost provides users with detailed analytics on open rates, click-throughs, bounce backs and more. This means you can gain valuable insight into how your audience interacts with your messages so you can make data-driven decisions about future campaigns.
Plus, designing effective emails is easy thanks to Maropost's library of customizable templates that are ready for use in no time at all!
For business owners looking for a reliable way to stay connected with customers and maximize ROI from their email marketing efforts, Maropost is an excellent choice. Its robust feature set makes it user friendly while still providing enough flexibility to customize campaigns according to individual needs.
With this comprehensive solution at hand, companies can easily create engaging experiences tailored specifically for their target audiences – without breaking the bank in the process.
As such, Maropost offers businesses of all sizes an affordable yet powerful way to get their message out there quickly and effectively. Moving forward into the next section we'll explore some of the specific features offered by the software in greater detail.
The user experience of Maropost is one that stands out amongst the competition. Its drag-and-drop editor makes creating beautiful emails a breeze, and its intuitive design helps users get up to speed quickly.
Additionally, Maropost boasts an impressive email deliverability rate – meaning your communications will reach their intended targets with ease.
Maropost's segmentation tools allow for targeting specific audiences based on any criteria you can imagine – from location and age to purchase history or preferences. This ensures maximum engagement by sending content most likely to be appreciated by each recipient.
To make sure there are no surprises, comprehensive reports let you track performance so you can adjust tactics as needed.
With such flexibility and power at your fingertips, it's easy to see why Maropost has become the go-to solution for many businesses looking to improve their email marketing strategy.
Now let's take a look at pricing plans available…
Maropost offers a comprehensive and flexible cost structure that allows customers to take advantage of several pricing models. The company has three distinct plans, each tailored for different levels of need.
For the basic plan, users can create emails with simple drag-and-drop elements or choose from 400+ customizable templates at an affordable price point.
For those needing more functionality, Maropost provides intermediate and advanced plans which provide access to powerful automation tools, A/B testing capabilities, and personalized email campaigns. Each one offers additional services such as API integration and customer segmentation designed to increase engagement rates.
Each plan is transparent about its features and costs so customers know exactly how much they're paying every month without any hidden fees or surprise charges. With this clarity in mind, companies can make informed decisions on the best course of action for their budgeting goals.
And by taking into account all the options available when selecting a pricing model, businesses will have no trouble finding the perfect fit for them.
From cost structure to pricing models, Maropost offers everything needed to get started on creating effective marketing campaigns that reach audiences worldwide. Now let's look at the automation tools offered to help streamline your workflow even further…
I'm sure we all want to know what automation tools are available.
Let's start with Maropost, their email marketing software. It's great for creating automated workflows, scheduling tools and email campaigns. It also comes with a range of pricing options, so it's worth looking into.
There are some other options out there, too. You could consider using automation tools like Mailchimp, Constant Contact or AWeber. They all have their own set of features, so it's good to compare them.
Ultimately, the best choice for you will depend on your unique needs and budget.
Automation Workflows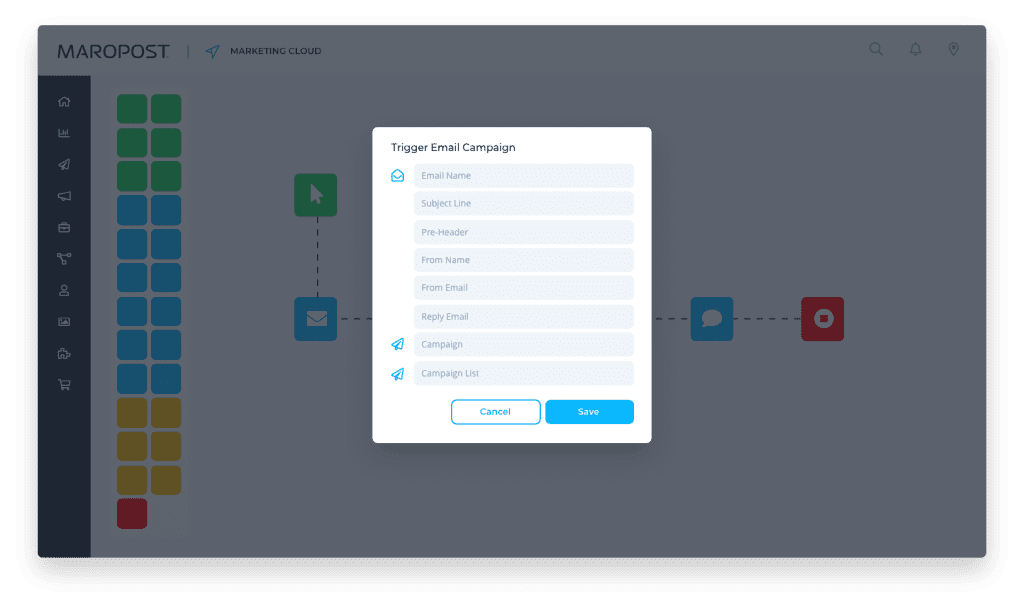 If you're looking for a way to increase efficiency and save time in your email marketing campaigns, automation workflows are the perfect solution! Automation tools make it easy to create complex strategies that automate mundane tasks like content scheduling and email segmentation.
This means fewer emails to send manually so more time can be spent on other important aspects of your business. Plus, with consistent targeting and personalization, you'll get better results from every automated campaign.
With advanced automation capabilities, you can easily build engaging sequences that drive conversions faster than ever before – freeing up valuable time for other activities. No matter what your goals are, automation workflows have the potential to revolutionize how you manage your email marketing strategy – making success easier to achieve!
Scheduling Tools
Scheduling tools are a key feature of email automation, and they can save you time when it comes to contact segmentation.
With advanced scheduling capabilities, you can easily create complex campaigns that automatically send emails at the right times for maximum impact.
This means no more staying up late or getting up early to make sure your messages get out on time – instead, let automated scheduling take care of all the hard work!
Plus, with tailored timing options available, you can ensure each message is perfectly timed for its intended audience.
Automated scheduling makes it easy to create effective email sequences without sacrificing any of your valuable freedom.
Now you're free to focus solely on crafting engaging content and reaching out to potential customers in an efficient manner.
Email Campaigns
When it comes to automating your emails, having the right email campaigns in place is essential. With powerful email lists and tracking capabilities, you can create personalized campaigns that are tailored to each individual customer's interests and needs. This way, you'll have a better chance of engaging people with content they actually want to see.
Plus, automated email campaigns will help you stay on top of all your contacts at once – no more manually trying to keep up with who's getting what messages! And best of all? Email automation gives you the freedom to focus on other aspects of your business while still keeping track of who's receiving what emails.
You don't need to stress over managing multiple contacts or remembering when something important was sent out; instead, just enjoy the peace of mind knowing that everything has already been taken care of for you. So why not take advantage of this amazing opportunity and start automating today?
With automated scheduling tools and robust email campaigns, there's no limit to how effective your outreach can be! Take control back from time-consuming tasks and start enjoying the luxury of having more free time – because now you really do have the power to make life easier.
Integrations With Other Platforms
Maropost email marketing software offers automation tools to streamline customer communication and track analytics for better insights. Its features are designed to make it easier for users to manage campaigns, engage customers, and automate their workflow. However, if you want to take your communications even further with cloud integration, Maropost has thought of that too.
Integrating other platforms into Maropost is a breeze. Here's what this powerful combination can do:
Track user behavior within the platform in real-time.
Automate messages across multiple channels such as SMS, web push notifications, and emails.
Personalize content based on preferences or interests collected from previous interactions.
This makes it easy to deliver relevant messaging quickly while still having access to valuable tracking analytics so you know how your efforts are paying off.
With its robust integrations capabilities, Maropost takes an already effective toolset and adds extra layers of customization and efficiency. From creating personalized experiences for each customer to easily managing complex processes like automated multi-channel campaigns – there are plenty of options available through Maropost's platform integrations feature set.
Now we have seen how Maropost helps us communicate more effectively; next we'll explore alternative solutions available in the market today.
When it comes to email marketing, there are a few alternatives to Maropost that businesses should consider. Cost comparison is an important factor in choosing the right software for any business; fortunately, most of these solutions offer free trials or money-back guarantees that allow managers and executives to test them out before committing their resources.
User experience is also critical when selecting email marketing software. Many of the alternative programs have well-designed user interfaces with intuitive navigation and helpful tutorials. They can help marketers easily create campaigns without wasting valuable time trying to figure out how things work. Additionally, they often provide more features than Maropost such as list segmentation and analytics reporting tools.
The bottom line: each organization needs to assess its own requirements and determine which solution best meets their individual wants and needs. The great news is that there are plenty of options available, so finding one to fit your budget shouldn't be too difficult – no matter what size company you're running.
Frequently Asked Questions
Is There A Free Trial For Maropost?
Maropost offers a demo trial of its services so you can test it out and see if it's right for you.
With an attractive pricing model and plenty of integration options, Maropost makes it easy to get started without risking any money up front.
Does Maropost Email Marketing Software Offer A Mobile App?
Looking for a great way to stay connected with your contacts on the go? Maropost Email Marketing Software offers a mobile app so you can keep in touch wherever you are.
Not only does it provide easy access to manage all of your email campaigns, but its user-friendly design allows you to create beautiful emails quickly and easily from any device.
Plus, when compared to other solutions, Maropost's cost comparison makes it one of the most affordable options out there!
Does Maropost Have Any Restrictions On The Type Of Content That Can Be Sent?
Maropost offers users the freedom to send any kind of content they need without restrictions – from plain text to HTML emails, images, videos, audio files and more!
Plus, their encrypted data transfer ensures that your information is secure and protected at all times.
So you don't have to worry about compromising your business's security or being limited in what you can send out.
In conclusion, Maropost is an excellent choice for businesses looking to manage their email campaigns. It offers a free trial so you can test it out before committing, as well as customer support and data protection measures that keep your information secure.
Additionally, it has a mobile app and doesn't impose any restrictions on the type of content sent.
All in all, Maropost Email Marketing Software is worth considering if you're searching for powerful email marketing software.
Maropost Reviews: Everything You Need for Your Ecommerce in One Place