If you're looking for an email marketing solution that provides a great presentation and competitive pricing, then NewsMan Email Marketing Software may be the perfect choice. It offers plenty of features to make sure your emails look good and are delivered effectively, plus it's got some great alternatives if you need something different.
In this Newsman reviews, we'll take a closer look at what NewsMan has to offer and how it stacks up against its competition. You want to make sure your emails stand out from the crowd and get seen by potential customers. That means having an email platform with powerful tools and reliable delivery rates.
With NewsMan, you can rest assured that your messages will reach their intended recipients in style – giving them the freedom they crave when browsing through their inboxes. Read on to find out more about why NewsMan is a great option for all kinds of businesses!
Overview Of Newsman Email Marketing Software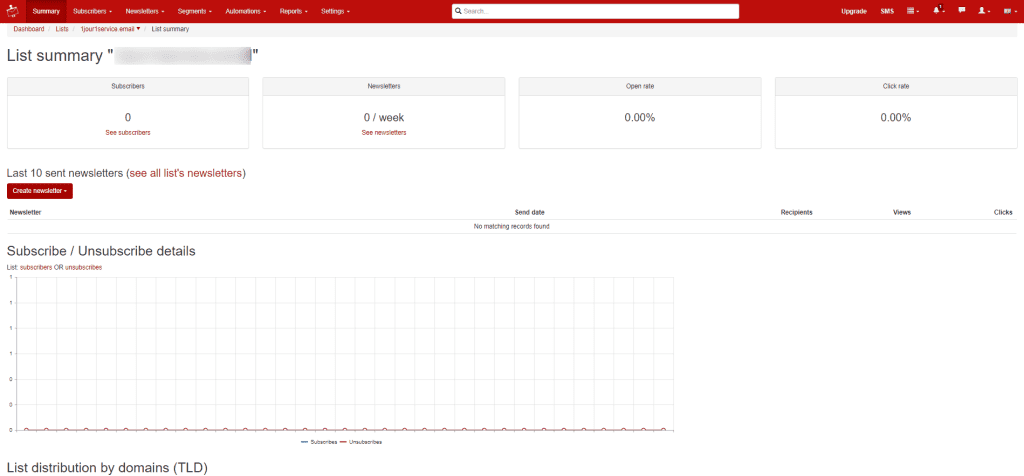 NewsMan email marketing software is a comprehensive platform designed to help businesses of all sizes reach their maximum potential. It offers a range of powerful segmentation tools, enabling users to create finely-tuned campaigns that can be tracked and monitored for success.
With these features at its core, NewsMan provides the perfect toolkit for any business looking to drive engagement with their emails. At the heart of Newsman's offering is an intuitive interface which makes it easy to set up automated workflows and track user activity in real time.
This allows you to tailor your content more effectively and ensure your messages are hitting the mark with each individual reader. What's more, advanced analytics give you valuable insights into how effective your campaigns have been, so you can make informed decisions about how best to move forward with future mailings.
All this power comes packaged within a simple pricing structure – signup is free and there are no hidden costs or long contracts tying you down – allowing businesses from startups through to established companies get off on the right foot without breaking the bank. From here, you're always just one step away from taking your customer relationships further than ever before!
But before that, you have to activate your account upon subscription.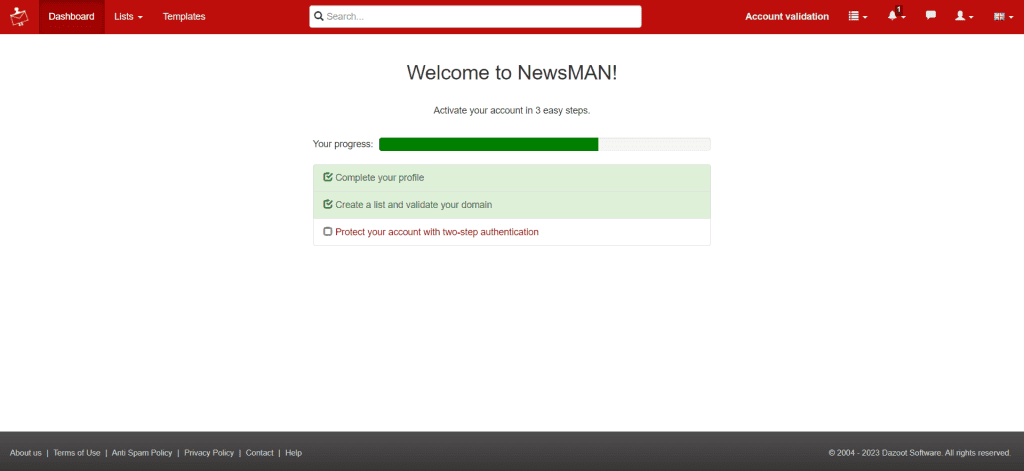 Achieve the ultimate level of freedom with newsman email marketing software! With a flexible template customization options, you can make sure that your emails look exactly how you want them to. Their automation tools are designed for convenience, taking away tedious manual tasks and freeing up valuable time for more important activities. So what else does newsman offer? Let's take a closer look at its features and benefits.
At newsman, the platform prioritizes user experience above all else. That's why the platform gives you access to powerful but intuitive editing tools so you can customize your templates any way you like without needing technical skills or knowledge. A drag-and-drop interface makes creating beautiful emails quick and easy — even if you're not tech savvy!
On top of this, an advanced automation capabilities helps streamline processes such as sending out surveys or newsletters at specific times and managing customer data quickly and efficiently. And with detailed reporting functions, keeping track of campaign performance is simple too – allowing you to stay on top of trends in your industry as well as making informed decisions about future campaigns.
Now let's move on to pricing and packages…
When it comes to email marketing software, you want a solution that offers convenience and savings. That's why newsman is the perfect fit for any business; with its flexible pricing plans and cost comparison capabilities, it ensures that your organization will get the most out of its investment.
The pricing tiers available from Newsman are designed to meet everyone's needs:
– For beginners or smaller teams, there is an entry-level package with plenty of features for minimal effort – ideal if you're just starting out in email marketing.
– If you need more advanced features or require multiple accounts, then their intermediate plan may be right up your alley.
– Finally, those who wish to take full advantage of the platform can utilize the Professional plan which provides access to all features.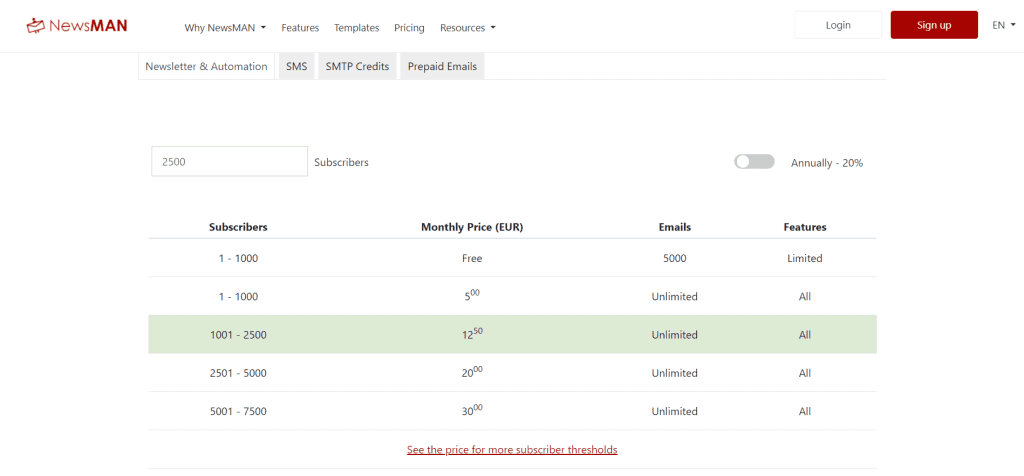 No matter what size team or budget you have, newsman has something for everyone – allowing businesses of all shapes and sizes to benefit from its powerful technology. With cost comparisons included in each package, finding the best option for your situation has never been easier!
In a nutshell, Newsman suggests 4 packages, each package has its own pricings:
Newsletter & Automation starting from $7
SMS starting from $0.039 per SMS
SMTP Credits starting from $12
Prepaid Emails starting from $65
When it comes to bulk delivery, Newsman delivers. The platform is equipped with tracking analytics that allow users to keep an eye on their campaigns in real-time. Its intuitive interface helps you identify the open rate, click rate and more for each individual email sent out. This allows marketers to make informed decisions about what works and what doesn't when sending emails at scale.
Newsman also offers detailed reporting that provides deep insights into customer behavior after they receive your messages. You can track how long customers spend reading your emails and which links they are clicking on within them — all valuable data points when creating engaging content. Plus, you have the ability to export this data as CSV files if needed.
No matter if you're a novice or experienced marketer, Newsman's easy-to-use tools help ensure successful delivery of your message every time. With its robust feature set and dependable performance, it's hard to go wrong when choosing this trusted software option for your email marketing needs.
Now let's turn our attention to user experience…
When it comes to user experience, newsman email marketing software is a clear winner. Their customer service team are always on hand to answer any queries and help customers get the best out of their product. With intuitive design and simple usability, users can quickly become accustomed with the platform – no need for lengthy training sessions or complicated processes.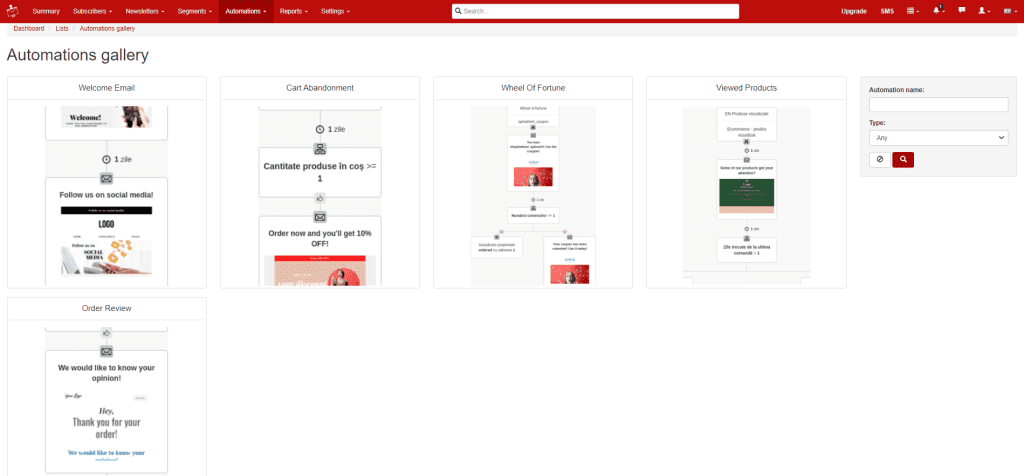 Additionally, its powerful marketing automation capabilities allow users to work smarter not harder; automating mundane tasks so that business owners have more time to focus on other areas. The dashboard is easy to use, giving you all you need right at your fingertips. From analytics reports tracking clicks and opens to detailed segmentation options – everything is designed with clarity in mind.
Plus, they offer an impressive range of integrations from popular CRMs such as Salesforce, HubSpot, etc., making it even easier for businesses to maximize their reach potential. Newsman makes life simpler for everyone involved by providing efficient tools backed up by top-notch customer support.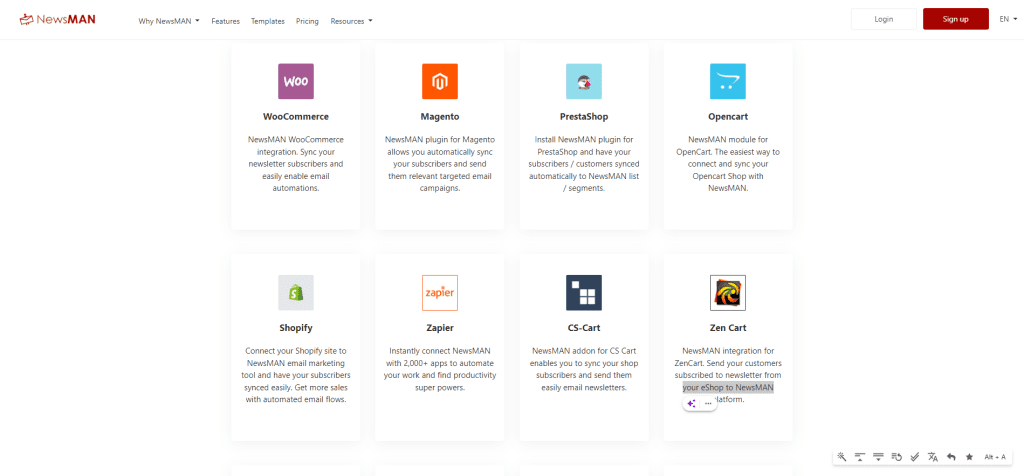 As one happy customer said "We're able to send emails faster than ever before! We weren't sure about our strategies but Newsman's team helped us set them straight'. Now, let's move onto alternative options available in the market…
Frequently Asked Questions
Is Newsman Email Marketing Software Easy To Use?
With streamlined processes for creating campaigns and managing contacts, you'll save time and energy so that you can focus on more important tasks.
Plus, its powerful analytics will help you track the performance of all your emails in real-time.
In short, with NewsMan's user-friendly tools, you'll be able to enjoy more freedom as you grow your business without having to worry about mundane administrative work!
Does Newsman Email Marketing Software Integrate With Other Software?
Yes! Newsman Email Marketing Software integrates seamlessly with a variety of popular programs, so you never have to worry about being stuck in one place.
Now you can enjoy the freedom of taking your marketing efforts further without any hassle or added stress.
Are There Any Additional Fees Associated With Newsman Email Marketing Software?
With a range of automation features and no additional fees, you'll have the freedom to focus on what's important: growing your business without worrying about extra charges or hidden expenses.
So if you're looking for an affordable way to make sure your emails are reaching their intended targets, Newsman is definitely worth considering.
Can I Access Customer Support For Newsman Email Marketing Software?
When considering cost effectiveness and customer feedback, you need to know if there is support available for your email marketing software.
With NewsMan, you can rest assured that expert customer support is always at hand – without any additional fees or hidden costs!
Enjoy the freedom of knowing that professional help is just a few clicks away when needed, so you don't have to worry about being left in the dark with technical issues.
What Are The Email Deliverability Rates For Newsman Email Marketing Software?
With their strong deliverability rates, you can be sure that all of your emails will reach their intended recipients. Whether you're sending a few emails or thousands in one go, NewsMan delivers with ease.
This innovative software makes it easy to keep track of who's opened, clicked on, and interacted with each message. Best of all, the freedom to customize campaigns as needed gives you complete control over every aspect of your email marketing strategy.
Yes, NewsMan Email Marketing Software is easy to use and integrates with other software.
It has no additional fees for using the platform, although there are some transaction fees for payments.
The customer support team is always available to answer any questions you may have about the product.
In addition, their email deliverability rates are high – meaning your emails will arrive in a timely manner.
Overall, I think NewsMan Email Marketing Software is an ideal choice if you're looking for an effective email marketing solution.
With its user-friendly interface, great features and reliable delivery system, it's definitely worth considering as your go-to platform!
Newsman Reviews: A Simple and Efficient Email Marketing Software
Free Plan + Starting from $7/Mo