Are you looking for a way to market your business in the UK with the help of email? Newzapp Email Marketing Software is a great option. It's an efficient and cost-effective solution that will have your message reaching its target audience in no time at all.
In this article, we'll discuss the presentation pricing, features and alternatives available with Newzapp so you can decide if it's right for you and your business needs.
We understand how important freedom is when running a small business, especially one on tight budget constraints! That's why Newzapp offers flexible solutions which allow entrepreneurs to customize their marketing campaigns without breaking the bank.
So let's dive into what makes Newzapp such a popular choice among marketers today!
Overview Of Newzapp Email Marketing Software
Newzapp email marketing software is an automated platform that helps marketers create emails quickly and easily. Not only does it save time, but also offers great segmentation strategies to target the right people with the right message at the right time.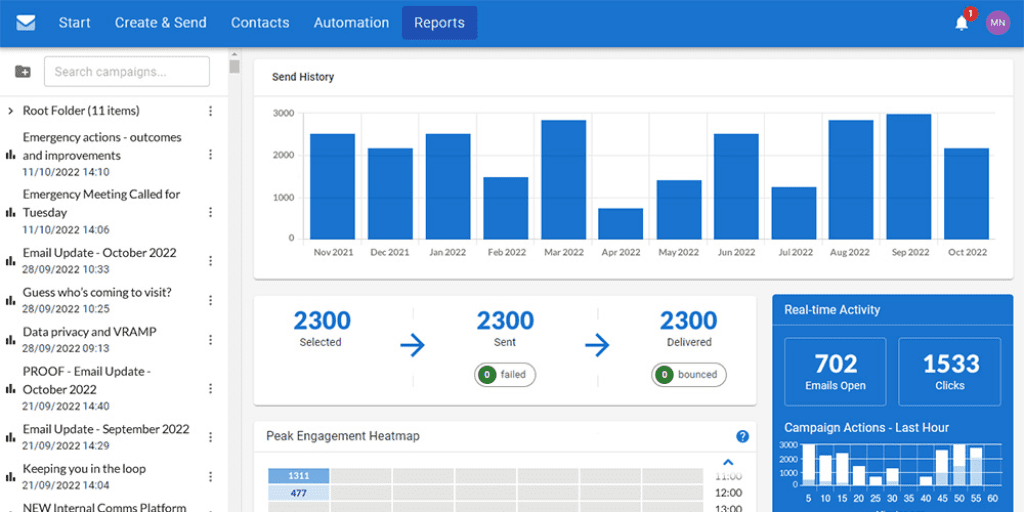 With Newzapp, you can benefit from a wide range of automation features—from basic newsletter campaigns to complex drip sequences. The powerful segmentation tools allow users to send personalized messages by dividing customers into different groups based on their actions or interests. This ensures your emails reach those who are most likely to be interested in them and increases engagement rates significantly.
Plus, as you don't need any coding knowledge, setting up campaigns becomes much easier than ever before. Apart from its ease-of-use and robust automation benefits, Newzapp provides simple yet effective reporting capabilities that give insights into how your campaigns perform over time. It allows you to monitor all aspects of your email strategy so that you know what works best for your business—and where more improvements may be needed.
And when it comes to pricing? It's one of the most cost-effective solutions out there compared to other alternatives! Now let's take a look at some of the key features offered by Newzapp Email Marketing Software…
Features Of Newzapp Email Marketing Software
Newzapp email marketing software is an intuitive, user-friendly platform that offers users a range of features to make their mailing list management and message delivery easy. From template creation to email automation, it has everything you need to create effective campaigns quickly and efficiently.
Moreover, its dashboard provides real-time feedback on each campaign's performance so you can monitor results in no time. The drag-and-drop editor makes designing your own templates simple and straightforward. Even if you're not a designer or don't have coding skills, Newzapp allows you to customize the look and feel of your emails with just a few clicks.
You can also automate tasks such as follow ups and welcome messages with its automated workflow feature, saving valuable time for more important projects. With all these features at your fingertips, Newzapp ensures that creating professional-looking emails doesn't require any additional technical knowhow. It simplifies the entire process so anyone can send out stylish newsletters with ease – freeing up precious hours for other activities.
With that in mind, let's move onto discussing presentation pricing of newzapp email marketing software…
Newzapp for Internal Communications
Newzapp is mostly used for companies and organizations' internal communications, and between employees. It's a great niche for those who have many employees or several branches. We can mostly say that it's more an internal communications software rather than email marketing software.
Presentation Pricing Of Newzapp Email Marketing Software
Let's talk about Newzapp's pricing plans, and how they compare to other email marketing software.
They offer many plans, a basic plan starting from $247, and the rest which comes with different features and pricing options.
Their basic plan is quite affordable, but if you need more features then you'll need to go with the advanced plan, which is more pricey.
Let's take a look at some of the alternatives to Newzapp and see how their pricing stacks up.
Newzapp Pricing Plans
Are you looking for an email marketing software solution that provides great pricing plans?
Well, Newzapp is the answer! With their easy-to-use interface and powerful automation tools, they offer a range of options to fit any budget.
You can track your emails with ease and have access to features like automated campaigns, intuitive segmentation, A/B testing and more. Plus, there are no hidden fees or additional charges – just one price for all your needs.
So if you're in need of a reliable email marketing platform without breaking the bank, then Newzapp has got you covered! And don't forget about their excellent customer support team who will help make sure everything runs smoothly.
So go ahead – take advantage of this amazing opportunity today!
Comparison To Alternatives
If you're wondering how Newzapp stacks up against other email marketing software solutions, then rest assured that they offer unbeatable pricing plans.
Not only can you get all the features and capabilities of a premium service at an affordable cost, but customers have also given their feedback on just how user-friendly it is.
With no hidden fees or charges, and excellent customer support, it's easy to see why this platform is such a great choice for businesses.
On top of that, Newzapp offers competitive prices when compared to similar services – meaning more money in your pocket!
Their intuitive segmentation tools are perfect for targeting specific audiences, while automated campaigns let you set up emails with ease.
Plus, A/B testing helps ensure maximum engagement from your recipients.
Overall, if you're looking for an email marketing solution that won't break the bank yet still provides powerful features and capabilities, then Newzapp ticks all the boxes!
So don't wait any longer – explore what this amazing platform has to offer today!
Customization Options With Newzapp Email Marketing Software
With Newzapp Email Marketing Software, businesses can have the freedom to customize their emails and design templates that will best suit their needs. This is a great feature as it allows companies to create an email experience that reflects their brand's personality.
However, there are some customization limitations with Newzapp. For example, users cannot embed videos in HTML emails or use custom CSS styles within their campaigns. Additionally, template design options are limited compared to other software solutions on the market.
Still, despite these restrictions, Newzapp does offer plenty of flexibility for those looking for a reliable email marketing platform. They provide hundreds of professionally designed templates and intuitive editing tools so users can easily customize each message they send out.
Furthermore, all messages sent through Newzapp are optimized for mobile devices ensuring your customers always receive high-quality emails no matter what device they are using.
Overall, while Newzapp may not be the most comprehensive solution available when it comes to customization and template design features, they offer enough flexibility to meet the needs of many businesses who need effective email marketing solutions.
Now let's explore the alternatives to Newzapp Email Marketing Software…
Alternatives To Newzapp Email Marketing Software
Are you looking for an alternative to Newzapp Email Marketing Software? Finding the right software choice can be overwhelming. There are many different options with unique features and varying price points out there, so it's important to compare your choices carefully before deciding on one.
Let's take a look at some of the alternatives available that offer email automation, analytics tracking, and more.
Mailchimp – A popular option among small business owners, Mailchimp provides users with customizable templates and easy drag-and-drop design tools. It also allows you to evaluate customer response rates through its detailed analytics feature. Additionally, it supports automated campaigns as well as segmented audiences for targeted marketing purposes.
Constant Contact – As another affordable solution, Constant Contact offers powerful marketing automation capabilities along with advanced reporting and analytics tracking functions. It's user friendly interface makes campaign building simple while providing access to various types of content such as surveys or polls. Furthermore, it is great for blogging and even boasts integrated social media management functionalities in certain plans.
ActiveCampaign – For those who want something more comprehensive than just basic email automation services, ActiveCampaign has all the bells and whistles needed to manage sophisticated campaigns across multiple channels. Not only does this provider offer detailed lead scoring but they also have an intuitive visual workflow builder that simplifies complex processes like customer journeys or sales funnels. Plus their insightful data insights provide valuable feedback about how customers interact with emails and other communications sent from the platform.
Clearly each program comes with its own set of advantages which can help you decide what works best for your needs when selecting an email marketing service provider. As you consider switching over from Newzapp Email Marketing Software or choosing between these alternatives altogether, remember that freedom is yours for the taking! With so many options available today, finding a perfect match shouldn't be too hard if you know what criteria to prioritize when making your selection.
Benefits Of Using Newzapp Email Marketing Software
Newzapp email marketing software offers a powerful suite of features to help you get the most out of your campaigns. With its intuitive user interface, campaign tracking capabilities and automated email creation tools, Newzapp makes it easier than ever before to create targeted messages that reach their intended audience.
The benefits of using Newzapp for your email marketing efforts are numerous.
For starters, you can easily track the performance of individual emails or entire campaigns with detailed analytics that provide valuable insight into engagement metrics like open rate, click-through rate, bounce rate and more.
Additionally, automated email creation means that you don't have to spend time manually crafting every message – instead, you can use simple drag-and-drop tools to create engaging content quickly and efficiently.
Furthermore, Newzapp provides advanced segmentation capabilities which allow you to customize each message based on specific criteria such as subscriber demographics or past engagements.
This helps ensure that your campaigns remain relevant and effective by reaching only those people who will be interested in what you're offering – resulting in higher conversion rates over time.
Put simply: if you want an easy way to maximize the effectiveness of your email marketing efforts while also saving time and resources, then Newzapp is worth considering.
Frequently Asked Questions
Does Newzapp Email Marketing Software Offer Any Support Resources?
With a dedicated team of professionals ready to provide assistance and guidance, you can rest assured that any enquiries will be swiftly addressed.
Its comprehensive support resources are designed with the user in mind, ensuring an effortless experience while navigating your email marketing needs.
Are There Any Discounts Available For Newzapp Email Marketing Software?
Newzapp offer free trials and discounts on their packages which can help save money.
With a range of plans to choose from, you have the freedom to select an option that suits your needs without breaking the bank.
Does Newzapp Email Marketing Software Integrate With Other Software Platforms?
Lead scoring and automation rules are key features when it comes to email marketing software.
Newzapp offers both of these, but they don't stop there – they also provide integration with other software platforms.
That means you can easily connect your existing systems to the powerful suite of tools offered by Newzapp.
You'll be able to manage all your leads and campaigns in one place, giving you more freedom and control over your business operations.
How Quickly Can I Get Started With Newzapp Email Marketing Software?
Getting up and running with Newzapp Email Marketing Software is quick and easy.
Your customer feedback can be tracked in real time, so you always know how your campaigns are performing.
Plus, delivery tracking ensures every email sent lands safely in the recipient's inbox.
With no long-term contracts or commitments, you'll have complete freedom to trial the platform anytime without any hassle – which means more time for what really matters: growing your business!
Yes, Newzapp Email Marketing Software is GDPR compliant and offers extensive support resources.
Plus, they offer discounts to help with the cost of getting started.
Additionally, their software integrates easily with other platforms so you can quickly get up and running.
All in all, Newzapp Email Marketing Software is a great option for businesses who need an efficient email marketing solution.
It's reliable, secure, and easy to use – everything you need for successful campaigns!
Newzapp Reviews: The Email Software for Internal Communication