Are you tired of the same old email marketing platforms? Do you want an alternative to Klaviyo that offers more freedom and customization options? If so, Omnisend is worth a look. This review will dive into what makes Omnisend stand out as one of the best alternatives to Klaviyo in 2023.
Omnisend is an e-commerce marketing platform designed specifically for small businesses, bloggers, and entrepreneurs who need affordable yet powerful tools to manage their online stores. It provides customers with a wide range of features such as automation workflows, analytics dashboards, segmentation capabilities, advanced personalization options, and more—all at a fraction of the cost of other comparable solutions on the market today.
With its easy-to-use drag-and-drop interface and comprehensive list of features, Omnisend stands apart from similar platforms like HubSpot or MailChimp by offering users greater flexibility when it comes to customizing their campaigns according to their specific needs. Read on for our full review of this ultimate Klaviyo alternative!
Omnisend is the ultimate Klaviyo alternative for 2023. From its inception, Omnisend has been on a mission to revolutionize email and SMS marketing automation. With an intuitive interface and advanced features, it's no wonder why more and more merchants are making the switch from Klaviyo each day. In 2021 alone, their customers have sent over 500 million emails!
At its core, Omnisend prides itself in providing simple yet powerful tools that allow e-commerce owners to maximize their customer engagement with minimal effort. Whether you're looking for automated workflows or user segmentation capabilities, this service offers something for everyone. Plus, they offer 24/7 support so that customers always get the help they need when they need it.
From creating campaigns quickly and easily through drag-and-drop templates to optimizing your delivery timing – whatever needs you might have as an online business owner, Omnisend has got you covered. Now let's take a look at how Omnisend stacks up against one of its biggest competitors: Klaviyo. Let's move onto feature comparison to Klaviyo…
Feature Comparison To Klaviyo
Considering the features of Omnisend is paramount to evaluating if it's truly a viable Klaviyo alternative. In this section, we will look at how they compare in terms of automation capabilities and integrations with other platforms.
First off, both services offer comprehensive email marketing automation tools. With either one, you can create automated campaigns which send emails based on customer behavior or preferences. This means that you don't have to manually trigger each message yourself, allowing for more efficient communication with your customers. Additionally, both provide an intuitive drag-and-drop builder so creating engaging campaigns is easy and straightforward – no technical skills required!
When it comes to integrations with third-party platforms, both provide deep links into popular ecommerce stores like Shopify and Magento as well as social media sites such as Facebook and Twitter. However, what sets them apart is their ability to integrate directly with payment processors like Stripe and Paypal – making accepting payments quick, secure and hassle free.
Overall, Omnisend has similar features compared to Klaviyo but offers a few extra perks when it comes to ease-of-use and integration options. As such, it provides an ideal option for those looking for an all-in-one solution for managing their online store's communications needs.
Omnisend is a great klaviyo alternative for its ease-of-use. It has been designed with the user in mind, so it's simple to navigate and use. You don't have to be tech savvy or an experienced marketer to make the most of Omnisend. There are plenty of intuitive features that help you get up and running quickly without having to learn complicated processes.
The platform was also built with flexibility in mind – users can easily customize their campaigns according to their specific needs. Whether they want to design newsletters, create automated email sequences, build landing pages, or set up web push notifications – Omnisend makes it all possible without any coding experience required! Plus, there are lots of templates available that let you customize your campaign elements while still keeping things streamlined.
Overall, using Omnisend provides marketers with the freedom they need to reach out to potential customers successfully and efficiently. The platform offers easy setup options so you can start sending emails right away and take advantage of powerful marketing tools along the way. With this kind of convenience at hand, moving on from Klaviyo may not seem like such a daunting task anymore! Now onto pricing and plans…
Ah, Omnisend pricing and plans. What a delightful topic to discuss! It's time to find out what makes Omnisend the ultimate Klaviyo alternative when it comes to price and plan options.
For starters, let us look at the basic differences between these two services: while both offer different payment models, with Klaviyo you are billed monthly for each contact in your account, whereas with Omnisend you can pay either annually or by credits. This allows for more flexibility as far as budgeting goes – particularly for businesses that may have unpredictable customer lists size from month-to-month.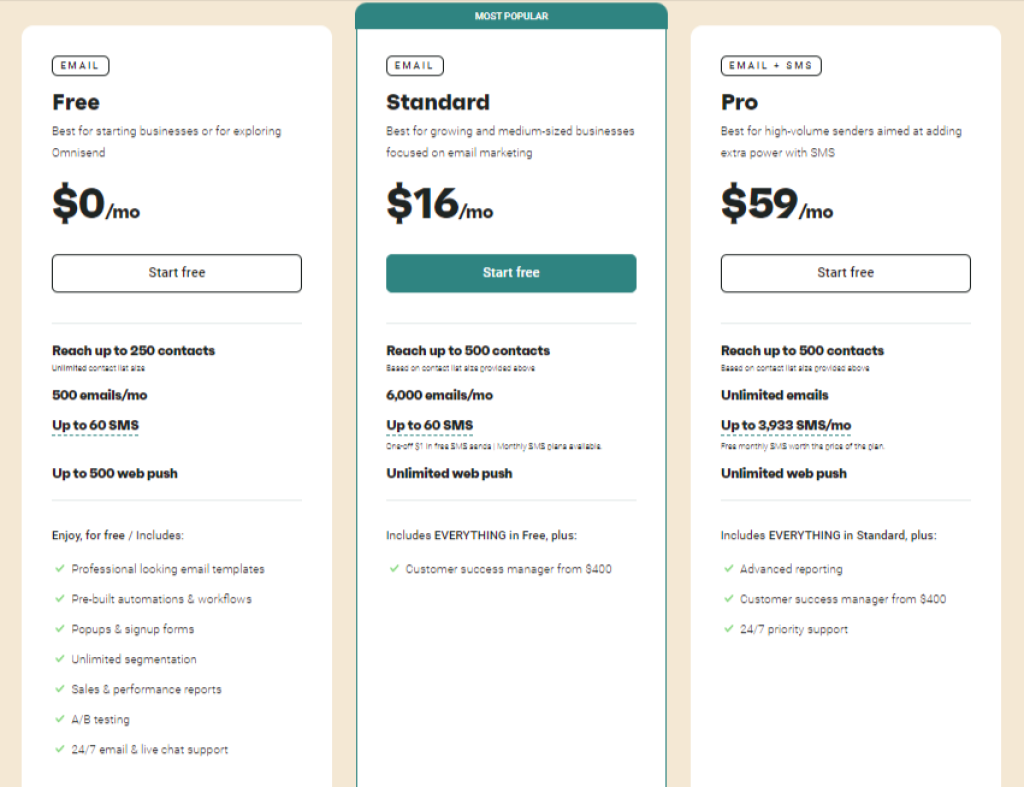 In addition, Omnisend offers several tiers of service depending on your needs and budget – ranging from free up to unlimited use of emails and SMS messages. These packages also include features such as automation workflows and personalized product recommendations which are not available in the free Klaviyo package. The highest tier even provides access to live chat support so customers will always get help quickly if needed. All this shows how much value is packed into their various plans – making them an impressive deal compared to other similar providers out there.
Now that we've looked at prices and plans, let's take a closer look at one last key difference between these two companies: integration options.
When looking for a Klaviyo alternative, integration options are an important factor to consider. Omnisend has everything you need to integrate with your favorite eCommerce platforms and other services like Mailchimp, Google Sheets, and Shopify. They support more than 50 integrations across online stores including Magento, Bigcommerce, WooCommerce and PrestaShop. This makes it easy to keep your data up-to-date between different systems without double entry or manual imports/exports.
You can integrate your store with Omnisend directly for the most store platform you use:
Shopify
BigCommerce
Woocommerce-Wordpress
Magento (1 or 2)
OpenCart
Drupal Commerce
Volusion
Wix
CV3
Moreover, you can integrate your custom e-commerce platform (from scratch) via their API as well.
The platform also allows users to add custom code snippets directly into their emails so they can customize the look of their campaigns and segment customers based on specific criteria – all within the same interface. Plus there's no need for any coding knowledge as Omnisend provides step-by-step instructions for each integration option.
Overall, Omnisend is an excellent choice when it comes to integrating your marketing channels together seamlessly. You don't have to worry about missing out on features due to compatibility issues — just pick the best ones from both platforms that work well together! With this comprehensive suite of options available at your fingertips, you'll be able maximize efficiency in no time at all. It's now time to move onto automation tools…
Like a ray of sunshine, Omnisend has broken through the clouds to become one of the most promising Klaviyo alternatives for 2023. Its automation tools are second-to-none and allow users to effectively control their campaigns with ease. From automated welcome emails and abandoned cart sequences to personalized product recommendations, there's something for everyone here!
The workflow builder is especially powerful, allowing you to create complex customer journeys without coding knowledge. You can also set up triggers based on user action or inactivity that will launch automated messages at just the right time. This makes it easy to stay engaged with your customers and build long-term relationships. Additionally, you can use segmentation rules to ensure only relevant contacts receive each message.
Omnisend not only offers great automation capabilities but also provides an intuitive interface so you don't have to be a tech whiz to manage them. It takes all the guesswork out of creating effective email marketing campaigns while still giving you complete control over every step of the process. Your customers will appreciate how effortless it is to keep track of their interactions with your brand – leading to more conversions and ultimately more revenue for your business.
Email Templates And Design Options
Omnisend offers a wide variety of customization options when it comes to email templates and design. They have ready-made options available, making designing your emails easier than ever before. You can even create custom designs from scratch if you want to get creative with the look and feel of your messages. Plus, they offer an intuitive drag-and-drop builder that makes it simple to edit existing templates or build out new ones.
The platform allows you to style each template according to your preferences. With Omnisend's advanced formatting tools, you can customize fonts, colors, images, videos, buttons, and more for a truly unique customer experience. What's more – their pre-built responsive layouts mean your emails will look great on any device without requiring additional coding knowledge.
On top of all this flexibility, Omnisend also provides helpful resources like webinars and tutorials so you can make sure you're getting the most out of its features. This gives users everything they need to craft beautiful and effective emails quickly and easily – freeing up valuable time in the process! Ready to take things up a notch? Let's explore how Omnisend helps personalize the customer journey next.
Personalization features are like a painter's brush strokes when it comes to the art of e-commerce marketing. Omnisend offers an impressive selection of customization options that allow businesses to tailor their messaging for maximum impact. With powerful segmentation, A/B testing, and dynamic content blocks, users can craft highly tailored emails that speak directly to each customer's needs.
Omnisend lets users personalize their campaigns with ease. The platform allows marketers to customize everything from email subject lines and body copy to images and CTA buttons. It also has advanced filters so you can target specific customers based on age, gender, location or interests. And if all else fails, omnisend has a built-in AI tool that recommends the best personalization strategies for your business.
The icing on the cake? Omnisend provides comprehensive analytics tools so you can keep track of how well your personalized messages are performing in real time – giving you insights into what works and what doesn't as you refine your messaging strategy. From there, it's just a matter of diving deeper into the data to determine where improvements need to be made in order maximize results moving forward.
With such robust personalization capabilities at its disposal, omnisend is more than capable of helping businesses create targeted communication that resonates with customers and drives conversions. As one transitions towards exploring support resources available through this ultimate Klaviyo alternative, it becomes even clearer why many brands have already made the switch over to omniSend.
It's clear that Omnisend has all the features you need to get started with email marketing. But what about support resources? After all, if you run into any issues, it's important that help is readily available.
Fortunately, Omnisend offers extensive customer service through multiple channels including live chat and emails. They also have a comprehensive knowledge base filled with FAQs and tutorials designed to help customers quickly resolve any problems they may encounter while using the platform.
What's more, their team of dedicated customer success specialists are always on hand to provide personalized assistance as needed. With such an impressive array of resources at your disposal, you can rest assured knowing that your questions will be answered in no time!
The next step is to look at security certifications for further peace of mind when working with Omnisend.
When it comes to security, Omnisend is the ultimate klaviyo alternative. Having earned multiple certifications in the industry for data privacy and information security, this platform can be trusted with even the most sensitive customer data. Here are some of their key security features:
SOC 2 Type II certification
PCI DSS Level 1 compliance
GDPR compliant infrastructure
Omnisend's commitment to upholding these standards ensures that user data remains safe and secure at all times. Not only does this protect customers' personal information but also offers peace of mind when handling financial transactions – something that any serious business needs to take seriously. They have a dedicated team monitoring and maintaining their systems 24/7 so you can rest assured your data will stay protected.
As an added layer of defense, Omnisend employs SSL encryption to safeguard communication between its servers and users' computers or devices. This means that all transmitted data is encrypted before being sent across the network, making sure no one else can access it while it is in transit.
The level of protection offered by Omnisend makes them a great choice for businesses who want to ensure their customers feel safe using their services. With such robust safety measures in place, we now move on to discussing pros & cons.
A great example of how Omnisend is a powerful alternative to Klaviyo is the story of an eCommerce company called BrandX. They switched from using Klaviyo to Omnisend and saw incredible improvements in their overall customer retention strategy.
Positive
Automated emails & campaigns
Easy-to-use drag and drop builder for creating email content
A/B testing available on all types of messages, not just emails
Negatives
Not as feature rich compared to other competitors like Mailchimp or ActiveCampaign
Omnisend offers some great features such as automated emails and campaigns, easy-to-use drag and drop builders for creating email content, as well as A/B testing capabilities. However, it does lack in certain areas such as limited design options for emails and being not as feature rich when compared to other competitors like Mailchimp or ActiveCampaign. Additionally, there isn't a free plan option which may be a deal breaker for some businesses.
Overall, Omnisend is a great tool that has proven itself effective at helping companies reach their goals of better customer retention strategies. It provides users with the tools they need to create successful marketing campaigns without having to invest too much time or money into them. Despite its shortcomings, it can still be considered a viable alternative to Klaviyo if you're looking for something more affordable yet still capable of providing quality results.
Frequently Asked Questions
Is Omnisend Gdpr Compliant?
Are you wondering if Omnisend is GDPR compliant? This topic has been gaining a lot of traction in the ecommerce industry. It's important to make sure that your business is meeting all regulatory requirements and staying up-to-date with any changes in the law.
The good news is, yes: Omnisend is fully GDPR compliant! Here are just some of the ways they ensure data security for their customers:
Comprehensive encryption on data transfers using TLS 1.2 protocol
Dedicated support team available 24/7 to respond to customer inquiries
Automated data portability requests processing to help keep users' information secure
At Omnisend, they understand how important it is that businesses have access to trustworthy solutions that comply with international regulations, which is why they take extra steps to ensure compliance not only with GDPR but also other privacy laws like CCPA or PIPEDA. They give their customers peace of mind knowing that their sensitive personal information will be treated with care and respect by providing them with a secure platform for managing their contacts and newsletters.
Plus, you can rest assured that your data won't get lost or compromised – thanks to regular backups and storage redundancies built into the system. So whether you're running an online store or creating marketing campaigns, you can trust Omnisend's commitment to protecting your business from potential risks associated with handling user data.
Are There Limits On The Number Of Contacts I Can Have With Omnisend?
With the modern marketplace ever-evolving, it's no surprise that businesses want to find out whether there are limits on the number of contacts they can have with Omnisend. After all, having a powerful marketing tool at your disposal is only useful if you can use it without running up against any restrictions. Well, thankfully, when it comes to contact numbers – and many other aspects – Omnisend provides an incredibly reliable service.
For starters, its user interface is intuitive and easy to navigate. This makes managing large lists of contacts simple and straightforward; plus, it allows users to customize their entire outreach process. With countless templates for emails and forms available too, you'll be able to create personalized messages in next-to-no time. But what about actually reaching those contacts?
Omnisend has got you covered here as well! Its automated workflows help ensure that each message reaches its intended recipient while advanced segmentation options allow companies to tailor each communication according to who it's being sent to. That way, your team won't have to waste time manually sorting through hundreds of names every time they need to send something out.
The bottom line? If you're looking for a robust email automation platform that will let you keep track of tons of customers without hitting any hard limits… look no further than Omnisend! It truly offers some unbeatable capabilities; giving businesses the freedom they need (and deserve) in order to succeed in today's digital world.
Can I Use Omnisend For Sms Marketing?
Are you looking to use Omnisend for SMS marketing? It's an excellent choice! With its automated segmentation, robust automation tools, and powerful analytics tracking capabilities, it's quickly becoming one of the most popular solutions out there.
Omnisend is a great tool for automating your SMS campaigns. You can easily set up automated text messages based on customer behavior or preferences – like sending discounts when they reach certain spending levels or birthday greetings at just the right time. This helps you maximize engagement with your customers while saving you time in the process. Plus, their advanced reporting capabilities allow you to track which messages work best so that you can keep improving your results over time.
The bottom line: If you're looking to take advantage of SMS marketing, then Omnisend is definitely worth considering. Its comprehensive features make it easy to create effective campaigns, automate them efficiently, and measure their success accurately – all without needing any coding experience whatsoever. So why not give it a try today and see what kind of impact it could have on your business?
Does Omnisend Have An App Store?
When it comes to app stores, Omnisend has you covered. With its integration with the Apple App Store and Google Play, this all-in-one digital marketing platform makes it easy for businesses to get their products in front of potential customers quickly and efficiently. Not only can you create engaging content within the Omnisend platform itself, but you can also share your content directly through social media or other channels like email. Plus, the app store provides access to hundreds of third party integrations which allow users to customize their experience even further.
Having an app store is essential for any modern business that wants to stay competitive in today's market – and Omnisend proves they have what it takes! It means that companies no longer need to waste time manually uploading content or setting up complex APIs; instead they can just choose from a curated selection of tools ready-made for them. This streamlines the entire process so teams can focus on more important tasks such as customer engagement and growth strategies.
With its comprehensive suite of features and intuitive interface, Omnisend allows companies to take control over how they manage their apps and engage with customers across multiple platforms. From tracking performance data in real-time, to automating messages based on user behavior – there's something for everyone here! Whether you're looking for better brand recognition or a simpler way to reach out to new audiences, Omnisend's app store will help make sure your efforts are being put into action effectively and efficiently.
How Easy Is It To Customize The Omnisend Design?
Customizing the design of your marketing platform is key to achieving success. With Omnisend, you get access to a suite of tools that make it easy for you to do just that. From drag-and-drop templates and customizable themes to an extensive library of images, fonts, and colors – Omnisend offers everything you need to create beautiful emails and campaigns that engage your audience.
The customization process is simple and intuitive. You can quickly create custom email designs with pre-made layouts or start from scratch by uploading your own files. The editor also allows you to adjust font sizes, add borders, change background colors, upload logos, and more. Plus, Omnisend's built-in analytics will help you track the effectiveness of your campaigns in real time so you can refine them as needed.
Which means that regardless of how complex or unique your needs are, Omnisend makes it easy for anyone to customize their experience without needing any coding knowledge or technical expertise. So if you're looking for an intuitive way to take control of your marketing efforts – give Omnisend a try!
It's clear that Omnisend is a powerful and comprehensive email marketing platform. With features like GDPR compliance, SMS capabilities, an app store, and customizable design functionality, it certainly holds its own as a Klaviyo alternative. But what really sets it apart?
The answer lies in the user experience. From creating campaigns to monitoring results, using Omnisend is simple and intuitive. Plus, with their extensive help center and customer service team on hand if you ever get stuck – there's no better way to maximize your marketing efforts!
So why choose Omnisend over other platforms? For me personally, I'd have to say it comes down to one word: trust. Knowing that my data will remain secure while still being able to achieve all of my goals makes this tool invaluable. As such, I would highly recommend considering OmniSend for your next campaign or project – you won't be disappointed!
Omnisend Review 2023: The Most Competitive Klaviyo Alternative?
Free Plan + Starting from $16/Mo