Promio's email marketing software promises an easy-to-use, comprehensive platform that helps unlock the potential of your campaigns.
In this article, we'll explore how Promio can help you maximize results while minimizing costs – plus, some alternatives that might be better suited to certain goals and budgets.
Email marketing has become increasingly popular in recent years due to its effectiveness and cost efficiency. With so many different options available today, it can be difficult to find one that meets all your needs without breaking the bank. That's where Promio comes in: they offer a range of pricing plans designed to fit any budget or project size, making them accessible for everyone from small business owners to larger organizations.
Let's take a look at what this service offers and compare it with some other top contenders on the market!
Overview Of Promio Email Marketing Software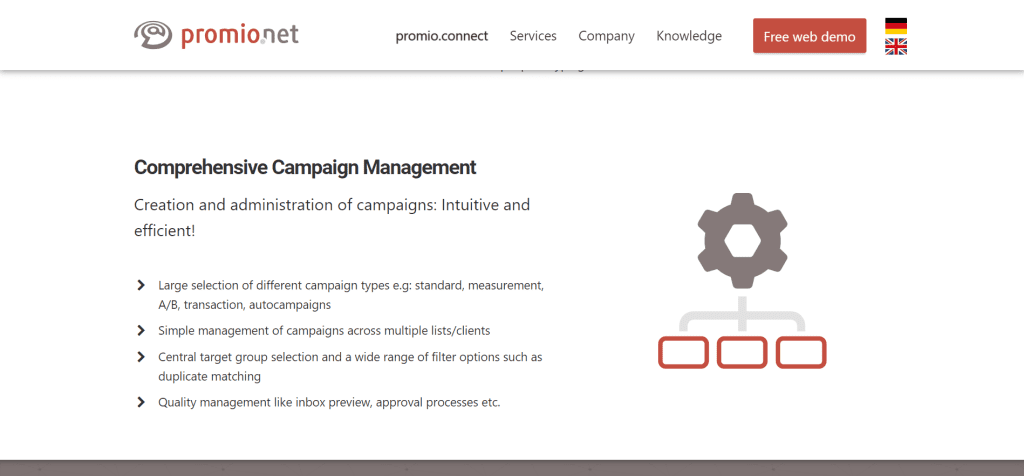 Promio Email Marketing Software is an all-in-one platform for businesses looking to take their email marketing campaigns to the next level. It provides an intuitive, easy-to-use system that allows users to quickly and efficiently create tailored emails for each of their contact lists with automated delivery.
With its advanced recipient segmentation tools, one can easily target different audiences with customised messages specific to them. The software also offers a range of powerful analytics capabilities; this allows you to monitor your performance in real time and make adjustments as needed.
You'll have access to detailed reports on open rates, clickthroughs, opt outs, bounces, and more – empowering you to optimise your approach while learning what works best for your audience. In addition, it boasts robust security features such as double opt-in confirmations and encryption protocols designed to protect user data from malicious attacks.
This means that customers can rest assured knowing their information is safe when using the service.
Promio Email Marketing Features
When it comes to email marketing, Promio offers some of the best features available. With its list segmentation capabilities and automated emails, you can easily create effective campaigns with just a few clicks. Whether you're looking for convenience or efficiency in your email outreach efforts, the service has got you covered!
One of the most impressive aspects of its powerful list segmentation feature. This allows users to group their contacts into lists based on criteria like interests, location, demographics, and more. From there, they can craft targeted emails that are sure to grab attention and generate conversions. It's an incredibly powerful tool that makes managing large contact databases far simpler than ever before.
Speaking of automation, it also enables users to set up automated messages which are sent out at predetermined intervals when triggered by certain events or actions taken by recipients within an email list. Automated messages save time and energy while ensuring customers stay engaged – essential components for any successful business strategy.
Rather than spending hours crafting individual emails each week, marketers can rest easy knowing their promotional content is always being delivered without fail.
Promio Connect
Enhanced Omnichannel Marketing Solutions
Experience the convenience of managing all your essential channels seamlessly through a single, user-friendly platform.
Effortlessly configure campaigns across a diverse range of communication channels, with the ability to target up to five options. Our selection of available modules includes E-mail, SMS, App Push, Web Push, and Print Mailings.
Forge connections across multiple channels to effectively reach and engage your customers. Benefit from swift processing times that ensure your campaigns are up and running promptly.
Gain a comprehensive overview of your channels and campaign outcomes with centralized reporting features. Monitor your results with ease and make informed decisions to optimize your marketing strategy.
Promio Research
Services:
Organizational research
Target group research
Brand research
Communication research
Online panel in Germany
International partner panels in over 200 countries.
Promio Media
Reaching Nearly Every Target Audience
Leveraging insights gained from meticulously planning, executing, and assessing over 250,000 campaigns, we have cultivated an in-depth understanding of the essential components for achieving triumphant marketing endeavors. Naturally, we tap into this reservoir of customer experience to assist you in tasks like pinpointing your target demographic and identifying fitting collaborators for your campaigns.
Promio Consult
Empowering Learning: Workshops, Seminars, and Studies
Elevate your knowledge with our diverse selection of workshops and seminars tailored just for you. Enjoy the freedom to choose from a range of topics, spanning template utilization, project management, and editing skills. Our workshops offer the ideal opportunity to invigorate your marketing strategies.
Charting Strategic Success:
Explore the realms of Marketing Automation, Optimal Data Management, Lifecycle Communication, Multichannel Marketing, Touchpoint Marketing, Communication Parameters, and Sales Promotion. These comprehensive strategy development modules pave the path to marketing excellence.
Insightful Studies:
Dive into a realm of knowledge with our thoughtfully designed studies. Engage in Contract Studies, delve into Major Industry Sectors, understand the Impacts of Individual Communication Channels, anticipate Future Trends and Themes, and unravel the depths of Analysis. From Market Research to Value Chain Evaluation, E-communication Assessment to Key Data Analysis, we've got you covered.
Crafting Campaign Brilliance:
Master the art of Newsletter Campaigns and Campaign Design, ensuring your messages resonate and captivate your audience effectively. With our expertise, your campaigns are destined for success.
The platform offers a wide array of features to make your email marketing efforts run smoothly. From creating automated campaigns and managing contacts, to designing custom email templates and tracking analytics.
Now let's dive into the pricing plans available for you to choose from. The Standard package includes basic automation tools allowing up to 10k emails per month; while the Plus option allows access to more advanced features such as A/B testing and CRM integrations with a limit of 20k emails per month. With the most expensive option – Pro – users get unlimited messages plus additional team collaboration functions that can be beneficial if you're running an enterprise-level organization.
Regardless of which plan you select, the Omnichanel platform makes sure that their services are budget friendly so that businesses of any size can take advantage of them.
So now that we've gone over options within Promio, let's take a look at what other platforms offer compared to this powerful tool.
Promio Vs Other Platforms
Ready to take the plunge into email marketing? You'll want to know what Promio can offer you compared with other platforms. Let's compare and contrast the features of Promio against its competitors!
One big advantage that Promio has over others is automated emails. Automation makes it easy to deliver messages without having to write every individual one, giving you more time for creative tasks. Plus, they have tons of customizable templates so you don't have to start from scratch when building your campaigns – just pick a template and tweak it as needed!
Promio also offers excellent customer service, providing help whenever you need it. They provide step-by-step tutorials for getting started and are available 24/7 if any issues arise during setup or execution of your campaign. With their experienced professionals on hand, you know everything will go smoothly every time.
Clearly, Promio provides many advantages that set it apart from other platforms in terms of automation and customer service.
Now let's look at some pros and cons associated with using this platform specifically…
The other email marketing platforms out there may have their own set of features and capabilities, but Promio stands out from the rest in many ways. With its easy setup process and user-friendly interface, it's no wonder why so many businesses turn to Promio for their email marketing needs.
Here are some of the pros that make Promio a great choice:
Easy Setup Process: The setup process is simple, straightforward and can be completed quickly with minimal effort. You don't need any technical experience or coding knowledge – just an internet connection and some basic information about your business!
Customizable Templates: Promio offers users customizable templates that they can use to create stunning emails without having to start from scratch every time. Whether you're looking for something modern or classic, Promio has got you covered. Plus, if you want to get really creative, you can even customize your template further using HTML code!
With options like these available at your fingertips, it's not hard to see why so many people choose Promio as their go-to platform for email marketing.
From its intuitive interface to its wide range of customization tools, this platform makes creating effective campaigns easier than ever before.
Now let's take a look at alternatives to Promio on the market today.
For those looking for email marketing solutions, Promio is a great choice. But there are other alternatives worth considering as well, each with their own unique features and automation workflows that can help you get the most out of your campaigns. Let's take a look at some of them.
Constant Contact is one such alternative to Promio that provides an easy-to-use platform for creating emails and managing contacts lists. It also comes with powerful analytics tools that let users track performance metrics like open rates and clickthroughs. Plus, its automation workflow capabilities make it easier than ever to set up automated campaigns based on user behavior or subscriber list segmentation.
MailChimp is another popular option offering comprehensive email automation features that allow marketers to create triggered messages and automate newsletter delivery schedules. It also has integration options with third party apps so you can easily sync data between platforms, making it simpler to manage multiple email campaigns from one dashboard. With MailChimp, businesses have access to all the important features they need to get the most out of their digital marketing efforts while still maintaining control over their message content.
No matter which route you choose when deciding on an email marketing solution, be sure to weigh all available options before making a decision—each service will come with different advantages depending on your needs. Ultimately, taking time to understand what each offers will ensure you're getting exactly what's needed for successful campaigns down the road.
Frequently Asked Questions
Is Promio Easy To Use?
Yes, Promio email marketing software is easy to use!
The intuitive interface makes it a breeze for all users – from beginners to skilled professionals. And with its feature flexibility, you can customize your emails according to your brand's needs and goals.
So let yourself be free from the tediousness of traditional email marketing: Promio is here to make life easier for you!
Can Promio Integrate With Other Third-Party Applications?
It integrates with other third-party applications so you can easily access templates and customize them for the perfect look and feel.
Plus, there's no need to worry about compatibility problems; Promio ensures all integrations run smoothly.
So you can get back to what matters most: creating amazing emails that drive results!
Does Promio Offer A/B Testing?
Promio offers powerful customization options that allow you to easily create A/B tests for your emails.
This feature lets you compare different versions of an email with small variations so you can see which one performs better without needing any coding knowledge or technical expertise – giving you the freedom to get creative!
Promio is a great email marketing software that provides users with reliable and secure services. It has an easy-to-use interface, and offers customer support to help out when needed. Furthermore, it can integrate with other third-party applications for added convenience.
With its A/B testing feature, one can easily optimize their campaigns for better results. All in all, Promio is definitely worth considering if you're looking for a comprehensive email marketing solution. I'd highly recommend giving it a try!
Promio Reviews: Another German Email Marketing Service