If you're looking for a reliable email marketing platform with the freedom to make your own decisions, Sendy is an excellent choice. It's a self-hosted service that uses Amazon Simple Email Service (SES) as its backbone – meaning it has all the benefits of SES but none of the restrictions.
In this Sendy review, we'll take a closer look at what makes Sendy such an attractive option and review some of its features. Sendy offers users control over their email campaigns by giving them access to all the tools they need under one roof.
Plus, since it's hosted on their own servers, users are free to customize their setup according to their needs without having to worry about extra expenses or restrictions from external providers. This means that Sendy provides a great combination of convenience and autonomy – perfect for those who want more control in managing their email campaigns!
Sendy is like a light in the darkness, offering a self-hosted email marketing platform for Amazon Simple Email Service that provides users with both simplicity and complexity.
With this tool, you can customize your emails to reach customers on a personal level without being limited by predetermined parameters. The beauty of using Sendy lies in its ability to provide freedom from standard restrictions while allowing users to remain within their comfort zone.
Its seamless integration into Amazon SES gives access to an expansive range of features and options making it ideal for any business owner who wants to take control over their own campaigns. As such, Sendy offers the perfect balance between customizability and limitations which makes it a great choice for anyone looking to make an impact with their email marketing strategy.
With all these benefits, Sendy is definitely worth considering when deciding how best to market your brand online.
Picking the right email marketing platform for your business can be tough. Sendy, a self-hosted email marketing service, is an excellent option to consider — especially if you have an Amazon Simple Email Service account. It offers many advantages when it comes to pricing plans and customization options:
Cost comparison: With Sendy pricing flat rate of $59 per license, you won't need to worry about paying extra fees or worrying about hidden costs — making it easier on your budget while still offering great features and services.
User-friendly setup: Setup is quick and easy with no technical knowledge required. All you'll need is your SES credentials in order to get started.
Automation capabilities: You'll be able to automate emails based on triggers such as signup forms, opt-ins, or campaigns that are running at any given time so that customers receive relevant content without having to do all the work yourself.
Customization options: The ability to customize templates makes building engaging email messages easier than ever before. From simple text layouts, images and videos, plus dynamic fields like product recommendations; the possibilities are endless!
Sendy gives you the freedom and flexibility to create unique campaigns that will help drive customer engagement levels up and keep them coming back for more—all at a competitive price point compared to other popular solutions out there today.
Ready to start setting up your account? Let's take a look at how easy it is!
Now that you know what Sendy can do for you, it's time to get your account set up. With a few clicks and some basic information, you can be sending out emails in no time.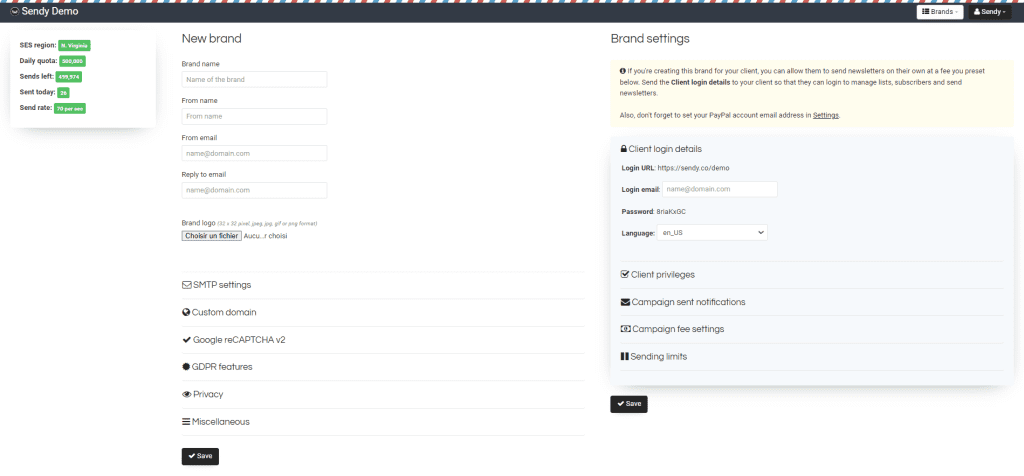 The first step is to create an account on the Sendy platform. All you need is an email address and password and then you'll be ready to go. After setting up your profile, there are two important settings: limits and custom fields. Limits help control how many messages are sent per hour or day while custom fields allow extra data to be added to each message such as location or interests of the recipient. Here's a quick overview of the limitations & customization options available with Sendy:
| | | |
| --- | --- | --- |
| Setting | Limits | Custom Fields |
| Hourly | Up to 500/hour | Yes |
| Daily | Up to 1,000,000/day | Yes |
| Monthly | Up to 30,000,000/month | Yes |
With these powerful tools at your disposal, you have more control over who receives your emails and when they receive them – giving you greater freedom than ever before! Next up: designing your campaigns!
Creating a successful email marketing campaign is more than just sending out emails. It's about giving your readers an experience they can relate to and that resonates with them. With Sendy, you have the tools you need to design campaigns that make a difference.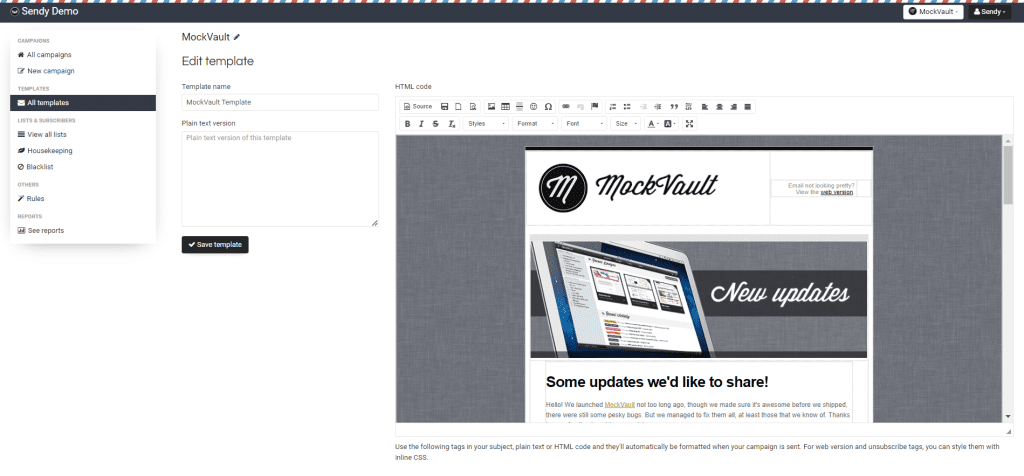 From customizing templates to choosing the right colors, fonts and images, there are many ways to make sure your emails look great for all devices and screen sizes. And with responsive design built in, it's easy to ensure that everyone receives your messages as intended.
Here are 4 tips to help you create powerful visuals:
Use high-quality imagery – Pictures speak louder than words when it comes to grabbing attention!
Design eye-catching headlines – They should stand out from the rest of the content yet still be relevant and interesting.
Choose appropriate colors – Colors affect how people perceive information so use them wisely!
Include short descriptions – This adds context and encourages readers to click through and learn more about what you're offering or promoting.
When designing campaigns, remember that personalization makes all the difference in engaging customers. Take advantage of features like dynamic variables which allow you to tailor messages based on customer preferences or interests without having to manually write each message individually.
Automating Your Email Workflows
Creating automated email triggers and automated email sequences can help streamline your email workflows, saving you time and energy.
With Sendy Review, you can easily configure automated emails that are triggered by user behaviour and send out a series of emails that are specifically tailored to your customers.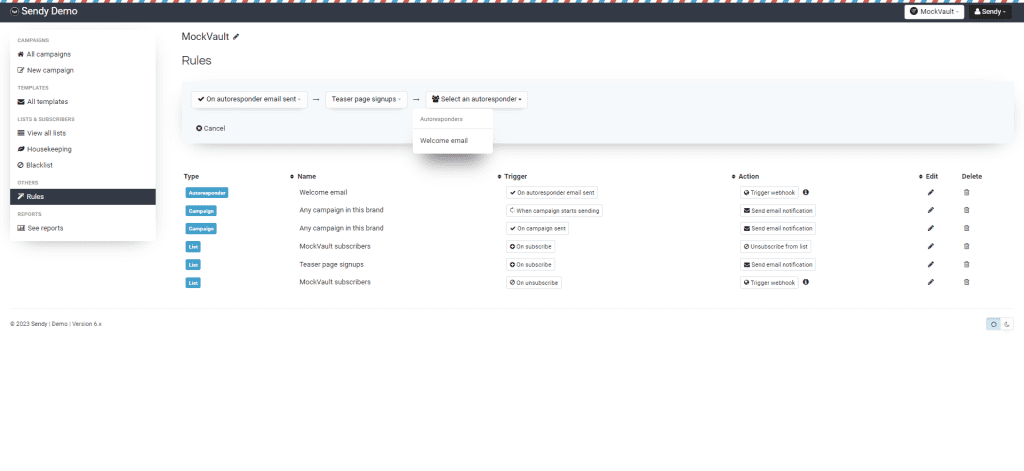 Automated Email Triggers
Sometimes, it's the little things that make a big difference in your email marketing efforts.
Automated email triggers can save you time and energy while helping to drive conversions by personalizing emails for each individual customer.
With list segmentation, you can easily target specific customers with tailored messages based on their preferences or purchase history.
Email automation empowers you to send automated emails triggered by certain actions (such as joining an email list), saving yourself time while ensuring your customers receive timely, personalized communications.
Plus, Sendy review makes it easy to set up automated sequences so you don't have to worry about manually sending out emails every single time – now that's freedom!
Automated Email Sequences
Once you've created automated email triggers, the next step is to set up automated email sequences. This can help you save time and energy while ensuring your customers get timely messages that are tailored to their interests or purchase history.
With list segmentation, you can easily target specific customers with emails crafted just for them – giving them a sense of freedom in the process!
Plus, setting up an automated sequence allows you to control when emails are sent out, so you don't have to worry about manually sending each one – now that's freedom! Timing is key here; make sure your emails hit customers' inboxes at optimal times for maximum engagement.
Tracking And Analyzing Results
Now that you know how to automate your email workflows, it's time to track and analyze the results. With Sendy review, you can easily measure and manage various metrics like open rates, click-through rates (CTR), unsubscribes and more.
Having a reliable analytics system will not only give you an understanding of what resonates with your audience but also help you make informed decisions about scheduling emails, segmenting audiences and other marketing strategies for better performance.
Analysing these data points will enable you to improve your campaigns and ensure higher ROI. Furthermore, Sendy review integrates seamlessly with Amazon Simple Email Service to provide detailed insights into each campaign. This makes optimizing campaigns easier than ever before!
Integrating With Other Services
Google Analytics integration with Sendy allows you to track and measure the performance of your campaigns, so you can make more informed decisions to maximize your ROI.
With Zapier integration, you can easily connect Sendy with popular software applications, automating processes and freeing up your time to focus on more important tasks.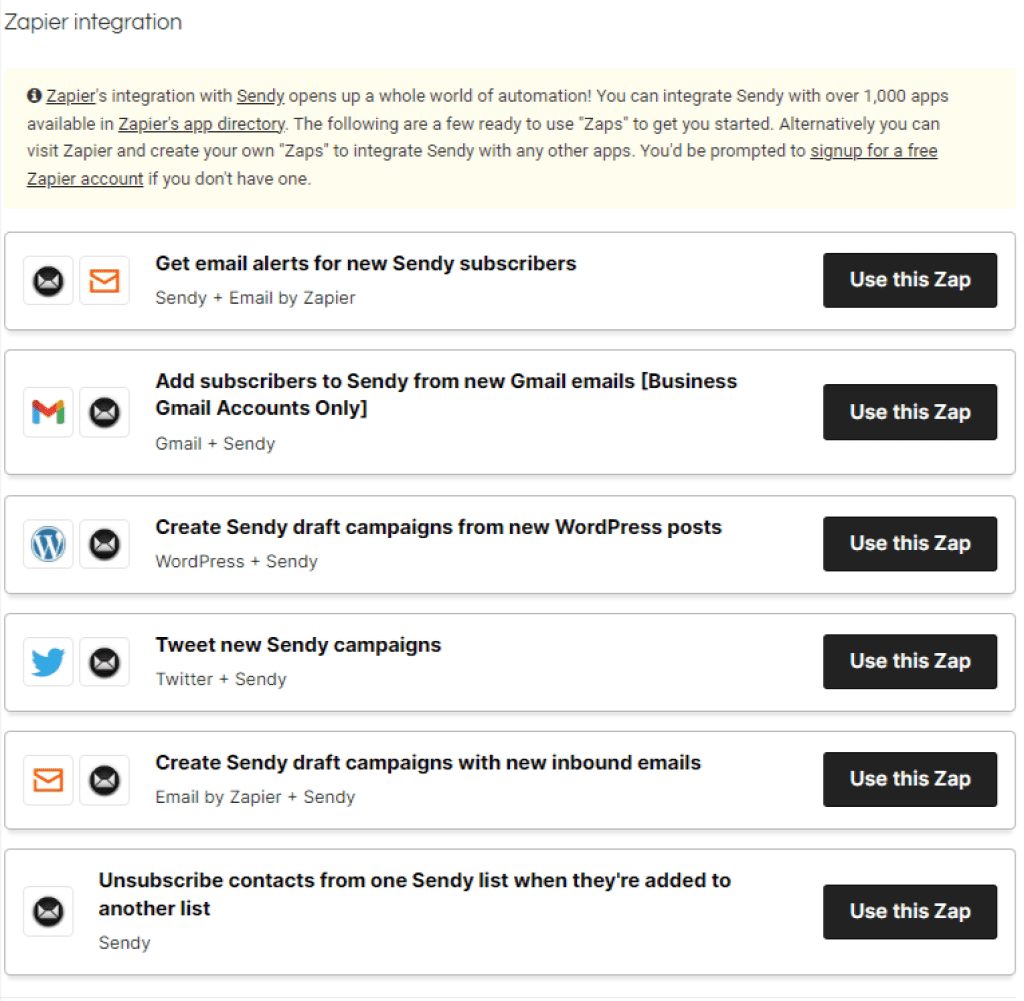 Google Analytics Sendy Integration
Are you looking to measure the success of your email campaigns?
Integrating Google Analytics with Sendy is a great way to gain insights into your social media reach and segmentation rules.
This integration allows you to see how users interact with your emails, as well as track any links clicked in those messages.
With this data at hand, you can quickly determine which strategies are working best for your audience – giving them the freedom they desire!
You'll be able to adjust your campaigns in real time based on user behavior, making sure that each message reaches its intended target without fail.
Zapier Sendy Integration
If you're looking to take your email campaigns to the next level, Zapier is a great tool to consider.
With its automation benefits, it allows you to easily synchronize data between Sendy and other services – like Google Analytics or Salesforce.
This makes it incredibly easy for users to get the most out of their campaigns in terms of segmentation rules and tracking user engagement.
Plus, Zapier's drag-and-drop interface means that no coding skills are needed!
Ultimately, with Zapier integration, you can give your audience the freedom they desire by automating tedious tasks so they have more time for what really matters: engaging with your emails!
A/B Testing For Maximum Efficiency
Sendy review enables its users to reap the maximum benefits from their email campaigns through A/B testing. By conducting tests with two or more variations of a single element, like subject line or body text, you can determine which one performs better and use that knowledge to optimize your campaign for the best results possible.
With Sendy's A/B testing feature, you have access to powerful optimization techniques such as split-testing different versions of an email message concurrently to measure response rates among multiple segments of customers. It also allows you to track user behavior in real-time so you can make smarter decisions about how each email should be targeted based on individual interactions.
The advantages of using Sendy's A/B testing are numerous; not only does it give marketers greater control over their campaigns but it also helps them save time by enabling them to quickly test and modify their content without having to manually create multiple versions manually.
In addition, this feature allows users to easily monitor the success rate of their experiments and provides detailed analytics reports they can use for further analysis and decision making. As a result, businesses are able to maximize the impact of their emails while reducing costs associated with ineffective strategies.
With these essential testing strategies at your disposal, you can expect significant improvements in open rates, click through rates, conversion rates – all critical components for successful email marketing campaigns.
Email deliverability is an important topic to consider when using any email marketing platform. With Sendy, you get the freedom to host your own email campaigns and benefit from Amazon Simple Email Service (SES).
Plus, with robust email authentication protocols like DKIM and SPF, as well as content optimization features such as custom unsubscribe links, personalized tags and more, ensuring high-quality sendouts has never been easier!
It's no surprise that successful email campaigns have one thing in common: strong delivery rates. This means making sure emails reach their intended recipients on time without getting flagged or ending up in a spam folder.
Fortunately for Sendy users, there are several ways to do this – from configuring secure mail transfer protocol (SMTP) settings to setting up domain keys identified mail (DKIM) signatures and sender policy framework records correctly. All of these measures combined will help ensure your message reaches its destination safely and quickly.
To further improve delivery success rate with Sendy Review, here are three key elements to keep in mind:
Authentication: Make sure all necessary authentication protocols including DKIM & SPF are configured properly within the system.
Optimization: Optimize content by adding appropriate subject lines, personalizing messages & ensuring they don't appear too 'spammy'.
Testing: Test each campaign thoroughly before sending it out to make sure everything looks good & there are no errors present.
With these steps taken care of, you can rest assured that your emails will be successfully delivered every time – giving you peace of mind so you can focus on crafting beautiful messages!
Sendy's customer support is top-notch, offering a range of options to help you get the most out of your email marketing experience. From FAQs and user forums to dedicated tech support, Sendy makes it easy to find answers quickly. They also offer live chat and phone assistance for those who need immediate solutions.
The customer experience with Sendy is second-to-none, as their team of experienced professionals are available seven days a week to answer all questions related to using their platform. Plus, they have an extensive knowledge base that provides tutorials on various features so users can learn how best to leverage them for maximum success.
Ultimately, Sendy has made sure that its customers are taken care of in every step of their journey – from start up to implementation and beyond. To sum it up: no matter what your needs or technical challenges may be, Sendy's got you covered!
With that being said, let's dive into the pros & cons of this self-hosted email marketing platform for Amazon Simple Email Service.
Sendy is a self-hosted email marketing platform tailored to fit the needs of Amazon Simple Email Service (SES) users. While Sendy's cost effectiveness and time savings are often lauded, there are pros and cons that need to be weighed when considering if it's the right choice for you.
Below is a list highlighting some of these points:
Pros: Cost effective, easy setup & integration with SES, intuitive dashboard/reports, variety of features available
Cons: Complicated pricing structure, limited template options, no live customer support
For many companies looking for an affordable way to manage their email campaigns through SES–without sacrificing quality or flexibility–Sendy may just be the perfect solution. With its automation tools and streamlined user interface it offers substantial advantages over other more expensive alternatives. Its key features make it well worth exploring whether you're a small business or large enterprise.
Frequently Asked Questions
How Does Sendy Compare To Other Email Marketing Platforms?
When it comes to email marketing platforms, Sendy is an increasingly popular choice due to its affordability and ease of use.
Its cost comparison and pricing plans make it accessible for businesses on any budget, while also boasting features that are often only found in more expensive alternatives.
It's no surprise then that many users have praised Sendy for giving them the freedom to manage their own campaigns without sacrificing quality or support.
In short, Sendy offers a great way to get started with email marketing at an affordable price.
How Quickly Can I Send Emails Using Sendy?
With its automated speed, email tracking and user-friendly platform, Sendy offers an efficient way to send emails without compromising on quality. You'll be able to monitor your campaigns in real time and make the most of their powerful automation capabilities.
Plus, it's designed so that anyone can use it easily with minimal learning curve. So if you're looking for a fast and reliable option for your email marketing needs, then Sendy is definitely worth considering.
Can I Use Sendy To Send Emails To International Contacts?
With Sendy, you can send emails to your international contacts in a heartbeat!
There are no pesky international fees and full language support, allowing you to truly soar across the globe with ease.
The power of Sendy is unparalleled when it comes to communicating with customers who don't speak the same language as you – all while achieving maximum freedom.
It's time to unlock a world of possibilities with Sendy!
Can I Use Sendy To Create Drip Campaigns?
Sendy is a great tool for creating drip campaigns, enabling you to automate your setup and run powerful email marketing campaigns.
With Sendy's easy-to-use platform, setting up automated emails that are tailored to each of your contacts' interests is simple.
You can also send emails to international contacts with no problem – allowing you the freedom to reach out and stay connected regardless of geographical boundaries.
So if you're looking for an efficient way to deliver personalized content without sacrificing time or quality, Sendy provides the perfect solution.
What Type Of Deliverability Reports Does Sendy Provide?
Sendy is the perfect platform for serious email marketers looking to take their deliverability reports to the next level. Their comprehensive suite of customizing reports and templates give users unparalleled control over their email campaigns, allowing them to launch with confidence into a world where freedom reigns supreme.
With Sendy, one can create customized deliverability reports that provide insight into how your emails are performing at every stage – from initial send-out all the way through clicks and opens. No matter what type of message or campaign you're running, Sendy makes it easy to track performance metrics like open rate, clickthrough rate, bounce rate, delivery rate, and more!
So unleash your inner marketer and get started today with Sendy's powerful reporting capabilities!
As a content creator, I have to say that using Sendy is an absolute no-brainer. It's so simple and easy to use yet provides the same features as any other email marketing platform on the market today.
Plus, it's self-hosted, which means I don't have to worry about server downtime or reliability issues.
The deliverability reports are top notch too – they keep me in the know with who opened my emails and when.
All in all, I'm very impressed and highly recommend Sendy for anyone looking for an effective yet affordable email solution.
Sendy Reviews: The Self-Hosted Email Marketing Platform For Amazon Simple Email Service