This guide is provided by smtpedia's editorial team for beginners and advanced Postmaster Tools users
Introduction: What is Google Postmaster Tools?
Google postmaster tools is a free service that allows you to monitor and fix email-related problems and is designed to help you manage your email-sending performance. It's mainly made for mail administrators dealing with the technical side of email delivery.
They provide a comprehensive overview of the health and status of your email, as well as tips for improving delivery and reducing spam complaints.
The goal is to give you the data and tools you need to make changes that will improve deliverability and reduce spam complaints.
The tool includes a spam report, which displays the percentage of spam messages received by your domain, as well as what percentage of messages were successfully delivered.
It also includes the security report, which displays the number of messages that have been sent using TLS encryption and how many messages have been blocked because they contain suspicious content such as malware or phishing attempts.
What are the Uses of Google Postmaster Tools?
As we previously said, Google Postmaster Tools is a suite of tools for Google Apps customers to manage and monitor the delivery of their email, there is no need to be an expert in order to use the google postmaster tools because they are very easy to use and understand.
Gmail and Google Postmaster Tools are two different things. Gmail is an email service that you can use, while Google Postmaster Tools is a set of tools that you can use to manage and monitor the delivery of your email.
Google PostMaster Tool can be used to troubleshoot a variety of issues, including:
– Duplicate messages
– Messages sent to invalid addresses
– Messages that bounced back to you
– Messages marked as spam by recipients
How to Setup and Use Google Postmaster Tools Account?
In this section, we will guide you on how to set up a Google Postmaster Tools account for your sending domain
Set up Google Postmaster Tools
First, log in to your Gmail account if you didn't do that yet.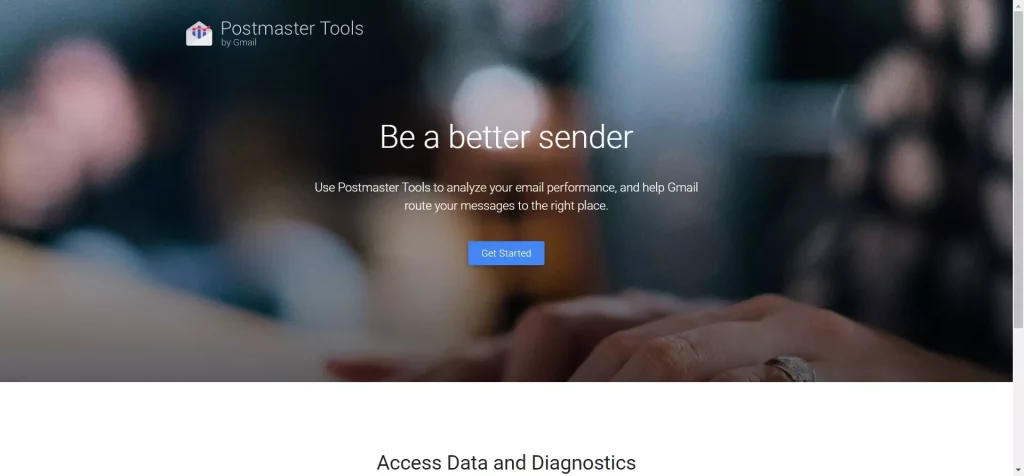 Click on the "+" red button and write your domain name: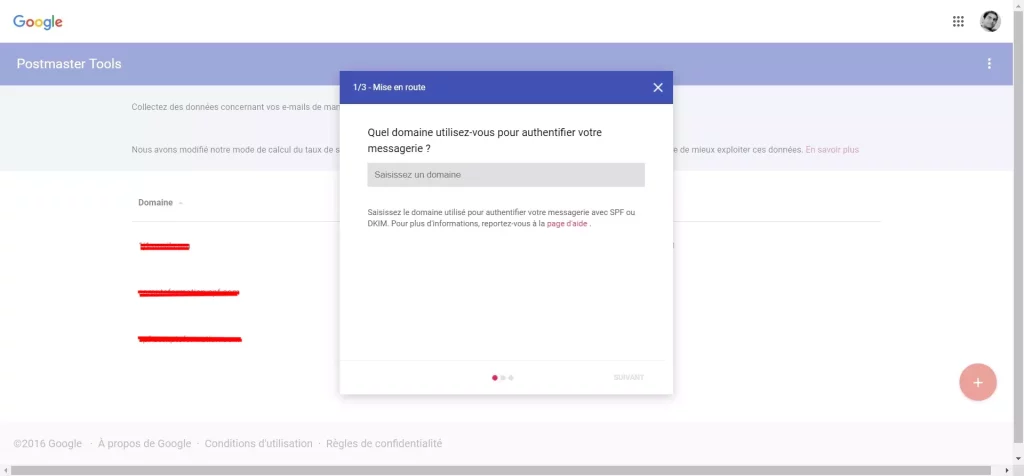 Copy and paste the given record into your domain's DNS records, as shown in the picture below: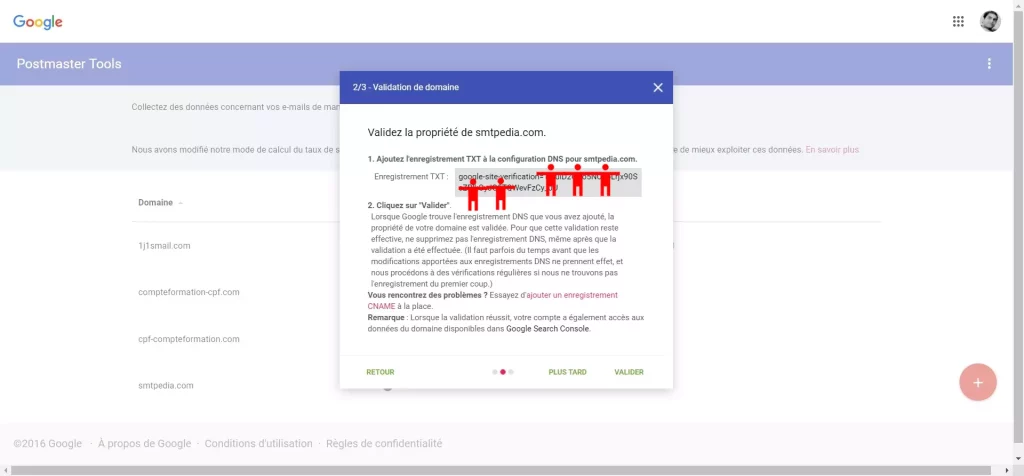 Managing Users on Your Google Postmaster Tools Account
If you would like to add somebody else or simply another email account
1) Login to https://www.gmail.com/postmaster/ or http://postmaster.google.com and click on "Manage Users":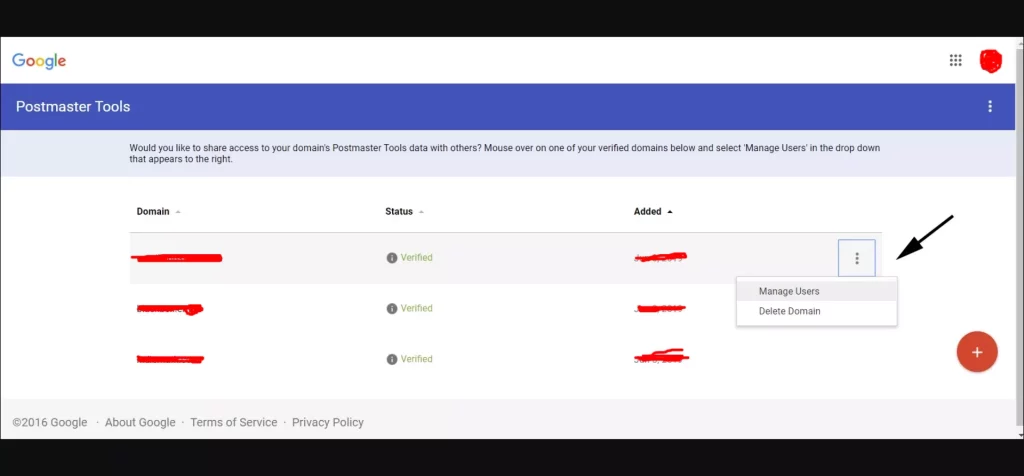 2) Click on the "plus" button and write down your sending email address and then click on NEXT
3) It's done!
For developers: Setting Up Google Postmaster Tools API
Thanks to The Postmaster Tools API, metrics can be gathered on a bulk email campaign, such as how many recipients opened your email and what percentage of your message has been designated as spam. You can also import the data into or merge it with other systems through Postmaster Tools API. Plus, you can get error rates for individual messages and the entire campaign.
Advanced implementation steps
In order to use Postmaster Tools API, follow these steps
Start with the domain name that you want to authentify, either the SPF or the DKIM records, the one that has been (or will be) used in order to verify and authenticate your email address.
Starting with the Postmaster Tools API:

Start by creating a project in your Google API Console.
Activate and check the Postmaster Tools API feature.
Fill in the records for the Postmaster Tools API.
Inside the Google API console, create an "OAuth2 token".

Use "OAuth2" tokens and credentials to make API calls such as validating domains and taking metrics and stats.
It's done
Conclusion: Google's PostMaster Tools for Establishing Contact with Your List Subscribers and Keeping Them Engaged
Google's PostMaster Tools are an excellent way to keep your list subscribers engaged. They are a free service that allows you to send out email campaigns at scale and track the performance of your emails in real-time.
The PostMaster Tool lets you see who opened, clicked on, and unsubscribed from your email lists. It also shows you the open rates, clicks, and unsubscribe rates for each campaign. You can also see how many people are opening your emails in each country and which devices they are using.
Postmaster Tools is a great way to increase engagement with your list subscribers as it provides insights into what content they find engaging and what content they don't want to read.
Google Postmaster Tools shows "no data"
That's pretty simple, tracking and monitoring your sending performance may take between 3 days to 1 or 2 weeks, just be patient and the data visualization will be available